How Young Voters Could Decide the Midterms
by
Robert Yaniz Jr.
Whether you're a Democrat, a Republican or something else entirely, it's impossible to deny that the United States has undergone a dramatic change since the 2016 presidential election.
Many people on all sides feel like the soul of the nation is at stake, and increasingly, the key to this ideological struggle appears to lie with young voters.
According to recent data analysis by the Pew Research Center, millennial voters—those between the ages of 20 and 35—are on pace to surpass Baby Boomers as the dominant generation of voters that comprise the electorate.
Part of this upswing, of course, has to do with the fact that this up-and-coming generation now is the largest in the American labor force as of this year, claiming 35 percent of the nation's workers.
Many voters are pinning their hopes on the midterms, hoping the election will foretell the direction of the U.S. in coming years. But young voters may very well end up the lynchpin in how the results shake out on Election Day.
Changing our ways
It's long been assumed that young voters lean liberal, and recent research by Pew actually supports this. In fact, young voters are becoming increasingly liberal over time. However, the Harvard Kennedy School Institute of Politics' National Youth Poll showed that young Republicans have become increasingly politically engaged.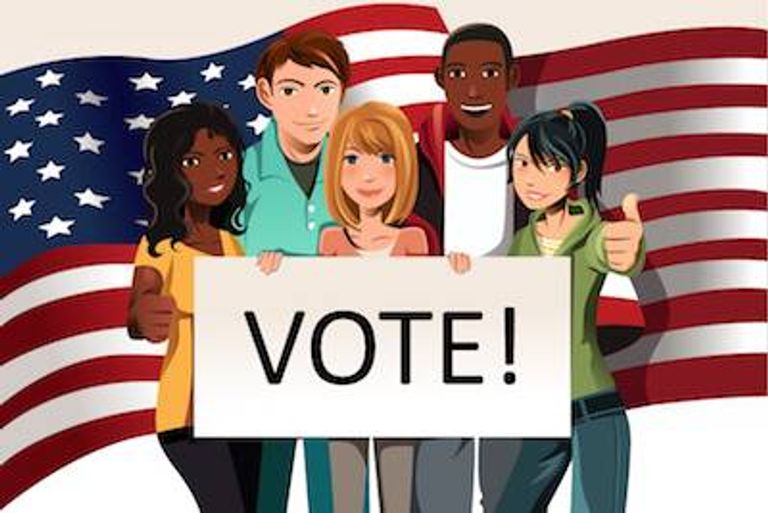 The Pew research also found that only 27 percent of young Americans approved of President Donald Trump's performance in his first year, and that figure is consistent with another study that found a similarly low approval rating of 32 percent during his first 100 days in office. Only 37 percent of young Republicans said in the National Youth Poll that they are sure to vote to reelect Trump in 2020.
So it's easy to see how young Americans—who are dominantly opposed to the current administration—could leverage their strength in numbers to take a decisive stand at the polls in the midterm elections and beyond.
While only time will tell what the turnout will be like, there's certainly reason to believe that young voters will come out in record-breaking numbers.
---
In the National Youth Poll, 40 percent of adults younger than 30 said they will "definitely vote" in the midterm elections, which have historically struggled to attract young voters.
Time to act for young voters
Of course, the recent surge in young Americans' interest in politics isn't only a reaction to the current administration. We can also acknowledge it as the product of many high-profile movements calling for change since the 2016 election.
We've learned a lot from the #MeToo movement and its goal to bring attention to, and end, sexual harassment and assault. But there's also the massive mark left by the survivors of the Stoneman Douglas High School shooting in Parkland, Florida. These students formed Never Again MSD to advocate for gun control and planned March for Our Lives, one of the most talked-about political protests in recent memory.
"March for Our Lives and the Parkland students accomplished something really amazing," said Andy Bernstein, executive director of HeadCount, a national nonprofit that collaborates with musicians to promote participation in democracy.
---
"They made voter registration cool. You have to give them a lot of credit because that's not easy to do."
HeadCount is probably best known for its efforts to register voters at concerts. Over 1,500 events, HeadCount has registered 75,000 voters and toured with acts like Jay-Z and Beyonce and Panic! At the Disco.
Its current The Future Is Voting campaign naturally hinges on the midterm elections and includes a series of PSAs distributed by the Ad Council.
Will it pay off?
Until the numbers are in on Election Day, it's impossible to know whether these movements will coalesce into the substantive change voters in both dominant parties are hoping for.
But if Bernstein's experience is any indication, Washington, D.C., will certainly feel the will of young Americans when the midterm results are all tallied up.
"Our voter registration totals are literally triple what they were for the last midterm elections," he said. "If we see high voter turnout among young people, there's no question it will be a deciding factor in many races."
That being said, young Americans shouldn't take this result as a foregone conclusion. The absolute worst thing we can do at this point is to slip into complacency. A historic turnout may be in the cards, but don't let that deter you from getting to the polls.
Robert Yaniz Jr.
 Yaniz Jr. is a full-time freelance writer specializing in business, marketing and entertainment. Over the last 15 years, he has covered everything from the regional business scene to the latest movies and TV shows. You can usually find him—laptop on hand—sipping a latte or chasing after his young daughter. For more on his work, check out robertyanizjr.com or email him directly at
[email protected]
You can also find him on Twitter @robertyanizjr.