When Should You Worry About Suicidal Thoughts?
by
Katie Moritz
If you or someone you know may be considering suicide, contact the National Suicide Prevention Lifeline at 1-800-273-8255 (en Español: 1-888-628-9454; deaf and hard of hearing: 1-800-799-4889) or the Crisis Text Line by texting 741741.
Things are heating up at work or at school. Maybe you forgot about a deadline and you're scrambling to throw something together in time to make it. You know there will be consequences, but it's too late to do anything about it now besides just get it done as best you can.
Then a thought passes through your mind: "I wish I weren't alive."
If you have a history of stress or depression, you might be used to having thoughts like this. Thinking about death is a coping mechanism for some, albeit an unhealthy one.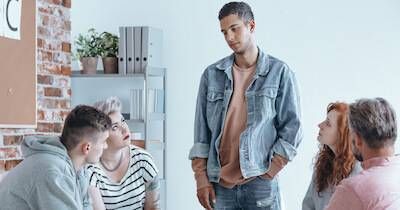 "Passing suicidal thoughts can be pretty common when you feel overwhelmed by something and don't have a clear idea how to handle it," said Aimee Daramus, a therapist who specializes in serious mental illnesses.
These thoughts seemingly "help alleviate the emotional pain that we are experiencing," therapist Mark Cagle said. "Like a release valve, it can help us to decrease the pressure we are feeling."
Unwelcome vs. dangerous thoughts
Even if it's common, finding yourself thinking about your own death can be scary, especially if the thoughts are persistent. How do you know when to start worrying about it?
It depends on what kinds of thoughts you're having, experts say. Just because you're thinking about your own death doesn't mean you would end your life. But persistent thoughts about death are probably indicative of underlying mental health issues that shouldn't go untreated.
"It is very common for people with things like depression and bipolar disorder to have passive suicidal ideation," said Ashley C. Smith, a therapist who specializes in severe anxiety, depression, bipolar disorder and schizophrenia spectrum disorders.
---
"Passive suicidal ideation includes things like: 'I wish I was never born, I wish I wasn't here anymore, I wish I could just fall asleep and never wake up.' Of course these thoughts are concerning, but they do not necessarily mean that someone is going to take their life."
These kinds of passive thoughts, though unwelcome, are missing an important element that makes them more dangerous: a plan. If you find yourself thinking about specific ways of ending your life, you should seek help immediately.
"Once the above statements become: 'Maybe I'll just take all of my meds. Then, maybe I'll just fall asleep and never wake up,' they become active," Smith said. "Once passive (suicidal ideation) becomes active (suicidal ideation), that is the indicator that someone may take their life."
These two types of suicidal ideation are often conflated, counselor GinaMarie Guarino said.
"People tend to get thoughts about death and dying confused with suicidal thoughts," she said. "While inquisitive thoughts about death and dying are common, actual suicidal thoughts are not and should be taken seriously."
Recognizing the immediate risk
Though passive and active suicidal thoughts are different, and the latter carries a higher risk, neither should be brushed off.
"The more these thoughts feel comforting to a person the higher the risk of acting on the thoughts," Guarino said.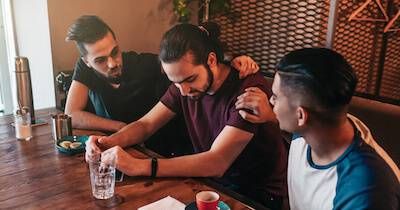 Fixating on dying is not healthy, even if it's common or feels like a way to get through a stressful situation, said Kristen Fuller, a mental health professional at the Center For Discovery, a mental health treatment center.
"Suicidal thoughts and ideations should never be viewed at as a coping mechanism," she said. "Suicidal thoughts are a red flag for hurting yourself whether you actually intend to take your own life or not."
Where to turn
If you find yourself fixating on thoughts of your own death, you should talk with friends and a mental health professional. Though there's stigma around mental illness and suicidal thoughts, isolating yourself can make your problems feel insurmountable and your thoughts inescapable.
"The most dangerous sign is hopelessness," Daramus said. "It's a very strong indicator of suicidal risk. Suicide can start looking like the only thing that can help.
---
"It's hard for non-suicidal people to believe, but the thought starts to feel good, like a hand reaching out to help you when it feels like nothing else can. ... That's very dangerous."
If you're worried about yourself, take the time to develop a safety plan to keep with you, Daramus said.
"It is true that thinking about suicide does not always lead to suicide, but suicidal thoughts significantly increase the chances of self-harm and suicide attempts," Guarino said. "Any habit of thinking about death and suicide in order to cope is hazardous, and should be taken seriously."
Help is available for those experiencing suicidal thoughts.
National Suicide Prevention Lifeline: 1-800-273-8255 
Call 24/7 to speak to a licensed crisis counselor if you or a loved one are having thoughts of suicide, are experiencing an emotional or mental health crisis, or are feeling overwhelmed and need support.
This article is part of a series to bring awareness to the issue of suicide. For more, visit our Suicide Prevention Awareness page.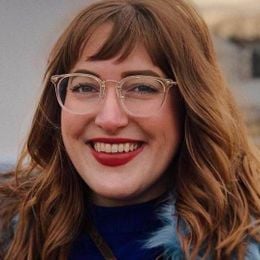 Katie Moritz
was Rewire's senior editor from 2016-2020. She is a Pisces who enjoys thrift stores and pho. Follow her on Twitter @katecmoritz.