Can Diversity Make Your Workplace Better?
by
Katie Moritz
Workplaces across industries and across the country are pushing for diversity within their workforces. And our generation is leading the charge.
Nearly half of millennials say they take workplace diversity into account when they consider a new job, according to a 2016 study by the Institute for Public Relations. That's compared to a third of Gen Xers and 37 percent of baby boomers. Millennials are also more comfortable confronting diversity issues in the workplace.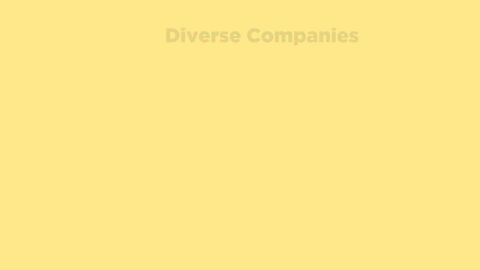 That likely stems from a difference in demographics between millennials in the U.S. and the generations that came before us. Millennials are the most racially diverse generation in the U.S. yet, and, because of that, so is the millennial workforce. The generation is also more likely to hold a nuanced view of what diversity means, Forbes reported, including sexual orientation, gender identity, socioeconomic background and other factors in the mix.
But besides having a variety of people in your workplace, what's the benefit? It turns out the upside goes beyond diversity of thought and right to a company's bottom line.
More diversity, more innovation
Companies that make an effort to build a diverse staff are more innovative, a new study suggests. Researchers at North Carolina State University wanted to know if pushing for racial, gender and sexual orientation diversity within a staff would mean the team would develop more innovative services and products.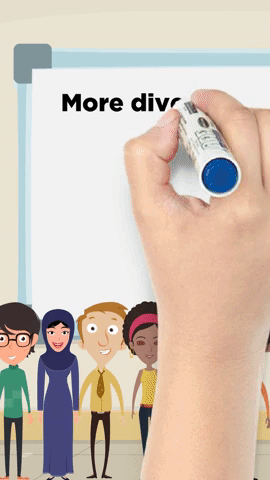 The answer is a resounding yes, they found. And it's not just a coincidence—there is a causative link. That means diversity is spurring these more creative outcomes.
The researchers looked at diversity data for the 3,000 largest publicly traded companies in the U.S. Then they compared patent data from the U.S. patent office and new product announcements.
"Basically, once you get through all the statistical jargon, we found that a company that checks all of the diversity boxes would see about two new additional product announcements over 10 years," said Richard Warr, co-author of a paper on the study and head of the Department of Business Management at NC State's Poole College of Management, in a news release about the research. "Given that most firms produce an average of two new product announcement per year, that's significant."
It also shows that the benefits of diversity initiatives might take a little while to come to the surface. Two more products over 10 years isn't something you'd notice only a few weeks or months in.
Beneficial to all
This research adds to a growing mass of hard evidence of the benefits of diversity in the workplace. In addition to the North Carolina State University research:
A two-year Bersin by Deloitte study showed that more diverse companies are three times as likely to identify and build leaders (another reason to choose a diverse workplace when you're hunting for jobs) and see more than two times the cash flow per employee.
A 2015 McKinsey report showed that companies in the bottom quartile for race and gender diversity are lagging behind their more diverse counterparts when it comes to financial returns.
"The take-home message here is that a business which relies on innovation will benefit significantly from supporting diversity within its organization," Warr said. "It's really that simple."
This article is part of America's Entrepreneurs: Making it Work, a Rewire initiative made possible by the Richard M. Schulze Family Foundation and EIX, the Entrepreneur and Innovation Exchange.

Katie Moritz
 was Rewire's senior editor from 2016-2019. She is a Pisces who enjoys thrift stores and pho. Follow her on Twitter @katecmoritz.