Your Work Wardrobe Shouldn't Feel Like a Costume
by
Jamie Lynne Burgess
If only we could all have a tiny Tan France who lives in our closets and tells us what to wear every day.
Instead, we have advice about how to dress coming from all angles, and not always explicitly. It shows up in images we see in advertising and when we look at the people we pass on the street or in the office.
When entering the workforce, it's easy to get caught up in the idea of what a "working person" looks like: they're carrying a black briefcase and wearing something neutral and professional. And when we begin working full-time, we believe that's the only way to be taken seriously. Yet as workplaces become more casual and more varied, there's room to express individuality.
So how do you grow up without losing what makes you unique?
Justina Sharp, a social media influencer and founder of the fashion blog A Bent Piece of Wire, said she noticed this especially in friends who went to college. Living in Los Angeles, she simply didn't have the same experience; the people around her were of all different walks of life and levels of professionalism.
She noticed the difficulty her college friends felt around how to dress for life on campus compared to life after graduation. It was like having separate identities.
"There's no individualization," she said. "You're scared, and you don't want to push the boundaries of your workplace."
The marriage of the personal and the practical
As someone now 10 years out of college, I can see the ways my personal style has changed to reflect my life's different paths, specifically when it comes to work.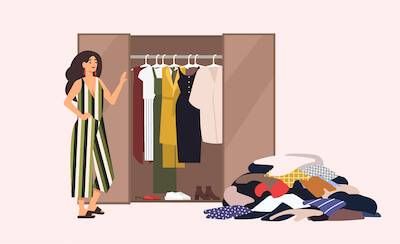 I had clothes that I thought looked more "like a teacher" or "like an administrative assistant." These roles in my life became too separate from me; dressing up for them was like wearing a costume.
Then, when my family spent a week in Florida last year, I revisited the tropical prints I wore growing up in the Marshall Islands. The emotion they evoked felt like home.
I wasn't ready to give up that feeling when we headed back to Colorado cold and snow. I didn't want to dress "like" any particular profession anymore; I wanted to stay connected to that feeling of self.
But your clothing choices can't always be based on emotion, of course.
"You can't wear a bikini with 4 feet of snow on the ground," said Joseph Rosenfeld, a fashion and personal style strategist with more than 30 years of experience dressing people in New York City and the Silicon Valley. "Unless you travel somewhere else, you're going to have to wrap your head around certain realities."
These realities include things like climate, but they can also include less tangible factors, like your priorities and preferences. Rather than dressing for your role, you want to find the points of connection between that role and your identity, and curate a closet from there.
Find the compromise between the way you want to dress and the way you need to dress.
Figure out what makes you happy about clothes
Rosenfeld has Silicon Valley clients he described as "wunderkinds" whose style he helps elevate "from the skateboard to the board room," he said.
Helping these upstarts navigate the business world takes skill and attention to detail. Clothes are a language that communicates more than we know. Rather than leave behind their skater-identities, he described subtle differences in the shapes of lapels, for example, that can make someone look bolder or more aggressive compared to more traditional or gentle.
Taking these details into consideration when compiling an ensemble will help you feel connected not only to yourself, but to your intention.
Sharp also described how the smallest changes can take your clothes from work to play.
"Undoing a single button can sometimes change the whole message of your outfit," she said.
She suggested identifying the details that you like about the clothes you already own, and working from those details to build your wardrobe into something you are proud of.
Knowing the difference between a well-loved piece of clothing that's versatile and brings you joy, and another that doesn't, can help you identify what pieces will work for you in the future, saving you money.
Build a foundation wardrobe
If you want an easy starting point for building your wardrobe, get back to basics.
Sharp advised that the first step to making good choices, before you ever step foot in a clothing store, is getting really familiar with the dress code of your particular workplace. Then you'll know where the lines are drawn.
Then, start with a good pair of structured jeans and a selection of button-down tops, which come in tons of colors and prints and will never go out of style.
Avoid fashion's "trash culture" — we're constantly throwing clothes away, she said.
"Don't buy something for a certain occasion, when the next day you'll already have outgrown it."
Jeans are especially important to think hard about because they're environmentally taxing. Avery Trufelman's groundbreaking "Articles of Interest" podcast covered the destructive impact of denim, and encouraged people to choose their jeans wisely. Invest in a good pair that'll last you a long time, Sharp said.
Both Rosenfeld and Sharp stressed the importance of color, as well. Color can help you convey a particular message and stand out.
"If you have to wear Patagonia for where you live, it might be the same one as everyone else," he said. "But they make it in 50 colors, and you can curate the look that is good for your practical needs and your personal style."
[ICYMI: Fast Fashion is Bad for Us. Here's Why We Can't Kick It.]
Trust your instincts
Where to go from there? Follow your instincts. Even the least fashion-conscious among us can identify that "spark of joy," as it's been called lately.
"You know when something lights that little fire," Sharp said.
We've all been purging our closets, thanks to the success of "Tidying Up with Marie Kondo"; Goodwill locations in the Washington, D.C., area reported a 42 percent increase in donations this year. But what we choose to keep can help us move forward with our style.
Ultimately, you want to feel like yourself in your clothing, whether at home or in the office. Think about the emotion you want to feel, and build a wardrobe that brings it more consistently into your life, without discriminating or designating clothes specifically for work or play.
If you get your joy from walking to work instead of riding the subway, invest in the right coat that will get you there warm and dry.
If you're an outdoors person working that 9-to-5 grind, find the patterns and colors that connect you to your preferred landscape. You have choices; you don't have to sacrifice professionalism for something that speaks to you.
For me, it was about finding the little rays of sunshine during cold Colorado winters. I have always hated the smothering feeling of heavy winter outfits, but I learned that because of improvements in fabric technologies, it's easy to curate a look that's warm but also lightweight.
Having a work closet and a fun closet is expensive and divisive. Find the common points of connection and curate the look that feels comfortable, practical and, ultimately, uniquely like you.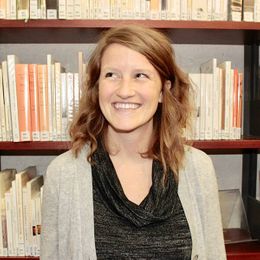 Jamie Lynne Burgess
is a writer who is fascinated by how places shape culture. Get in touch on Twitter @jamburgess or Instagram @jamielynneburgess.