We're the Future. They Are the Past: Downton Abbey Episode Recap
by
Jeff Kamin
Downton Abbey Season 5 - Episode 5 Recap
OK, we're half way through the season now. Things are starting to move a little quicker. A little goes a long way on Downton Abbey. We got just a touch of honey in our Earl Grey this week.
Aunt Rosamund arrives to see Marigold on the farm. A plan is hatched between Violet and Rosamund and a reluctant Edith to try to put Marigold in a school in France. At least get her off the farm, which is no longer accepting visits from Edith.
---
"Are we not living in the modern world?" – Mr. Carson
Mrs. Patmore inherits some money and considers advice from Carson on where to invest. This is an attempt to broker some peace from the war memorial fallout.  "I wish men worried about our feelings a quarter of the time we worred about theirs." – Mrs. Hughes on Mrs. Patmore placating Mr. Carson by taking his investment advice. Since when is Carson a financial advisor, anyway?
The Merton proposal. Violet consults Dr. Clarkson to see if he approves of the potential match with Isobel. Isobel is still weighing her options and making Violet wait as much as Merton.
The inspector is back to question Mary and Anna. No new info or leads. We do learn that Anna and Mr. Bates want to have kids, lots of kids, surrounded by their family. It's another interesting instance of the downstairs team talking about their future away from Downton.
"We're the future. They are the past." – Daisy re: A-Bunting she will go. Daisy tells Tom that Sarah Bunting is leaving.  Go to her! Miss Sarah Bunting decides to leave town and tells Tom she loves him. He kisses her goodbye but can't leave with her. He loves his adopted family too much. Is this really the end of the Hot for Teacher run? Will they get another chance? Are you happy she's gone? Wish he left with her?
Rose in the rain! She meets a potential new suitor in a meeting cute with umbrellas and baked goods. He's Atticus Aldrich, a Russian, whom she invites to her Russian refugee tea. But the old Russkies are mean to him because he is Jewish. Not cool. Shrimpie is still on the lookout for the missing Russians in Hong Kong.
There's talk of traditions and what purposes they serve. More talk of change and really hitting that as a central theme of the season. Sprat can't handle it.
Baxter tells Molesley her big secret. He thinks it's not her fault, because he is crushing on her so hard.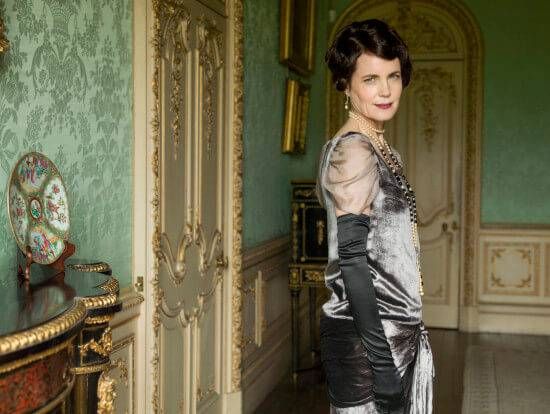 Bricker arrives! He sneaks into Cora's bedroom without an invite and is caught by Robert and punched out. They wrestle on the floor. Robert sleeps on a tiny bed in his dressing room.  It's an unheard of 2 episodes in a row with Robert kicking ass and me taking his side.
Lady Edith places a mysterious private call to London….And we cut to the credits.
What's next? Any predictions? Leave a comment or tweet at me with #MustTalkTV.
- Jeff Kamin
Stream the latest episodes of Downton Abbey anytime you want on tpt's video page! Click here to catch up.