The Wedding Scammer: What's Up With Bridal Expos?
by
Heather Morrison
After attending a bridal expo, Jessica Bishop, founder of The Budget Savvy Bride, started getting calls from numbers she didn't know that were leaving voicemails saying she'd won a free trip.
All she had to do was sit through a presentation.
"I was on a budget," she said. "The prospect of winning... what could have been our honeymoon was huge."
But after thinking about it, she wondered if it was too good to be true. And it was.
By doing some Googling, she found that many people in her position sat through the presentation, only to be asked to jump over a number of impossible hurdles.
That was about 11 years ago. But brides are reporting on Reddit and forums on The Knot and Weddingwire that they're still getting calls like that today. And with more and more contests on social media and emails, it can be hard for couples to figure out what's legit and what's a scam.
"The first rule of thumb is to beware of something that seems too good to be true," said John Novaria from Better Business Bureau Los Angeles & Silicon Valley. "That should be a red flag to do your research."
Novaria said the number of wedding scams reported on the bureau's scam tracker was 99 in 2017. That number increased to almost 140 in 2018.
Spotting red flags
First, if you got a call like Bishop did, sorry, but you probably aren't going to be hopping on a plane anytime soon.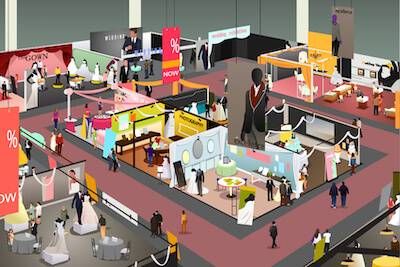 The most common travel scam involves timeshares, said Kyle Valenta, executive editor at hotel review site Oyster.com.
"If you're required to sit through a presentation before any contest decisions are even made, chances are you're about to be placed inside of timeshare purgatory," he said.
Paying money upfront, like a big deposit, is also a red flag.
"You have to be sure you're going to get what they promised you," Novaria said.
And if you get a call saying you won something, cross reference the email or call with the vendor list from the event, Bishop said. If the they're not on the list — red flag.
"There are bridal show operators out there who will sell their attendees registration list to whoever is willing to pay," she said.
Buyer beware
But it isn't just scams you need to worry about when you're planning a wedding, Novaria said. Also keep an eye out for businesses getting overwhelmed or "in over their heads."
"There's a huge rush this time of year and businesses just can't keep up with the demand," he said.
Sometimes that means businesses don't get things done in time, or send the wrong item, including the wrong dress, or produce poorly made versions.
Then, Novaria said, it's not uncommon for those businesses to be unable to issue a refund or send a new item in time. Sometimes the businesses stop responding altogether.
It's not a scam, he said, because the business never intended to not deliver the product or for it to go wrong. But, to many people planning weddings, it feels like one.
Keeping yourself safe
There are a number of things folks can do to keep themselves and their information safe from potential scammers when they're planning a wedding.
Bishop suggests setting up a separate email address dedicated to wedding planning and a Google Voice number that allows you to screen calls. You can turn it all off once the wedding planning is done.
Be careful about any additional info you give out. If you won something but they need your credit card info for shipping — another red flag.
"Better safe than sorry with things like that," she said.
Some travel scams ask for bank account numbers and social security numbers, Valenta said.
"There is no legitimate company that will ask you to share these details if they are providing you with a free trip," he said.
Every contest that's legitimate has to be free to enter, Valenta said. But that doesn't mean you won't be asked to do something in return.
Both Oyster and The Budget Savvy Bride have run social media contests where people are asked to share, follow or comment on posts. Sometimes winners have to participate in an activity or stay in a certain hotel so they can be photographed for promotional purposes.
Even if the contest is free and there aren't any immediate red flags, it's important to do your research.
One way is by checking the Better Business Bureau's site or Yelp and reading reviews.
But on social media, it can be a bit trickier.
An account might appear to have thousands of followers. But, if you look closely, you might find most of them are fake, or that the account hasn't been around for long.
"Anyone can assemble a really attractive Instagram account with great visuals and compelling offers," Novaria said. "But you really have to look at what's behind it."
Bridal expos are still worth it
While it's important to keep yourself safe, bridal expos aren't something to shy away from.
"Going to a bridal show is like a rite of passage," Bishop said. "And it can be a great way to get free cake tastings and win some prizes."
But Bishop wonders if there needs to be more responsibility on the part of bridal expo organizers to vet vendors and include local businesses that can really help couples.
Still, the majority of vendors aren't asking for your email with harmful intentions.
"Usually that is just to get your email to keep correspondence with you," said Natalie Sofer, owner of Natalie Sofer Wedding and Events.
Bridal expos can be a great way to get wedding ideas. And if you don't have friends or family that can give you personal referrals for the city you're getting married in, go in with the goal to make connections with vendors.
Of course, if you can get personal referrals, take the time to ask around.
"If you went to a wedding of a friend of yours and you loved their vendors, then by all means, go with their vendors," Sofer said. "That's fantastic."
You can save money without winning a contest
While you might be hoping to cut wedding costs by winning a contest or two, it's time to stop crossing your fingers and put in a little elbow grease.
Bishop suggests picking a few things to DIY.
For example, instead of getting a photobooth, use an Instax camera and a backdrop. And if music isn't a huge priority, set up a playlist instead of hiring a DJ.
"The unfortunate truth is that a lot of couples can't afford to hire a professional for every aspect," she said. "Finding those areas they can do something creative and that's doable for them based on their skill level is a good way to save money."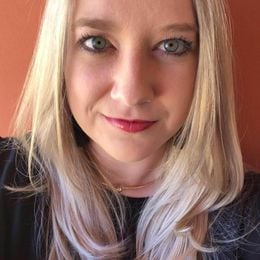 Heather Morrison
is a freelance reporter based in Los Angeles. She reports on religion and disability rights. Follow her on Facebook, Twitter and Instagram for photos of her dog.