'No Ring, No Bring'? Your Guide to Wedding Plus-One Etiquette
Plus-one etiquette can be lots of different things, depending who you ask.
by
Gretchen Brown
When Meredith Jarchow ties the knot in 2021, she wants to make sure the seats are filled with the folks she truly cares about.
So she's only giving plus-ones to guests who are married or in a serious relationship.
"I don't want to spend the day meeting my friends' dates who might not be in their lives a month later," she said.
Jarchow isn't alone in thinking this, says wedding planner Lindsey Nickel.
"There has been a shift to plus-ones being reserved for serious relationships. There is even a phrase 'no ring, no bring,'" Nickel said. "Weddings are expensive, and only allowing serious plus-ones is a way to shorten the list."
Famously, Pippa Middleton (sister to British royal Kate Middleton) had a "no ring, no bring" policy for her 2017 wedding. That meant Prince Harry couldn't bring his then-girlfriend, now-wife Megan Markle to the ceremony.
Obviously, cost wasn't much of a factor for Middleton. But the average wedding is more extravagant than it used to be, ringing in at more than $44,000 in 2018. The more guests there are, the more that cost goes up.
Traditionally, the parents of the bride footed the bill. Today, according to one survey, about one in 10 couples pay for the whole wedding themselves. That might lead to stricter decisions on the guest list.
Who 'counts'?
Despite this line of thinking becoming more common, not everyone agrees with it.
Like writer Jessica Gross, who argued in a 2016 piece for The Cut that every adult guest should get a plus-one.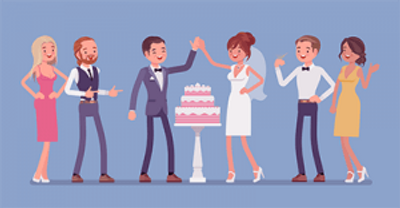 "To insist that the only relationships that count at a wedding are those that mirror yours seems reactionary and narrow, and denies the multiplicity of ways in which people now love," she wrote.
Even in cases where everyone is offered a plus-one, there's a lot of disagreement on who "counts" as a wedding guest. Do they have to be a romantic partner? Can they be a platonic friend?
Some consider a plus-one an empty seat. You're allowed to fill it however you'd like!
"If you are a friend, coworker or other non-related person to the couple, it's typically appropriate to bring a plus-one whether you are in a serious relationship or not," relationship coach Dee Strickland said. "You'll likely not know anyone besides the bride and/or groom, and they'll be pretty busy entertaining their other guests and enjoying their big day."
Others say it's a party foul to bring along a friend as your plus-one, unless you specifically ask.
Carissa, 25, once was given a plus-one along with her invite to a friend's wedding. She told her friend she was planning to bring her roommate, not wanting to go alone.
"(The bride) asked me not to bring her because she didn't want to spend money on the plate," said Carissa, who asked that her real name not be used. "The plus-one was really just for 'serious significant others.'"
Carissa was surprised. She understood that weddings are expensive. But if the plus-one was conditional, she said she'd rather she was not given one at all.
"Don't give it out if you don't mean it," she said.
Be polite
On the flip side, there's VICE's Maria Yagoda, who argued in a 2018 piece that no one should get plus-ones to weddings. At all.
In many cases, Yagoda wrote, plus-ones are offered just to make guests comfortable, whether or not they know their guest's romantic partner. She thought that strange logic.
"I still can't wrap my head around the idea that married people, or people in serious relationships, couldn't possibly spend a single evening by themselves — or are more deserving of a little extra social cushion," she wrote. "As if once you're in a SeRiOuS rElAtiOnsHiP you mustn't be separated from the person you're dating."
Whether or not you agree with the concept of plus-ones, it's important to respect the wishes of the couple.
If your invite doesn't include a plus-one, don't just bring one.
"Don't add or write in your own plus-one on the RSVP unless it is shown otherwise on the invitation," said etiquette coach Bonnie Tsai. "Especially since they have put a lot of thought into their guest list."
If you're unsure whether you can bring a plus-one, check the envelope. It'll likely be addressed to your name  "and guest." It might even already include the name of your significant other.
If your significant other (or ex) is on the envelope, and they're not coming, it's OK to go solo. Just make sure to clear any additional guest with the couple getting married before you send in your RSVP.
"This shouldn't be a huge deal because likely they've already accounted for a plus-one for you in their overall guest count," wedding planner Alexia Crossman said.
Bad etiquette
If you're not given a plus-one and you think it might be a mistake, you can ask the couple for clarification. Just don't expect them to say yes.
Ahead of her recent wedding, one of Vanessa Paige's guests repeatedly asked for a plus-one.
"We compromised by inviting his guest to our reception, explaining that we simply didn't account for his date — they were newly dating — when we sent the invite," she said. It was a tough decision, but in the end "he was totally fine with it."
Several of her guests also brought plus-ones without having asked ahead of time.
"When it comes to wedding invites, overall, people have really bad etiquette," she said.
Laura Hall gave each guest a plus-one at her wedding three years ago. Only folks in relationships ended up using them.
"We decided friends and family would use their best judgement," Hall said. "Wasn't worth burning bridges."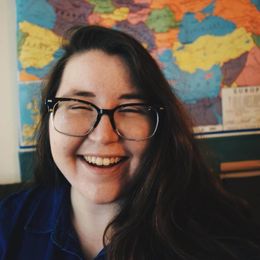 Gretchen Brown
 is an editor for Rewire. She's into public media, music and really good coffee. Email her at
[email protected]
, or follow her on Twitter @gretch_brown.