What Was it Like to Live in a Victorian Slum?
by
Christine Jackson
Here's a premise: Victorian-era reality show. Does that intrigue you? New PBS reality miniseries "Victorian Slum House" follows a group of modern-day people living in a recreated slum in London's East End and navigating Victorian slum life as it changed across five decades. For real.
The show can't reproduce the time period's air pollution from gas works and tanneries or the sheer number of people crushed together, but what it could reproduce are the living and working spaces and the way folks eked out a living. The series' setting was inspired by real-life Victorian slum Old Nichol, the most notorious neighborhood of 19th-century London. The modern-day folks living in the imagined slum must work to pay weekly rent and feed their families, equipped only with the technologies of the time.
Needless to say, adapting to this way of life was tough for some of the families. Do you think you could hang? Here are a few of the realities that make life in "Victorian Slum House" a hard one. And see what it's like for yourself when the series premieres Tuesday, May 2, on PBS.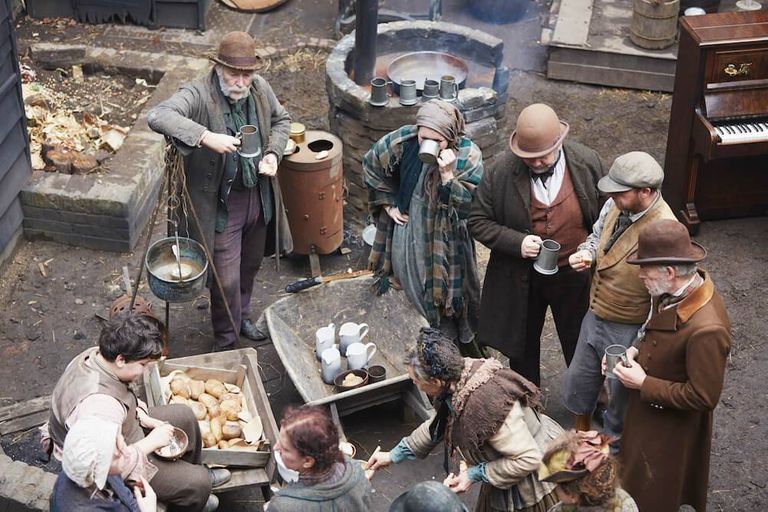 1. Indoor plumbing? Not so much
Though some slum dwellers have the luxury of their own stove, the slum's water pipe, main stove and toilets are all shared and located outside in the courtyard.
2. They had to get creative with resources
Speaking of the communal toilets, they had more than one use. When the slum's new grocers want to smoke kippers for the shop, they use the toilets as an improvised smokehouse. Not only does it work, it also masks the smell.
3. Good neighbors were no guarantee

Slum life was crowded, and your neighbors might not quite have been upstanding citizens. Ninety percent of people rented in the Victorian era, and you didn't need to prove income or "good character" to live in the East End.
4. Feeding the family was costly
Making rent was the first priority in a Victorian slum, but the second was feeding the family. Two-thirds of income went to food, and even that often wasn't enough to keep people full or even feed everyone in the household.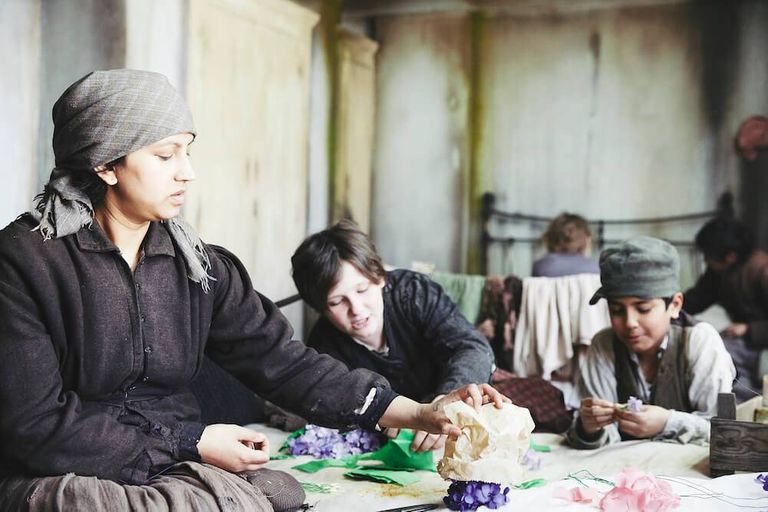 5. Work was really, really hard
On "Victorian Slum House," one of the new residents of the slum learned the hard way that unskilled work of the Victorian era was taxing. There are still London businesses doing things in the Victorian way today, and Potter family patriarch Graham spent his first day working at a modern-day bell foundry that still does everything by hand. That day of work put him out of commission for the rest of the week with a bad back.
6. Everybody worked, if they were lucky
A childhood spent playing and attending school wasn't the reality for children of the slum. The kids of "Victorian Slum House" quickly learn that their work is as essential to making ends meet as their parents'. Assembling small things at home was a key part of life for Victorian families who needed everyone in the family to be making money. Piecework, such as putting together matchboxes or making fake flowers, supplemented family income. The Potter family's East End ancestor was a matchbox maker and had to assemble up to 1,000 boxes a day to make ends meet. The modern-day matchbox makers only succeed in making 25 in a day.
7. Healthcare? Kind of...
Disability was more common and more visible in the Victorian era. Andy Gardiner, who takes on the role of rent collector, wears a prosthetic leg. In the name of learning more about life with a disability in the 1800s, Gardiner used a slightly updated version of an average Victorian fake leg in the show. As the show's host Michael Mosley notes, "You could get your leg amputated free of charge, but they wouldn't provide you with anything."
8. Forget about sick days
In the Victorian era, the loss of a breadwinner accounted for two-thirds of the families who sought financial help from the government, according to the show. Graham's foundry-related back injury kept him away from daily work and in the home helping the women of the house with piecework and straining the family's funds, much to his frustration.
Stream "Victorian Slum House" on PBS.org starting May 2. Or check your local PBS station's schedule for broadcast dates and times.
Christine Jackson
 is a Missouri-based writer and editor who loves the arts but never seems to write about them. Her holy trinity includes the St. Louis Blues, David Bowie and whoever invented iced coffee. You can find her on Twitter sharing snarky quote tweets @cjax1694.