What Farmers Markets Do for Urban Neighborhoods
In Baltimore, farmers markets provide opportunities for entrepreneurship.
by
Kyndall Cunningham
It's no secret that millennials love food. According to the advertising agency BBDO, 50 percent of them consider themselves to be "foodies." We see this phenomenon in the rise of food delivery apps, food trucks, brunch culture and meal subscription services — not to mention the number of Instagram accounts dedicated to the visual lure of fancy cuisine.
Another culinary trend that has been on the rise over the past decade is shopping at farmers markets, where food is sold by farmers directly to consumers. Farmers markets have also become places for local artisans to sell clothes, jewelry and other crafts and for florists to sell seasonal flowers. According to the USDA, the number of farmers markets in the United States have gone up 180 percent between 2006 and 2014.
Farmers markets have become important to local food economies and local farms. According to the Farmers Market Coalition, farmers markets are a cost-effective business model for local farms because they provide "brief periods of intense retail sales with low fixed costs."
In other words, because farmers sell their products only once or twice a week at a farmers market, rather than on a rolling basis in a grocery store, farmers can minimize their hours of work and cost of labor. This helps makes these local businesses profitable.
Fresh food for more people
This model is also good for consumers. Much of the produce found in typical grocery stores is highly processed and grown with pesticides and other chemicals.
The fruits and vegetables at farmers markets are minimally processed and a lot fresher. You can also find meat, dairy products and eggs from animals that were raised humanely and without hormones and antibiotics.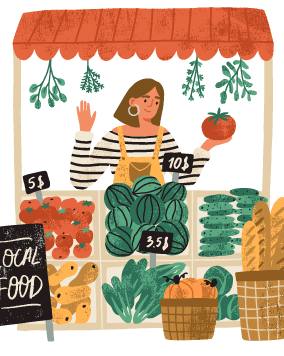 Farmers markets have a reputation as being a luxury status symbol for wealthy shoppers, but they are often accessible to people of all socioeconomic status. Many farmers markets accept Supplemental Nutrition Assistance Program, or SNAP, benefits. That's the case at Baltimore's farmers markets.
"We are a large community market, which serves north central Baltimore and makes quality fresh food available to everyone, regardless of socioeconomic background," said Marc Rey, market manager for the 32 Street Farmers Market in the Waverly/Govans community in Baltimore.
The year-round market receives grants from Baltimore-based organizations so welfare recipients and older people can leave with a few extra items in their bags.
A big part of Rey's job is to attend meetings with other market managers and organize incentives for people in need.
In 2019, Baltimore's markets were "awarded $25,000 in order to give five extra dollars to every EBT customer, every WIC, every senior customer," Rey said. "The GEDCO CARES program issues $3 vouchers to Waverly/Govans residents in financial distress. We have a token program (where) people get wooden $1 tokens with (EBT cards) and $5 tokens with debit (or) credit cards."
[ICYMI: How to Stop Wasting Food as a Single Person]
More opportunity to run a business
In Baltimore, a city that's 60 percent black, African Americans are unemployed at a rate of 14 percent, compared to white Baltimoreans, who have an unemployment rate of 3 percent. A third of black Baltimore residents have zero net worth.
Farmers markets give African Americans and other marginalized groups more opportunity to practice entrepreneurship.
The 32nd Street Farmers Market "(tries) to balance demographics," Rey said, but a large number of vendors are black, which is encouraging to the community.
Farmers markets are a friendly and unifying environment for city residents. As opposed to the less social atmosphere of grocery stores, where people flow in and out and shopping feels more like a chore than an activity, outdoor farmers markets provide a more interactive space where customers can intermingle with people of different backgrounds, and speak directly to the people growing their food.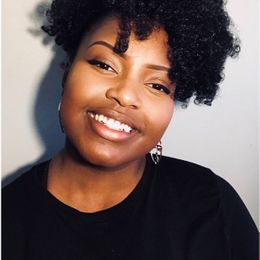 Kyndall Cunningham
is a freelance writer from Baltimore. She writes on a range of topics including film and television.