Can I Turn Down a Job Offer I've Already Accepted?
Your dream job is calling. Will you be blacklisted if you answer?
by
Gretchen Brown
Kenzie had finally accepted a summer internship in Washington, D.C.
Then, a few weeks later, a better offer came in from a large government entity. She couldn't say no.
"I sent the first place a vague email saying something about 'unforeseen circumstances' preventing me from working there," she said. "And they replied back wishing me luck. It was relatively drama-free."
That was five years ago. Kenzie, now 25, still doesn't regret her decision to retract the first offer. (She asked that her last name be omitted for privacy).
Situations like Kenzie's are common, mostly because, when you're applying for a bunch of jobs at one time, hiring managers are not on the same page.
"One fellow told me it takes them three to six months to hire someone," said career and transition coach Katherine Burik. "Another fellow had a job open on his team for 400-plus days. Another person said she had an offer letter typed but had to wait six weeks for the approvals to extend the offer. Imagine candidates sitting on the edge of their chairs waiting for those offers."
Despite being so common, retracting an acceptance doesn't always go so smoothly. You might be worried about bad feelings with the organization you reject, or closing off opportunities to work there ever again.
So when you're faced with that situation — should you or shouldn't you — it can be tricky to decide which path to take.
Do your best to prevent it
Best case scenario: you haven't accepted any offers at all.
If you get one offer, and know you're waiting on more, don't accept on the spot. Ask for additional time to think about it, if you can.
"Be transparent to companies you are considering other offers you have received or expect to receive, as well as timelines," career coach Jennifer Brick said. "Hopefully, though, you have marketed yourself so you are only speaking to opportunities you are very excited about."
That's what Abby Mckimm did.
She interviewed for a teaching position at one elementary school, which offered her the job that night. The school also wanted her to sign the contract right away.
Knowing she had an interview at a different elementary school the next day, Mckimm pushed for more time to review the contract.
She knew that the second job would be in a better location, with better benefits and pay.
After the second interview, Mckimm told the interviewer that she had a contract waiting to be signed with another school district, which needed to hear from her that night.
"My principal expedited the process with human resources to get me a contract right away," she said.
Take the interview
In some cases, like if you're unemployed, you might feel pressured to accept a job right away. You might have even started work there. Then your dream job rolls in. (Or what seems like it).
If it truly is your dream job, you should take the interview, says Stephanie Dennis, a career coach and host of the Career Talk podcast.
"The company you accepted an offer from will never know, nor do they need to know," she said. "People are free to explore whatever opportunities they want. Would it be a crappy thing to accept a job then quit just after you start? Well, yes."
At the end of the day, she said, a company wants their employees to want to be there. So if you're stuck in a job just because you thought it would be "rude" to interview somewhere you'd rather be, your work might reflect that.
Or not!
However, if you're confident about the job you just accepted, don't feel like you have to take another interview. Amanda Ponzar accepted a position at one company and was in the process of relocating for the gig when her "dream job" called.
Someone was resigning, and their job would be open soon, if she was interested.
Ponzar wasn't.
"Everything in life happens for a reason, so it's highly unlikely I'd ever change my mind after accepting an offer," said Ponzar, now chief communications and strategy officer at Community Health Charities. "When I say yes, I'm in."
The way Ponzar sees it, if you absolutely have to accept an offer and later turn it down, it's better to do so before you've started work and been trained in.
Making the decision might feel agonizing to you, but it might not be as big a deal to the company.
"While it may be slightly inconvenient to the company you originally accepted," Brick said. "There are a few things that will likely make it a blip on their radar: they may not have sent a notification to the other candidates who interviewed and were qualified, and they have not invested into your onboarding."
Jamie Cohen, a career coach and HR manager, said he sees people back out of job offers all the time.
"It's even common for people to start a job and quit a few days/weeks later because they've found something better. Employees and employers do this equally," he said. "In most cases, the worst that the company can do is make you ineligible for rehire at that specific company."
[ICYMI: Should You Apply For a Job You're Not Qualified For?]
Be honest
The most important thing you can do is tell the recruiter or hiring manager as soon as you know you'll be rescinding your acceptance. Whatever you do, don't ghost.
"The faster you let the recruiter know, the sooner they can find someone else," Cohen said. "It makes the process smoother for both parties."
Thank the company for the offer. You can decide how honest you want to be.
Igor Kholkin, who does hiring as CEO of a boutique marketing agency, says that great hiring departments will use what you tell them to inform their future practices.
"For example, if the reason the candidate chose the other company was better pay, then the company knows it needs to offer better compensation," he said. "If the reason was better brand image, then this can be used to drive your company's reputation and presence. Almost any honest feedback will be beneficial to a good hiring manager."
As to whether you'll be blacklisted from the company in the future: giving the news gracefully makes a difference. You don't have to burn a bridge.
Most states have laws preventing you from being blacklisted within an entire industry.
"If you leave on good terms, offering an explanation, to help find your replacement or train them at least, have a candid open conversation with your boss, etc., etc., it's likely you can keep the lines of communication open," Dennis said. "If you write an email saying today is your last day because your dream job was just offered and you're out? Probably blacklisted forever."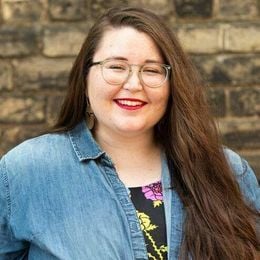 Gretchen Brown
is an editor for Rewire. She's into public media, music and really good coffee. Email her at
[email protected]
, or follow her on Twitter @gretch_brown.