How To Keep Your Relationship Healthy When You Travel Solo
by
Jamie Lynne Burgess
When I decided to take 15 months to travel solo in France last year, leaving my (very) committed partner at home, people in my life questioned if I was destined for some kind of breakup or meltdown. In fact, it was the opposite: I'd finally found the person who made me feel secure enough to feel free.
The deeply rooted desire to see new places and experience new things is part of me, a part I want to honor whether I'm in love or not.
I've always thought it's much easier to be the one who leaves than the one who stays behind. Yet in the past year, I turned this over and over in my mind. The one who stays has all the reminders of the relationship; they walk by the restaurant where you had your first date. They see the remnants of your connection scattered around the apartment. It's easy to maintain that feeling of nearness as they drink from your favorite mug or pull your hair out of the vacuum cleaner.
But whether you stay or go, solo travel can be an important part of your romantic life—rather than something to be considered as separate from or outside of it.
Being apart can bring you together
As a cohort, we love to travel: young adults today go on vacation more often, and we go farther and wider than previous generations. We also believe in transformative experiences: unique and unusual events and locales, like those provided through the sharing economy.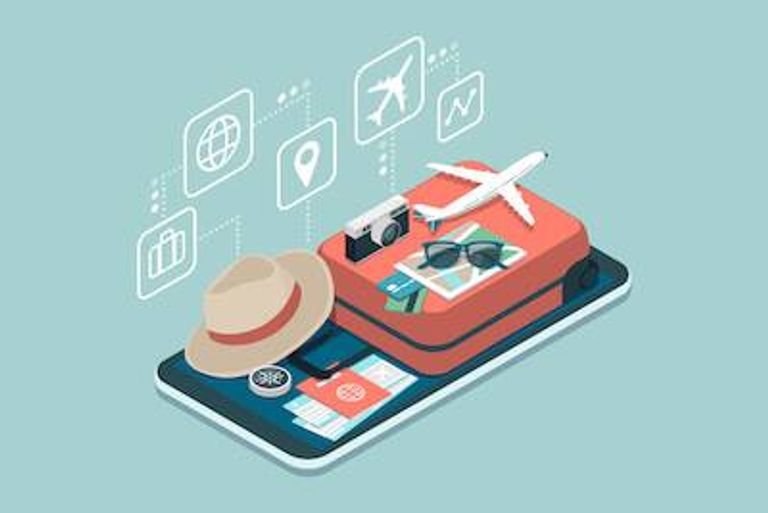 If it's been a significant part of your life, truncating a love of travel might feel like cutting off an essential part of yourself. Your significant other shouldn't expect that of you. Still, you must recognize the value of your commitment and live up to it even while apart.
There are some very real, practical considerations associated with solo-travel, before you start jetting off for anywhere.
If you're the one who's leaving
Make plans—even vague ones—and stick to them. It sounds contrary to the solo-traveler's independent, wayward lifestyle, but being in a relationship means there's someone on the other end of the line. It's important to stick to certain plans, especially if there's reason your partner might worry.
Donna Wilson, who has been married for 26 years, regularly takes solo trips and most recently went on a month-long hiking adventure in the jungles of Papua New Guinea.
"It's not so easy for (my husband) to be the one waiting, wondering if I'm okay, but I do my best to ease any worries by being a meticulous planner and staying in contact when possible," she said.
You're entitled to go off the grid, but being in the places you said you'd be, when you'd be there—or letting your partner know if plans have changed—is part of your responsibility as an attached traveler.
Manage your responsibilities. When you're looking forward to an adventure, it can be tempting to let everything fall to the wayside. Your partner, however, isn't on the hook for you if you leave important paperwork undone while on you're rafting for 28 days in the unreachable Grand Canyon.
This means anticipating future bills and paying them in advance, especially for long trips. It also means emergency paperwork, like a durable power of attorney, a list of emergency contacts and even emergency healthcare documents, like a healthcare power of attorney. Everyone should have these, but travel plans can be a powerful impetus to get this stuff done.
Assuming your partner will take care of administrative details while you're out of town can leave them feeling like they have to do all the grunt work while you have fun. This is especially true when it comes to pet care. No one wants to come home and find their partner has been exhausted by responsibilities of pet ownership they never asked for. Keep your relationship a priority by doing this work in advance, or at least talk about expectations ahead of time.
Do your part to maintain closeness and connection. Before, during and after your time apart, there are opportunities to show your loved one that this isn't just a selfish attempt to get away, but could actually help you become closer. Before you go, hide some love notes where they're sure to find them, or cook and freeze their favorite meal for them to eat while you're gone.
Travel is a great way to explore your own thoughts with more depth. While you're on the road, you might find that you're thinking even more than usual about the person you love, wishing you could share this time with them. But they won't know unless you tell them. Use question prompts—like these 36 questions, or these 13 questions—to help you think more deeply about your life together while apart, and share those thoughts and ideas.
If you're the one who's staying
Budget your time well. When your partner is out for the night, what little guilty pleasure do you indulge in? Do you order from that takeout place they don't really like? Play video games in your bathrobe? Maybe you like to take a swanky bubble bath while blasting Taylor Swift's debut album (really, just me?). It's always a fun little fantasy to be alone. But when it's more than just a night, you might find yourself missing them pretty soon.
Making plans a week in advance is a great way to make sure the nights don't slip away from you. There's a lot of new stuff you can do right where you are. When they come home overflowing with new stories from afar, you'll have your own stories and feel recharged rather than resentful.
Be clear about your expectations. If you feel that there's an appropriate time to be in touch, say so. Don't field middle-of-the-night phone calls from different time zones if you know you have work in the morning (unless you want to). You are entitled to your own space, too, and that means defining what is acceptable within the limits of your commitment, which is individual to every couple.
It's also worth recognizing that your significant other isn't surrounded by reminders of your relationship like you are. They may, at times, require more connection than you expect to feel close to you while apart.
Make home a safe place to land. One of the best parts of traveling is coming home.
"Having solo adventures helps me process the experience on my own terms, and makes me a richer, more compassionate and patient person at home," said Juliana Dever, who has been to 60 countries and authors the travel blog CleverDever Wherever.
"Taking the time out on my own makes reuniting a thrilling joy every time."
Even in love, we look forward to experiences of isolation and independence. Not only is that normal, it's healthy. No matter how comfortable we are with our partners, it's also important to cultivate relationships with ourselves.

Jamie Lynne Burgess
 Lynne Burgess is a writer who is fascinated by how places shape culture. She also loves podcasts, personal essays and public libraries. Get in touch on Twitter @jamburgess or follow her on instagram @jamielynneburgess.