Practical Tips for Downsizing to a Smaller Apartment
by
Gretchen Brown
The average American home is 2,500 square feet. Aimee Olson's is just 180.
She shares an RV with her partner, plus their dog and their cat.
"The thing that's craziest is there's still room to downsize, even now," she said.
They've been living on the road for about a year. So far, she said, they've adjusted. So have the dog and cat.
This latest move was Olson's third time downsizing in several years — from 1,400 square feet to 900, then from 900 to 500, and now to 180.
Olson has an advantage. She's a professional organizer who specializes in helping people downsize to smaller homes like she has.
For anyone and everyone
Downsizing isn't only something for older adults to think about post-retirement. There's an entire spectrum of reasons young adults might consider it for themselves.
Rising rents and home prices can make living in a larger space unaffordable. A breakup, divorce or death in the family might force a move out of a larger home and into a studio apartment.
Others move to smaller spaces hoping for simplicity or minimalism.
"For many people, they feel it's a higher quality of life because they spend less time cleaning and maintaining," productivity consultant Jan Lehman said.
A growing trend toward shrinking
Minimalism may feel new, but Americans have been obsessed with decluttering for years. Professional organizing emerged as a profession in the 1980s.
By the early 2000s, TV shows like "Hoarders" showcased what could happen when you lose control over this part of your life.
Today, books like Marie Kondo's "The Life-Changing Magic of Tidying Up", and her new Netflix show "Tidying Up,"  keep the "war on stuff" at the front of our cultural lexicon.
In recent years, smaller living has become part of that sphere. HGTV, the television network known for giant budgets and unrealistic home makeovers, now showcases tiny houses as unique, even aspirational.
For Olson, growing unhappiness with her life helped her decide to live smaller.
"I needed to get out of that," she said. "But to get out of that, I had to make an adjustment to the way I lived."
'Spark joy'
Getting started, though, can be overwhelming. Lehman thinks about it like peeling an onion.
Once you know you're going to downsize, Lehman said, start by getting rid of broken items and items you haven't used in years.
That's the easy part.
Stuff you've spent money on or that has sentimental value is always the most difficult to let go.
"One of my tricks is I have people talk out loud when they're going through their things," Lehman said. "Often times people have to hold onto things out of guilt."
"Tidying Up" talks about hanging onto things in your home that "spark joy," and getting rid of things that don't. That can be a good starting point.
---
"I never met one person that doesn't have something in their home that they hate," Olson said.
Be practical
Minimalism is sometimes criticized as being only for the wealthy and the privileged. Kyle Chayka wrote in The New York Times Magazine that the lifestyle only enables "new modes of consumption."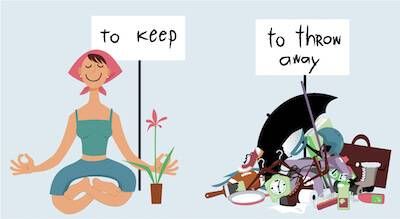 The way Olson and Lehman look at it, minimalism, downsizing, tidying up, whatever you call it; it's all about having items that are practical to you, and nothing that isn't.
Why have 12 spatulas when you only need one? Or more specifically, why have 12 spatulas when someone else could probably use a spatula?
Olson tells her clients to draw up a "values statement," essentially writing down what's important to them and how they want their space to function.
You can go back to that statement throughout the process, which can help with decision making.
Take your time downsizing
Depending on the situation that is spurring the downsize, going through your things can be emotionally draining.
If it's the death of a loved one, or even a breakup, you may have a hard time getting rid of items connected to that person.
Hoarding tendencies have been linked to past traumatic experiences. Lehman said sometimes items can be a tangible connection to family members or people in your past, which can serve as a form of comfort. Parting, then, is hard.
Because of that, you should give yourself adequate time to downsize. Don't wait until the last minute, and don't wait until you're already in a new, smaller space. Remember that downsizing is a process.
"If it's getting emotional, and you're really struggling... it's not about getting yourself downsized perfectly the first time," Olson said. "Ask yourself again in three months."
Say no to storage
For many, downsizing feels like a temporary move; "transitional housing" until they can find something more permanent.
A storage unit, then, seems like a natural solution to a smaller space.
That can be a slippery slope.
"The danger people run into is, they put stuff into storage and they leave it there forever," Lehman said.
Use storage if you'd like, but make sure you have a plan for every item. If you're only storing seasonal items, for example, that makes sense. But storing antique furniture out of guilt isn't a good idea.
Everything needs a home
If you have limited cabinet or storage space in the new place, it can help to think about storing things vertically, with shelves and hooks on the walls.
Olson likes temporary adhesive hooks, because they can easily be adjusted once you're settled in your space and decide on a better way to display things.
A smaller space may be easier to clean, but it can also make clutter seem to pile up.
"Everything is amplified," Olson said.
Keeping your counter, table and floors clear can open up the space visually. Everything in your home should have a place.
That doesn't mean it has to be tucked away, or out of sight. It just has to have a designated spot. That can help keep you organized.
Storage containers can work as a home for some things, but you should wait until you're in your new space to get those. It makes no sense to have an empty container, or a container holding just one thing, Olson said.
Be intentional
One you know what you're getting rid of, it's also important to be intentional about where it's all going.
Essentially, you have three choices: you can toss it. You can sell it. Or, you can donate it.
If you're into downsizing as an environmental practice, or even if you're just doing it for practical reasons, it makes no sense to put everything in a landfill, Olson said.
"With donating, a lot of the times what helps people release their things is when I can give them a practical place for their things to go," Olson said. "Somewhere where it's actually going to be used."
That could be a thrift store like Goodwill, but she recommends seeking out charities that will directly use the goods.
For example, in Minneapolis, the nonprofit Bridging collects furniture and housewares and uses them to furnish homes for people transitioning out of homelessness and poverty.
It's tempting to want to sell your furniture, especially in the age of Craigslist and buy-and-sell Facebook groups.
That can help if you need extra cash, but it's something Olson tends to stay away from.
"That money and time you spent accumulating that stuff yesterday should have nothing to do with the decisions you make today," she said.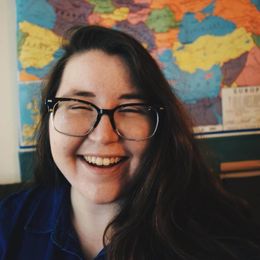 Gretchen Brown
 is an editor for Rewire. She's into public media, music and really good coffee. Email her at
[email protected]
, or follow her on Twitter @gretch_brown.