'Our Culture is Beautiful': The Voices of Indigenous TikTok
These Indigenous and Native American TikTokkers use their platforms to teach, connect and share culture.
by
Gretchen Brown
"I'm probably the only Native American that has come up on your For You page, so listen up."
That's Jojo Jackson, a Navajo teen, in a now-viral April video on TikTok. The statistics he shares next aren't pretty: 50 deaths and more than 1,200 Coronavirus cases confirmed on the Navajo reservation.
As of June 23, that total has climbed to 335 deaths and over 7,000 cases — the highest infection rates per capita in the United States.
Jackson points out the disparities in healthcare, in grocery stores and in relief aid between the reservation and a U.S. state like West Virginia.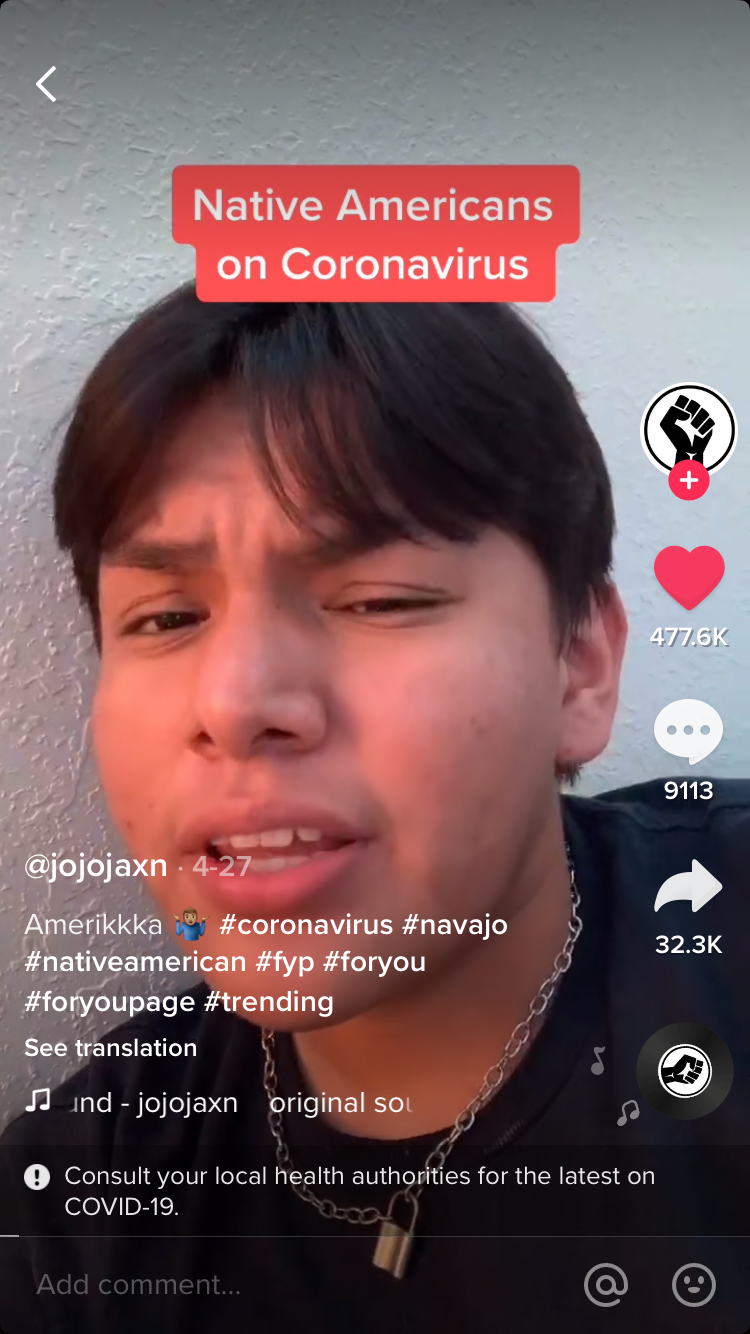 TikTok's public image might be Charli D'Amelio, the 16-year-old girl posting videos of herself dancing to Doja Cat songs. But the social media app has also become a platform for education and community. 
Under hashtags like #native and #indigenous, creators like Jackson are schooling folks of all backgrounds about social and economic justice, culture and history — and connecting with other Indigenous creators. And sharing memes, of course.
Seventeen-year-old Theland Kicknosway, of the Cree and Potawatomi Nations, grew a huge following on the app by posting videos in regalia, explaining the significance behind his braided hair, singing and dancing.
But he also gets political, posting videos about Indigenous reconciliation and oil pipelines, and the Black Lives Matter movement.
Patricia Christensen, a 20-year-old Salish and Pend d'Oreille college student who grew up on the Flathead Reservation, "educates you on Native American things so you don't sound ignorant."
She busts myths like "Native Americans don't pay taxes" (they do) and "Native Americans get free money from the government" (not that simple).
Rewire spoke to these TikTok creators about their work and why they decided to make their voices heard.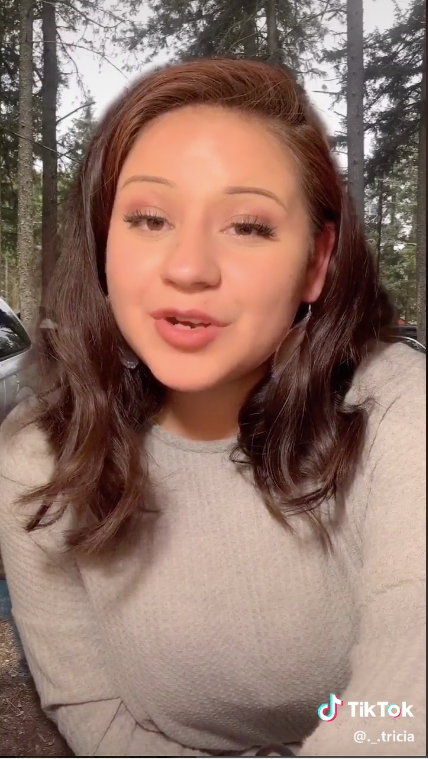 Patricia Christensen, @._.tricia
Several of your videos directly tackle stereotypes about Indigenous people. What was behind those?
When I wear my regalia and go out in public, I've had people come up to me and say, "I like your costume, that's a really nice costume." I want to educate people.
I kind of understand it to a certain degree. Native Americans make up less than 2 percent of the U.S. population. It's not too surprising because if you want to learn about Native American things, your best bet is talking to a Native American.
You started a hashtag #teachyourindigenouslanguage and you encouraged other Indigenous folks to share theirs. Tell me about that.
I was born and raised on the Flathead reservation, and my mom and my stepdad have been working so hard to help my tribe preserve the language. They've always taught me that language is the most important thing. 
I went to a Salish language immersion school for seven years, and one of the elders there said to me, "One day the government is gonna come to our land and they're gonna ask if we know our language. And if we don't know our language, then what marks us different from everyone else?"
We're losing so much of our language already, we need to do more to keep it alive in the young people. 
What has the response from other TikTok users been like?
When I started coming out with educational things, I had so many people be disrespectful to me. For example, the regalia, they were like, "Well, that's just a costume," or people were saying, "You were conquered, not robbed." All these rude things. 
I do have a positive reaction as well. Native people recognize my videos and they're like, "Hey, I'm Native too. It's so awesome to see Native representation on this app, because I don't see it very often."
It was pretty weird at first because I was like, I don't really know what I'm doing and I don't want to be rude to anybody. But I'm tired of the way that people see Native Americans. Our culture is beautiful, but there's more to us than just our culture.
We're not just dressed up all the time. Mainly the media notices us when we're dressed up in our regalia wearing feathers or when we're proving that we're Native American.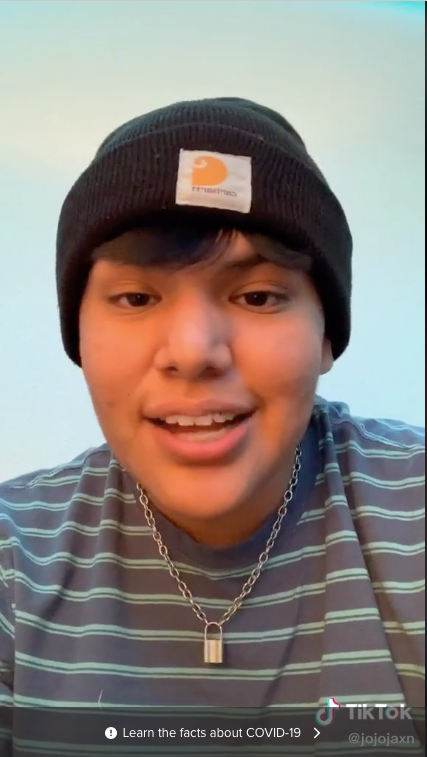 In one of your videos, you point out inequalities that exist between the Navajo Nation and U.S. states. Why did you decide to speak up?
Initially it was just scrolling through all my social media and reading all these articles.
I thought more of what our lifestyle on the reservation is should be brought to life, what really is reality living on the Navajo reservation. I brought it on myself to basically do that. 
This all happened at 4 in the morning. I fact-checked everything, I read the articles, I watched the videos, I made this TikTok at 4 in the morning, uploaded it, went to sleep and, gradually, it blew up.
I wanted the video to create conversation and make awareness of our situation.
You mentioned on YouTube that you lost someone close to you to COVID-19. I'm so sorry for your loss. Has being so close to it changed your viewpoint on the virus at all?
Right now, I'm staying with my mom away from the reservation. The first outbreak was five miles down the road. Initially we thought it would be a good idea to move back to the reservation.
Once the outbreak on the reservation happened we thought it would be very small, since everyone's living far apart, and it's such a rural and remote reservation and it wouldn't spread as fast.
The Navajo people are very interactive with each other, so that's one of the factors of how the outbreak happened. It really changed my perspective, and the numbers climbed.
There's still tens of death counts coming in every day. We were one of those families that had a death in the family. It's really mind-changing, and I wanted to bring my experience into my video to bring awareness and have an eye-opener.
At the beginning I was one of those people who thought it was like the flu. But I educated myself along the way.
You're 16, but you're speaking out about politics and using your platform. Do you have advice for other young folks, maybe those who are younger than voting age, to get involved? 
If you're not old enough to vote or anything because of your age, it's best to use your platform to the greatest potential. That's what I tried to do, to persuade and educate people about what's going on. I've been an advocate for the Black Lives Matter movement, and I've listed resources, and I've donated, and really encouraged people to do so as well.
We have family talks here too. I really encourage my parents and my older sister and brother to vote and how important it is.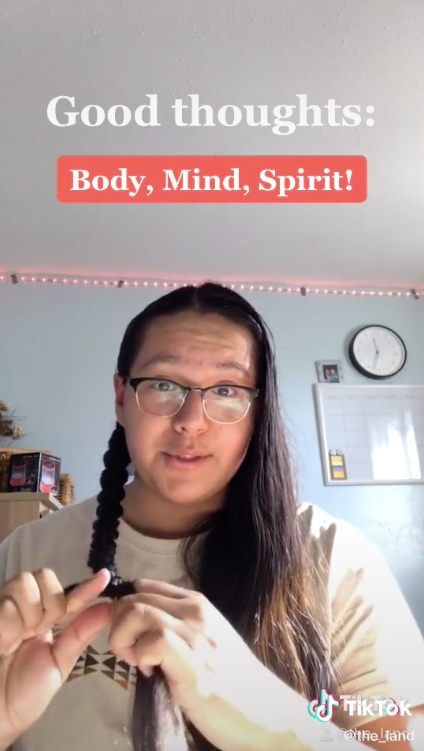 Theland Kicknosway, @the_land
Long before you started a TikTok, you began a run for missing and murdered Indigenous women at age 9. Why did you want to get your voice out there at such a young age?
For me, growing up, I was always raised in the culture. That includes knowing that I put my family first, I put my community first. Knowing that whatever needs to get done gets done. 
Because I had recently learned about the epidemic of missing and murdered (women) ... at the age of 9 saying, I need to do something to raise awareness and tell my peers, my friends, we all need to know that this is going on in our daily lives. 
The first idea was to run across Canada. As a 9-year-old I was pretty eager, and Canada was really big.
I tried to scale it down, and I said, I'm going to run to my auntie's house,  Kitigan Zibi, in Quebec, Canada.
We believe in a cause that people, my age, younger and older, need to know. Our women, our two-spirited people, our men are going missing and are being murdered.
We had decided to embark on this 134-kilometer journey. We had completed the run for four years. And then we moved onto a virtual run this past year. The previous year it was held at Algonquin College here in Ottawa, Canada.
It's always a new learning for all of us. Just trying to get that message out there that I as a young man, I will not harm women, that was the way that I was taught.
I will be doing a run across Canada in 2021. We'll be running from Victoria, British Columbia, back to Ottawa, where I live.
On TikTok, you share music and sing quite frequently. Tell me more about that.
When I was in my mother's stomach 17 years ago practically, when the mothers can feel their babies kicking against their stomach? That's our first dance that we have. Those were my first dance moves when I was kicking in my mother's tummy. I guess it means a lot now.
And that first cry that we have as children, as newborns, that's our first song that we sing.
I've been dancing and singing even before I was in the physical world. Singing songs and dancing are part of my spirituality. They are part of who I am as a proud Indigenous person in the modern society every day. When I'm in my regalia, when I'm fully decked out in all my beadwork, it's like I am connecting with my ancestors, like I am almost going back and trying to see through their eyes. 
That's why I dance for my spirit, dance for my ancestors, dance for those who can't dance, just trying to carry on those teachings.
How do you wish the media would cover Indigenous people?
I believe that we're all born equal, but sometimes we're all not treated equally. Mainstream media, especially when it's referring to Indigenous people, they will sometimes say, these Indigenous people are having riots.
That's our basic human right of standing up for what we believe in.
Our reason for living is to take care of this land, to take care of our mother and only take what we need.
We can't change people's minds. The most we can do is stand up, spread awareness and, hopefully, make a change.
Editor's note: These interviews have been edited for length and clarity.
For more stories like this one, visit "Talking About Race."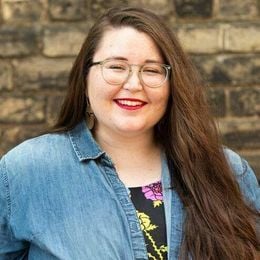 Gretchen Brown
is an editor for Rewire. She's into public media, music and really good coffee. Email her at
[email protected]
, or follow her on Twitter @gretch_brown.