The Rise and Fall of CHOP, Seattle's Police-Free Protest Zone
Occupation insiders reflect on the controversial experiment in support of Black lives.
by
Alicia Erickson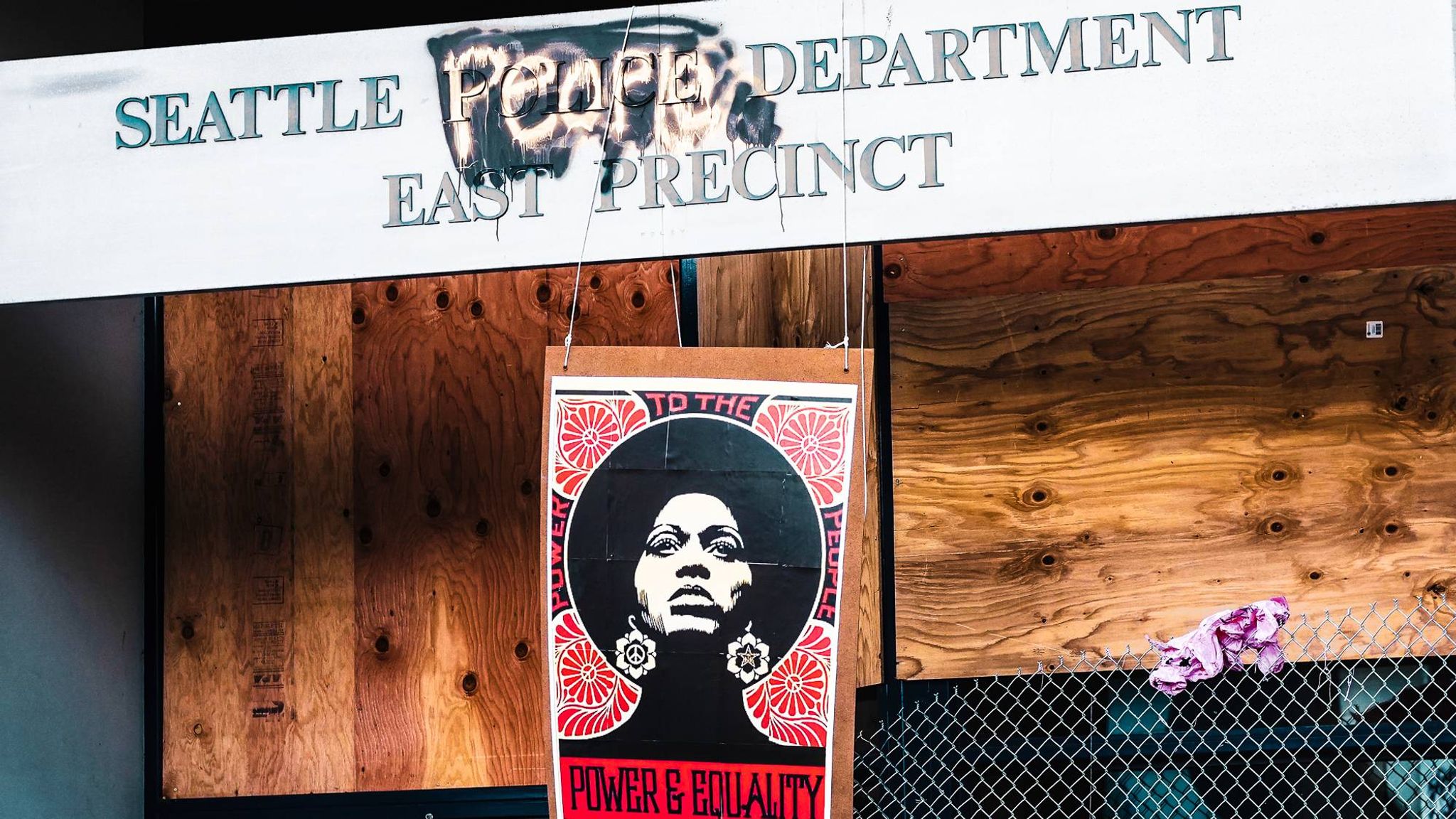 After spending months indoors during the pandemic, the colorful chaos of Seattle's Capitol Hill Organized (or Occupied) Protest presented a complete sensory overload.
Was I walking through a protest or a festival? Perhaps both, merged into a single charged and controversial space.
Crowds gathered at intersections to listen to speakers while graffiti artists tagged boarded-up storefronts. Free food co-ops lined a street painted with "BLACK LIVES MATTER."
A memorial of flowers, candles and artwork stretched along a sidewalk commemorating George Floyd, Breonna Taylor and other BIPOC lives lost at the hands of police violence.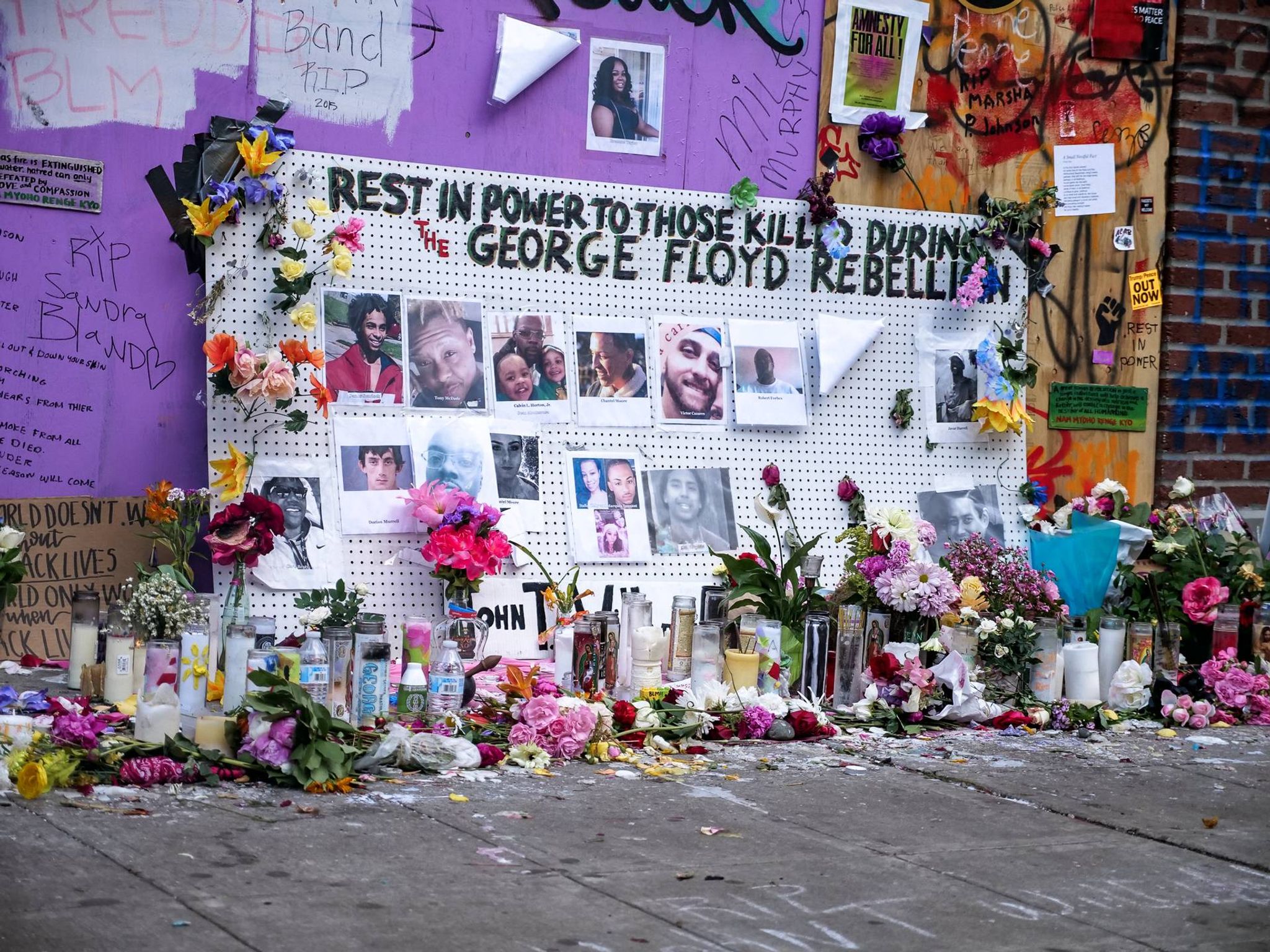 Members of the Duwamish Tribe, descendants of the original inhabitants of Seattle, held a teach-in. A dancer stomped to the beat of drums while a sea of masked participants listened to stories of police violence against Indigenous communities.
This six-block occupied space was a far cry from its portrayal by right-wing politicians and media outlets, which condemned CHOP as a warzone. However, it wasn't simply a scene of peaceful protest either.
After several years of researching political movements around the world, I was fascinated by this unique display of activism in a space that also allowed for community engagement and learning.
I wanted to know: What role did CHOP play within the broader Black Lives Matter movement in Seattle and beyond? What could other cities learn from this radical experiment in protest?
The origins of CHOP
The Capitol Hill neighborhood had been a central focus point for Seattle's BLM protests in the wake of George Floyd's killing.
On the evening of June 1, a vigil for Floyd turned into a violent standoff between protesters and police outside Seattle's East Precinct.
"The police dispersed the crowd by firing tear gas that spread through the entire neighborhood," said Monique Deschamps, a protester and resident within the bounds of CHOP, whose name has been changed to protect their privacy.
"Me, my partner and our neighbors were sent running into our hall to hide from the choking gas that seeped through our windows."
A weeklong standoff ensued. The days were filled with speeches and moments of silence, alongside rising tension between protesters and police.
The confrontation peaked on the evening of June 7. Musician Marshall Hugh recalls flash bang grenades, rubber bullets and pepper spray raining down on hundreds of protesters while his band played. The crowds refused to leave.
The next day, police evacuated the precinct building.
Artists, speakers, activists, volunteer medics, musicians and other groups started setting up tents, information booths and food stalls. Protesters began referring to the area as the Capitol Hill Autonomous Zone, a police-free space run by community members.
The evolution of CHOP
The autonomous zone soon became known as CHOP and served as a center for peaceful protest around the growing BLM and "Defund the Police" movements in Seattle.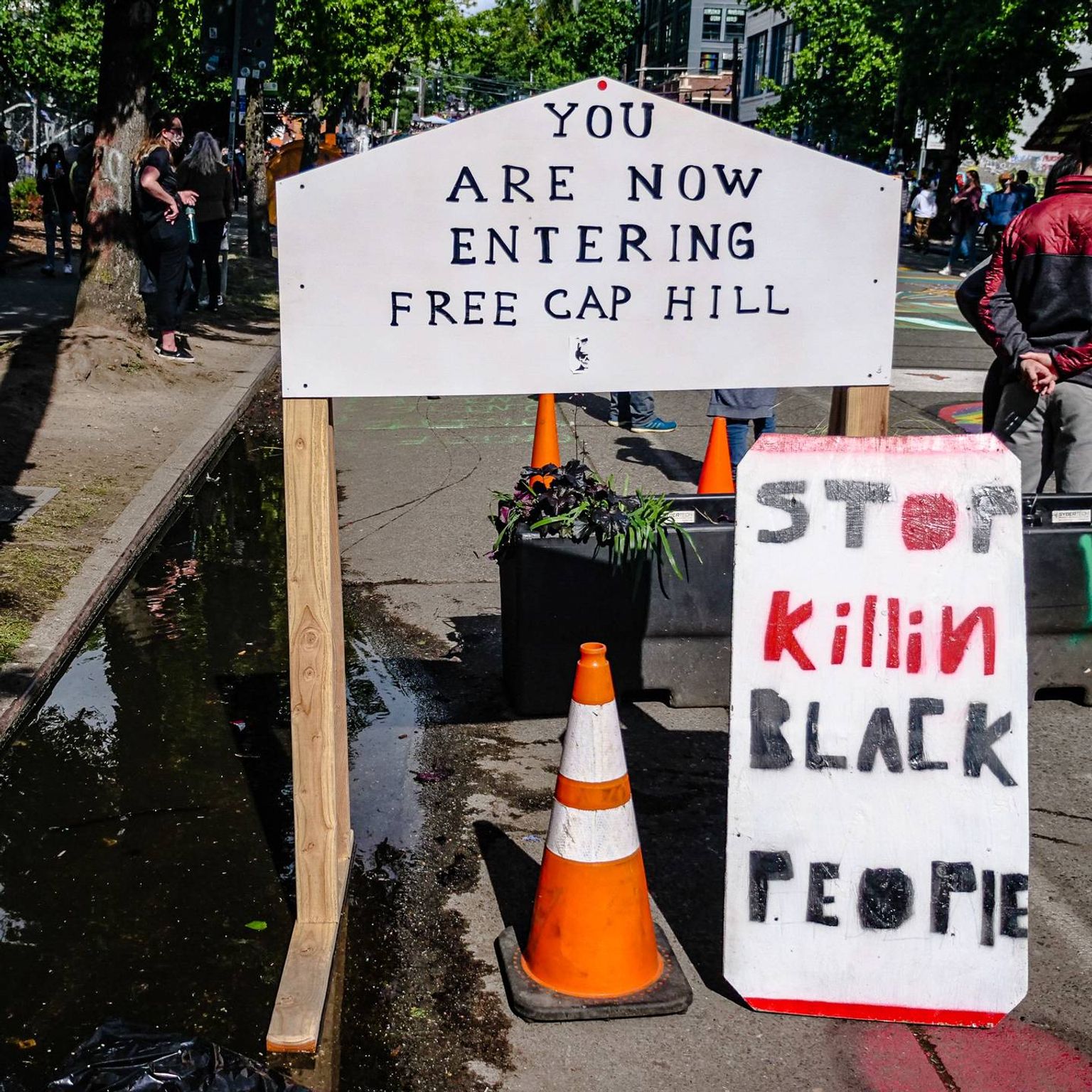 "CHOP became about occupying space and giving that space to the community over a multitude of days," said Chase Morioka, a resident who asked that his real name not be used for his privacy.
Musician Tai Taitano saw CHOP as a victorious space for BIPOC voices.
"I wanted to show up to help support that space and to help amplify Black art, Black voices, Black pride and Black unity," he said.
CHOP provided room for the growing movement to gather, exchange ideas and engage with the community. It also was an opportunity to put utopian ideals into practice.
"In imagining a new world, organizers often try to set up the world they want to see around them," said David Meyer, professor of sociology at the University of California, Irvine.
"They end up having to take up all the tasks that are done by others in the larger world: food, sanitation and public safety."
Toward this end, volunteers and activists donated their time to support teach-ins, conversation circles, speeches and other events. Crews swept garbage off the street every morning. Food co-ops with basic goods and clothing donations were assembled while people served homemade meals. A community garden was planted to promote the concept of collective land ownership.
Art, music and creative initiatives also emerged. Hugh performed with his band, Marshal Law, throughout the initial protests and intermittently at CHOP in an effort to support the movement.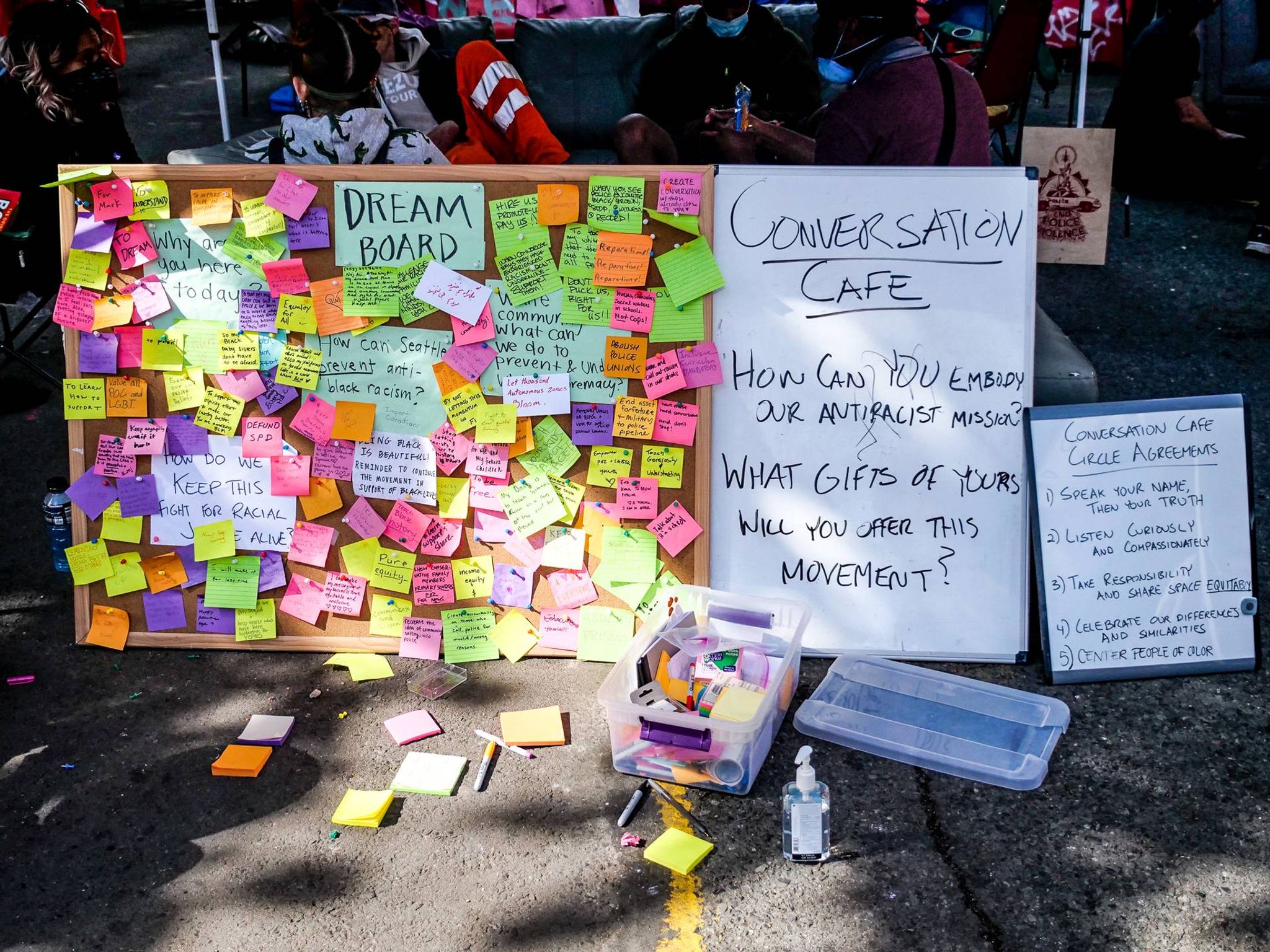 The end of CHOP
For some, CHOP became a place to celebrate and party. This stirred growing frustration among local BLM activists and leaders who believed more serious work still needed to be done.
The occupied space also attracted spectators, which increasingly distracted from its core purpose.
"I walked by two middle-aged white women who had just purchased BLM T-shirts," said Deschamps. "Numerous families brought their children to pose in front of various signs and graffiti."
As the initial wave of artists, speakers and energy started to fade, violence from outside parties became an increasing concern.
Fatal shootings occurred within the zone. Many protesters began to avoid the area after dark, fearing threats of violence from white supremacist groups. These elements overshadowed the conversations and engagement taking place in CHOP during the day.
Police returned to the East Precinct on July 1, and the six-block radius of CHOP was officially dismantled.
Lessons and legacy
Undoubtedly, Seattle's experiment in autonomous protest and education was controversial, especially as concerns over gun violence, substance abuse, mental health and homelessness grew. However, these issues were already present in Seattle and simply became amplified with a renewed urgency in Capitol Hill.
CHOP highlighted something that had been missing in Seattle: a community space that belonged to the people, no matter how fleeting it was.
The autonomous zone also provided space for the recognition of intersectionality in the movement for racial and economic equality.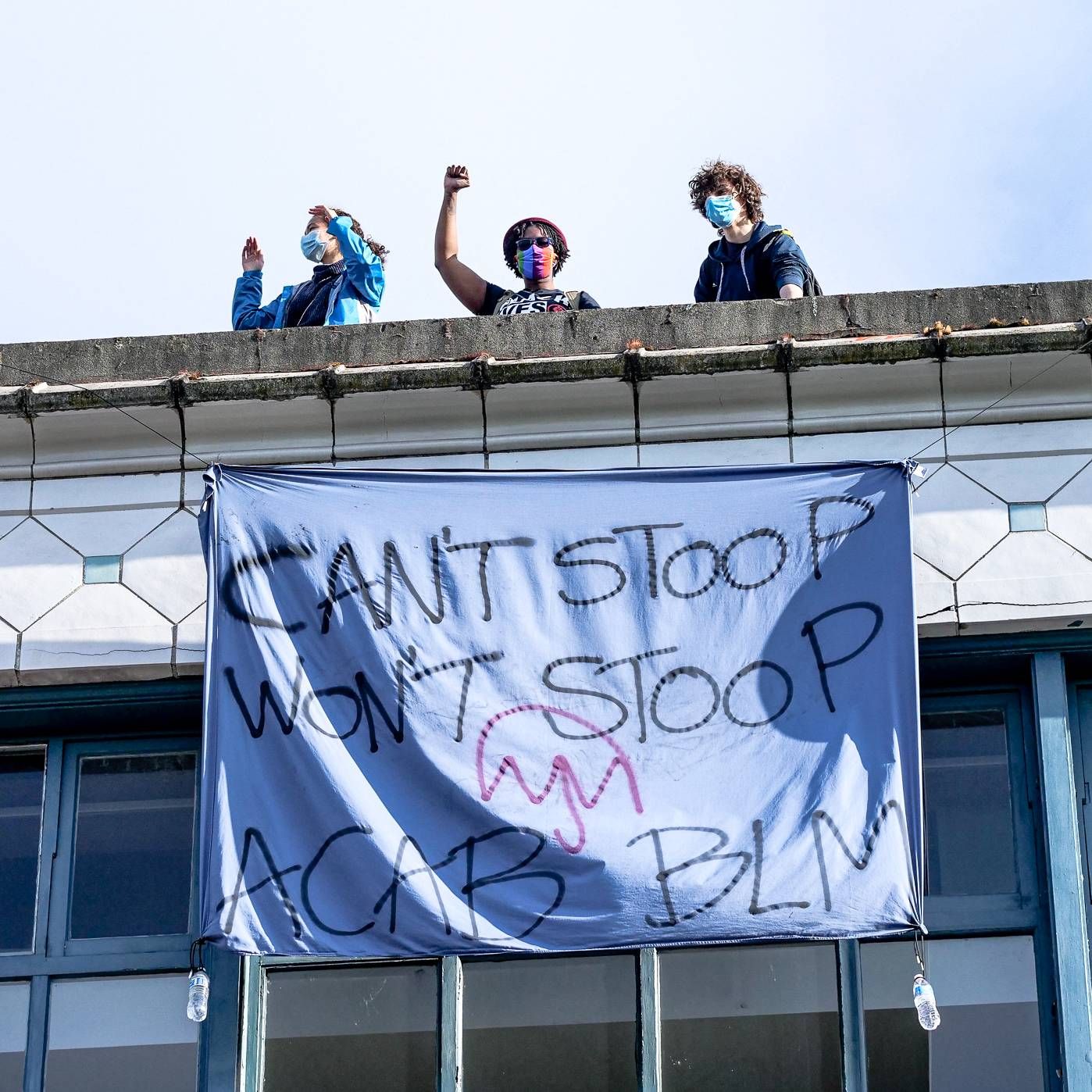 "It was really beautiful to see the solidarity between Black and Indigenous (people)," Hugh said.
CHOP was a powerful moment within the broader BLM movement, allowing activists, musicians, artists, leaders and community members to teach, learn and participate in critical conversations.
Many protesters are optimistic that the movement will continue to grow, despite CHOP's demise.
"I hope CHOP … invigorates a new generation of activists to think about creative forms of restorative work from within our communities," Morioka said.
New organizations have already emerged in the wake of CHOP, including Black Collective Voice, a group committed to carrying on the goals of the movement: defund the police by at least 50 percent, reinvest in Black communities, and free jailed protesters.
These collectives are joining existing entities to fight for other social justice causes across the city, including a campaign to shut down an expensive youth jail project.
Shortly after the dismantling of CHOP in early July, activist and former mayoral candidate Nikkita Oliver reflected on the ongoing legacy of the movement.
"We haven't achieved our mission yet … to ensure that at the end of this the Black community is in a position to thrive," she said. "We know that our mission is not done."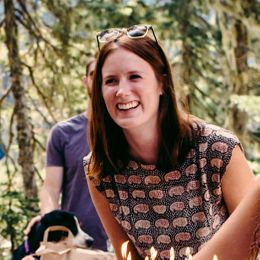 Alicia Erickson
is a freelance writer, photographer and political analyst. She covers conservation and political movements in the Pacific Northwest, India and sub-Saharan Africa.