Are 'SuperAdobes' a Solution to California's Housing Crisis?
by
Lauren Williams
After living at home with his mom in a Los Angeles suburb and delivering pharmaceuticals for years, Ian Schlicher is about to hit a milestone increasingly elusive for people in their 20s who live in major metropolitan hubs. Schlicher will become a homeowner.
"I couldn't even afford an apartment," he said.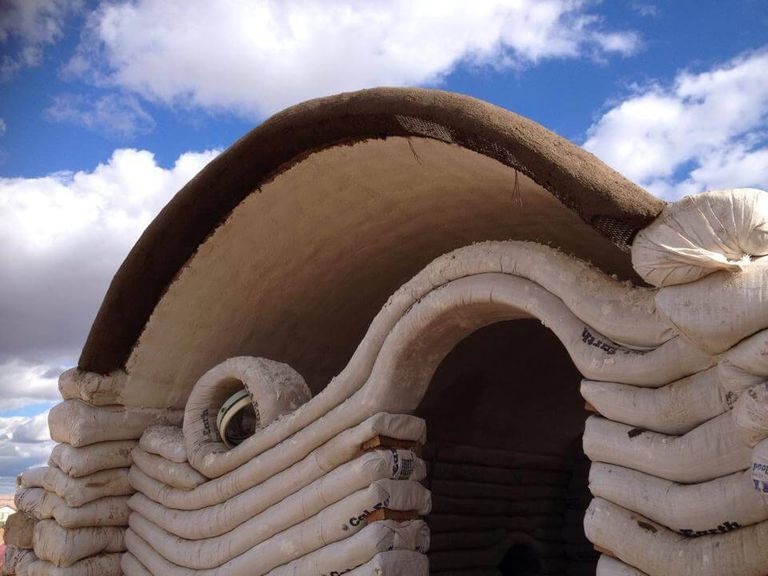 But after some careful designing, Schlicher will soon start constructing a custom house himself on 36 acres outside Williams, Arizona. With no mortgage or rent and minimal utility costs, Schlicher will have more money to devote to his passion for glassblowing.
In a matter of weeks, perhaps as little as a few days, Schlicher will construct a house himself that can last generations and survive earthquakes, fires and floods. His design will require little more than compacted sandbags and barbed wire.
The whole project, including buying the land, will likely cost him tens of thousands of dollars—less than a tenth the price of California's median home price of $522,000.
How is this possible? Schlicher plans to follow an affordable housing model established by the non-profit California Institute of Earth Architecture, which promotes the idea that housing is a human right. Blueprints for their SuperAdobes—made primarily of sandbags stacked into a dome shape—have been used to house people displaced by war and natural disasters around the world.
"You could build something like this for the price of building a shed in your backyard," Schlicher said.
Now, with many Californians excluded from homeownership due to a critical housing shortage, the non-profit CalEarth is seeing an influx of visitors to its Hesperia campus who are wondering: "If I can't buy into the market, can I cheaply build a home myself?" Like Schlicher, they're considering building SuperAdobes of their own.
While these hopeful homeowners would have to find and purchase vacant lots in a crowded city (unless they're planning to go the rural route like Schlicher), the price of these lots can be manageable when building costs are kept low (and depending on a lot of other factors). That's where SuperAdobes might come in.
"We want everyone to have a home that they feel safe in, that is environmentally friendly, that works in harmony with nature and that is affordable," CalEarth President Dastan Khalili said. "And also that people can build or participate in the process themselves. That is the ultimate vision."
Affordable to build, simple to maintain
Unlike with conventional housing construction, no wood needs to be harvested, no power tools or heavy machinery used. About 90 percent of the materials needed to build a superadobe comes from the building site itself. Supplies are as low-tech as a plastic cup, sandbag, barbwire and a steel tamper to compress the bags.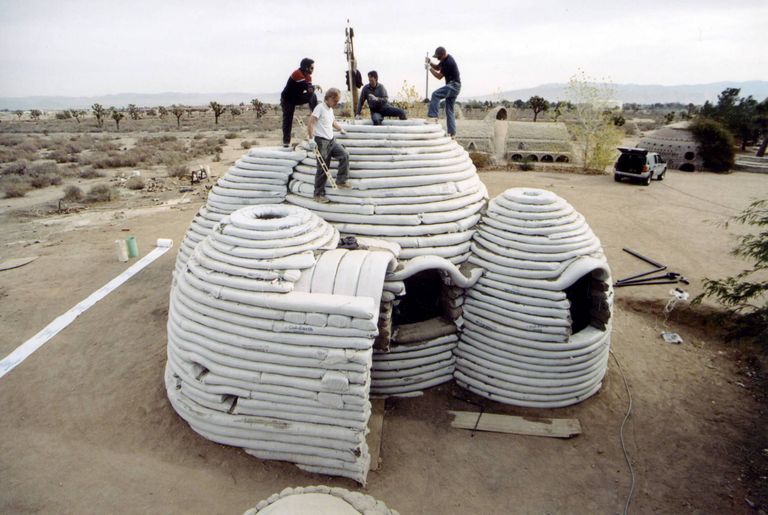 "It's a flexible form of architecture that really allows you to mold it in so many different ways, from small scale to full size suburban homes," CalEarth site director Ian Lodge said. "Really there's no end to the possible application of this technique any more than there's an end to what you can do with a two-by-four."
Construction using dirt dates back at least hundreds of years. But unlike other forms of dirt or adobe construction, the type of soil—be it sand, clay or gravel—doesn't matter as long as the dome shape is part of construction, Lodge said.
"Once it becomes a dome the material is functioning in the most effective way," Lodge said. "Therefore the material itself doesn't need to be as strong as you may think. … It's being organized in this unified way based on the principles of the arch."
CalEarth domes need little to no energy for heating and cooling depending on where they're built. The foot-thick walls absorb heat throughout the day, insulating the interior from the harsh sun. At night, the earth-packed walls radiate that heat and naturally warm the house. A wind scoop calibrated toward the direction of the wind during construction adds ventilation to a home.
On cold, overcast winter days that are shorter, a fireplace can add warmth not radiated and absorbed by the dome.
"Others don't own the right for you to buy or build a home," Khalili said. "It's up to you."
Meeting a widespread need
It's an appealing prospect for young people priced out of the housing market. It's estimated there are 100,000 fewer homes built each year than are needed to keep up with demand in California alone, a phenomenon seen across the U.S. and worldwide.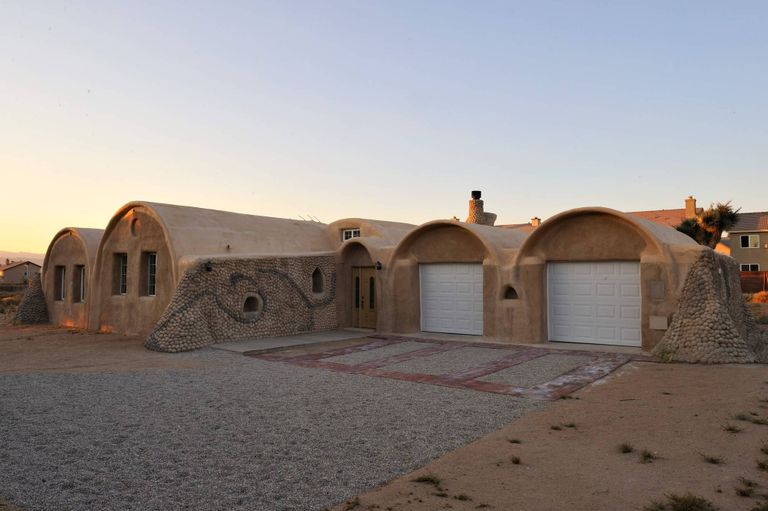 Of the 54 major housing markets in the United States, 13 of those—nearly a quarter—were classified as "severely unaffordable" in a recent study. Globally there were 26 unaffordable housing markets in 2017 with some of the least affordable housing markets in Hong Kong, Vancouver, Sydney and San Jose, California.
"There's a need for affordable and accessible housing," 31-year-old Constance Melkonian said.
Melkonian works in film production in Los Angeles, about two hours away from the desert CalEarth campus she recently toured. While she earns a livable wage, she said buying a home in Southern California is still out of reach. She's considering taking classes at CalEarth to build a dome of her own.
"Getting a home," she said, "shouldn't be an unobtainable task."

Lauren Williams
 is a science and environment journalist living in Long Beach, California. A native of California, Lauren briefly lived in Santiago, Chile, where she edited an online magazine and worked as a translator for doctors from Malaysia following Chile's 8.8-magnitude earthquake in 2010. A runner, rock climber and board game enthusiast, Lauren is perpetually training for the next race day.