How Our Student Loans Are Making Us Sick
by
Gretchen Brown
By the time Camille Kraljic and her partner finish graduate school programs this May, they will have a combined $150,000 in student loan debt.
It doesn't feel good. But it also didn't feel optional.
"I feel like I'm suffocating in debt," she said. "But I also felt that it was my only option because my four-year degree wouldn't get me where I wanted to be in any health-related field."
Kate Schultz is also facing about $120,000 in student debt. Her husband has student loans of his own to pay off.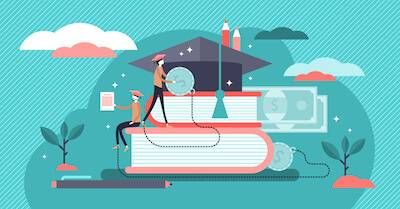 She worries she'll have to put her life on hold.
"It is one of my biggest stressors," she said. "And makes me worry about being able to afford a house or having kids."
Americans now owe a collective $1.56 trillion in student loans. That surpasses the nation's credit card debt by over $521 billion.
There's even a disparity by race: black student loan borrowers owe more than double what their white counterparts do.
And while much of the national conversation around student loan debt revolves around making college tuition-free or debt-free for future students, it often ignores the mental toll on adults already burdened with it.
There's no way around it — student debt is stressing us out.
Student loans are giving us anxiety
One recent study in the U.K. found that student debt can lead to depression, anxiety, alcohol dependence and other mental health problems.
Another study found that 80 percent of working professionals consider student debt a "significant" or "very significant" stressor.
Anjali Pradhan, an investment coach, said she tries to get her clients to think differently about their debt.
While credit card debt can be dangerous, she considers student loan debt "good debt" because of its low interest rates.
"We live in a society that blindly values being debt-free," she said. "Certainly, there is bad debt, but this leads to many people feeling ashamed and burdened by student debt. Meanwhile, companies and government borrow money regularly just to grow and sometimes just to keep afloat, and that is normal practice."
Still, student loans are often treated differently by the federal government. They can't be discharged through bankruptcy or even death, in some cases, unlike credit card debt or car loans.
That can be a scary thought.
Beth Leipholtz, 26, graduated from a small liberal arts college with $10,000 in federal loans and nearly $80,000 from a private loan servicer.
The weight of her debt didn't hit her until six months after graduation, when the dust settled: her payments would be over $1,000 per month, more than her paycheck at the time.
"At one point they were very anxiety-inducing to me," she said. "There were points I'd lay in my bed and have a panic attack and cry."
Her servicer gave her two options: she could put the loans into forbearance, which came with a fee. Or, she could just stop paying them, which would affect her credit.
Another student loan "expert" recommended her parents take out a second mortgage on their house to pay it off.
Leipholtz put some of her loans into forbearance. She felt like she had no other choice.
It's forcing us to change plans
Student loan servicers have been called out for practices critics say are malicious. Navient is facing a lawsuit alleging it pushed borrowers towards forbearance, which comes with added fees, instead of suggesting income-based repayment plans.
Leipholtz was eventually able to refinance her loans through a different servicer, but she still works three or four jobs to make the payments.
She said she feels lucky that her fiancé doesn't have any of his own. But her loans are making her rethink her vision for the future.
"It's just frustrating that they have to be so daunting to that point that I don't know if I want to have a wedding," she said.
Emily Stuckmayer also feels like she has put her future on hold. Five years after she graduated from a state university, she has $40,000 in debt. She's expecting the debt will take another 20 to 30 years to pay off.
She doesn't see herself being able to retire in the future.
Stuckmayer said she gets no sympathy from older relatives, who constantly question why she hasn't started padding her savings account or bought a house.
Since 1989, the cost of college has increased eight times faster than wages.
"My dad is constantly reminding me that when he was my age he already had a house and all that," she said. "But I have to remind him he wasn't spending $500 a month to pay for an education."
She doesn't regret going to college. Her current career, as an event coordinator for a national corporation, required a college degree.
But she's learned most things on the job.
"It's definitely a hard pill to swallow knowing that I was somewhat forced into putting myself into debt," she said.
It's changing our idea of the future
Olivia Lee-Benton, 25, graduated with $35,000 in student debt from her undergraduate degree in education at a public university.
She's a licensed social studies teacher, but has not been able to find a permanent position for two years, often losing out to candidates with master's degrees.
She says the debt has felt discouraging as she attempts to start her career.
"More and more people our age cannot afford to develop savings or invest because a chunk of our income goes to paying them off," she said. "School tuition is outrageous and I feel like our generation was preyed on by this."
Schultz, who is in graduate school for physical therapy, says she expects to work at least one job on the side in addition to her career to supplement her income.
She said if she could do it all over again, she would have picked a path that didn't require graduate school and the debt that came along with it.
"I didn't like the idea of it when I was 18," she said. "But figured that was the only way and I just couldn't grasp how much it would loom over future choices."
Financial insecurity snowballs.
Schultz said she has even put off going to the doctor for fear she won't be able to afford the out-of-pocket expenses.
But it's still taboo
Kraljic expects to start paying $1,000 per month once she graduates with her Master's degree in public health.
Her debt is just from grad school; both she and her partner have no undergraduate loans. Kraljic, 25, has been working three jobs on top of her full-time graduate program just to pay down her interest in the meantime.
Many of her classmates could be in the same boat. But she wouldn't know.
Even though about 60 percent of college students take out some degree of student loans, and more than 2 million have debt greater than $100,000, talking about it in public is still taboo.
That leaves people with debt feeling alone.
"I'm not sure if people are embarrassed or ashamed or maybe they just don't want to talk about it because it's suffocating, but few people talk about it openly," she said. "Even my friends in grad school don't."
Do you talk about student debt with your friends? Tell us in the comments.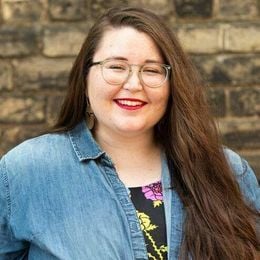 Gretchen Brown
is an editor for Rewire. She's into public media, music and really good coffee. Email her at
[email protected]
, or follow her on Twitter @gretch_brown.