Stop The Trolley--Mister Rogers' Neighborhood Is On Netflix!
by
Maribel Lopez
Are we in the Land of Make Believe? No! This is real life—Mister Rogers' Neighborhood is on Netflix!
As of September 1, Volume 1 of Mister Rogers' Neighborhood was made available for your streaming pleasure. That means one thing, get out your cardigans! We spend a lot of time reminiscing of Mister R. and couldn't resist picking out a few of our faves from the Netflix collection. Share your favorite episodes in the comments!
Caring for the Environment
I love this episode because I remember as a kid, I was fascinated by recycling (I mean, what kid isn't?). This episode sheds light on the mystery of what happens when those big trucks haul away all your milk cartons and cans as Mister Rogers and Mr. McFeely make a trip to a recycling center. Plus, King Friday and friends search for a new dump while wearing some stylish "nose muffs" which is must-see TV.
"The best kind of toy is the kind you make for yourself. When you make things for yourself, it's like taking care of yourself." - Mister Rogers dropping some recycling wisdom.
Competition / A Favorite Factory Visit, Crayons!
Who doesn't remember this episode?! Only people with the kind of amnesia we only see in soap operas, that's who!
After re-watching this show for the first time since I was a kid, I have to say that I'm in awe of the complete and utter peacefulness of it. Especially this episode. If you've had a bad day at work or if life is getting you down in basically any way, stop what you're doing and watch this. You will immediately feel so much better. Guaranteed. By the end of this episode, I once again believed in the possibility of world peace.
Like... for real.
Besides visiting a factory that makes crayons in a beautiful, mesmerising (and, okay, yes, a little trippy) field trip—we also get to see Fred Rogers color (he's really terrible at it, but, as he says: "it doesn't matter, it's just the fun of doing it that's important") and sing a song about the benefits of taking action instead of just thinking about doing something. That's a lesson even adults can take to heart.
You'll also get to hear some great jazz underscoring which I never really appreciated until now.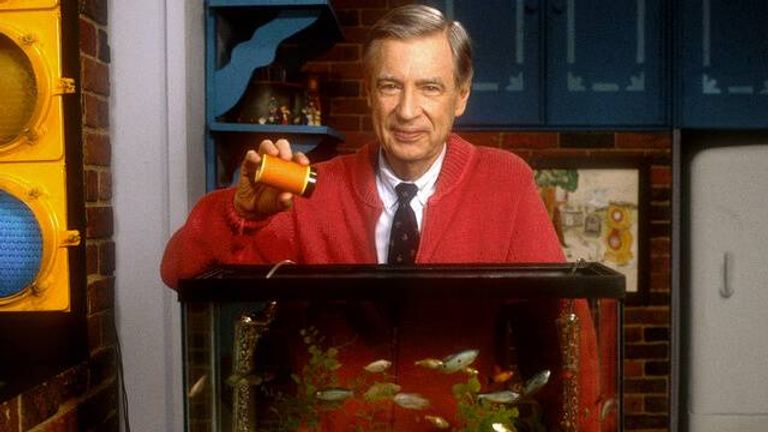 Mister Rogers Talks About Pets
As a child, the only pets my family had were fish because my father claimed he was allergic to dogs and cats. I believed him and I was okay with that because Mister Rogers had fish he loved very much so we were on the same pet level. (Remember the episode where the fish died...? #sad)
This particular pet episode shows Mister Rogers reflecting on his walk with his neighbor's dog who he had been dogsitting. There's a pretty long sequence of the two of them happily trotting through the neighborhood and after re-watching, I just couldn't help but smile the whole time! BECAUSE now as a human who has a dog in the family—I totally understand the joy of furry pets!
Oh—and as it turns out, (conveniently) my dad is NOT allergic to furry, four-legged creatures. I know this because now all he cares about when I visit, is snuggling with my dog, Carlos.
Also, lots of episodes of Mister Rogers' Neighborhood are available for viewing on PBS Kids!

Maribel Lopez
 is a lifelong public media fan and as director of Rewire, oversees the site's strategy and operations. When she isn't catching up on the latest digital publishing trends, she enjoys traveling, flamenco dancing and going on adventures with her doggos.