How to Step Into a Leadership Role— Without Feeling Lost
Most folks don't feel ready to manage. It might require a shift in thinking.
by
Gretchen Brown
A promotion feels exciting.
That is, until you're actually sitting in your new desk chair, next to new reports you're expected to supervise.
There's a good chance that if you're a new manager at your workplace, you don't feel prepared for that task.
According to a 2016 survey of 500 managers, 87 percent wished they'd had more training before their promotion. Nearly half said they weren't ready for the job.
You might have felt like a pro at your last gig, but a leadership position is a whole new ballgame. That's especially the case if you're young or new to supervising others.
There's no reason you should think you're not qualified for the work— there's a reason you were given the job in the first place. But it might require a shift in your thinking.
"Understand that it's no longer about you," leadership coach Ramona Shaw said.
"Your success will now depend on the success of the team and that's a complete shift to how you've done work in the past."
Prioritize relationships
It might feel strange or unnatural to be in charge of folks in your workplace. But it is now your job to set them up for success and guide them along the way.
You can start this by building a good working relationship with the folks you're managing, if you don't have that already.
"This may seem like a cliché, or maybe even obvious," said Joseph Puglise, Senior Director of Executive Search & Recruiting at executive search firm JMJ Phillip.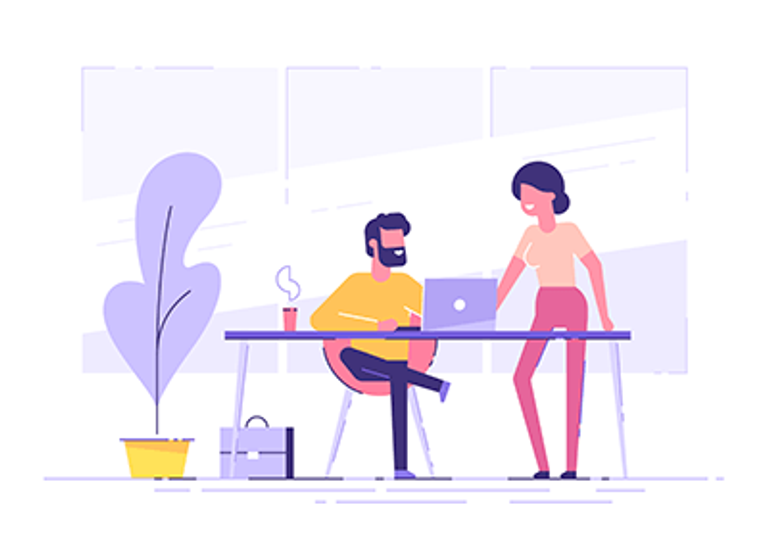 "But mutual respect, rapport, and connection is the foundation of every productive reporting structure."
Figure out what the folks you're managing like and dislike about their jobs. Ask them about their long-term goals and how you can support them. Get to know their lives outside of the office, too.
Digging in can help you have a more well-rounded picture of the people you're working with. Puglise recommends having these conversations at an offsite lunch or happy hour.
"You'll find that the employees that you have a genuine and authentic relationship with will work harder for you than other leaders in the organization," he said.
It's important that the folks you manage feel included, both on your team and department, and in the organization as a whole. Keep them in the loop as best you can.
Set up times to meet with your employees regularly on a one-on-one basis— either weekly or biweekly. This way, there's a standing structure for them to share out what's working, and what's not.
Act like a manager
You're used to handling everything yourself, but being a manager will mean that it's your job to delegate some of your tasks out to others.
Holding onto your own work for too long is just going to hold everyone back, Shaw said.
You can start small. Ask folks to read over your work, or do research for a project. The sooner you're used to doing this, the more easily you'll be able to lead.
If you are now supervising people who used to be your colleagues, that transition can be especially tough.
Just because you're someone's boss doesn't mean you can't be their friend any longer. But you'll need to be consistently objective during work hours— showing any hint of favoritism will be detrimental in the long run.
Some relationships might change.
"Given the power differential, this manager must also understand that (their) new status will most likely have a negative impact on friendships with former peers," said Robert C. Satterwhite, partner at Odgers Berndtson, an executive search firm.
Acting like a manager will also mean having hard conversations with people you like and trust.
"In management, letting things always slide, and not addressing issues head-on always leads to trouble," said Monica Mosure, Vice President of Marketing at MS Consultants.
Your job, Mosure said, is to listen to all sides of every situation, and try to understand the perspectives of your direct reports. You won't know the motivations for their actions until you do that.
But at times, you might need to explain to them why you need things done in a certain way. That's OK.
Listening is important. But since you might have information your subordinates don't, you don't always have to take their advice.
Don't forget professional development
If you really don't feel like you've been adequately trained for the leadership role you're in, you always have the option to simply ask your supervisors for more training.
"Ask if they have any courses they recommend," Mosure said.
"And if not, do some research and find ones that have good references and are well-known. Management is a learned skill that takes practice, just like anything else."
Aside from formal training, read any books you can about management. Mosure recommends reading up on emotional intelligence, which is a skill that will help you interact with others in more meaningful ways.
Part of learning the job is asking a ton of questions of the people you work with. There's a good chance they have experience and industry knowledge you don't, especially if they're older than you.
And, make it a point to ask your team members how you can do better, Satterwhite said.
This shows both that you're open to feedback and willing to change, and gives you areas that you can actively work on or search for coaching in.
Thank them for the feedback, and don't get defensive, no matter what it is. That's crucial for developing trust.
Trust the process
You're not going to be a successful leader overnight. The skills aren't something you're born with, and one personality type isn't better at it than any other.
It's also a significantly different toolbox than the one you used for work you've done in the past.
"Know that what made you successful so far is not what will make you successful as a leader," Shaw said.
The leader you become doesn't have to look like any leader you've worked under before. As a new manager, Cassie Nichols realized the importance of finding her own leadership style.
"To new leaders I would suggest that they not focus so much on what they think a leader is supposed to talk like, look like, and act like," said Nichols, president of Origen Realty.
"...Being authentic in how you lead is key to being relatable, respected and maximizing effectiveness."
This initial step is one of the biggest transitions you'll make in your entire career. It's all brand new— so take the time to do it right.

Gretchen Brown
 is an editor for Rewire. She's into public media, music and really good coffee. Email her at
[email protected]
, or follow her on Twitter @gretch_brown.