Staff Picks: An Eclectic Music Playlist Inspired by 'Sound Field'
Through making the show, we learned a lot about music this year.
by
Maribel Lopez
What did your Spotify Wrapped say about your music listening habits this past year? Did you log thousands of streaming hours from musicians across the globe? Who was your lucky No. 1? Were they a new, breakout artist, or an old favorite?
Whatever Spotify said about you, our individual music choices can be deeply personal. And we know listening to music is good for us especially when we branch out from our personal classics and listen to new music.
Throughout 2019, Rewire has been doing a lot of that through the production of "Sound Field" an educational music series on YouTube. Through making the show, we've been introduced to all kinds of genres, expanding our musical horizons.
So as you put together that killer playlist for your New Year's Eve celebrations, consider making it a bit eclectic with something inspired by these staff picks.
[Read: Sciencey Reasons You Should Listen to New Music]
"I mostly listen to a lot of hip hop and house because it's a good soundtrack for the 90s leather jackets that I wear. I had never heard of bachata before producing that episode and I got really into Augusto Santos. He has this song called "Con el Amor No Se Juega" that makes me feel like I'm in a noir film in the Caribbean. It's really romantic but also makes me feel like a spy, so I can't stop listening to it. It fits well with 90s leather jackets too."
– Josef Lorenzo, "Sound Field" producer/director
"I consider myself pretty open to and appreciative of all kinds of music— pop, indie, rap, funk, etc. But I've always really disliked country music. The closest I get is folk. But the 'Sound Field' episode about Kacey Musgraves made me a fan. I mean 'Golden Hour' on repeat kinda fan. It also made me realize that staying so far away from country music was making me pigeonhole bands and miss out on some great talent. I'm not about to become a Toby Keith fan, but I'm more open to country now. Genre is much more fluid than we think."
– Gretchen Brown, Rewire.org editor
"I grew up listening to lots of different genres of music, and I would consider myself a jack of all trades when it comes to what I'm into, but I'm definitely my father's child. He raised me on classic rock and it's still my favorite. That being said, I absolutely loved writing about ballroom and vogue tracks for 'Sound Field' this year. As a queer person who loves learning LGBTQ history, it was so fun to research the ballroom scene and distill it into a script that would come to life as a 'Sound Field' episode. I didn't know anything about the history of voguing music, and learning the story of 'The Ha Dance' was fascinating."
— Katie Moritz, Rewire.org editor and "Sound Field" writer
"I am a huge musical theater fan and will confess that more often than not I'm blasting the cast album of 'Next to Normal,' or 'Hamilton' or 'Groundhog Day.' It's likely not the best fodder for your holiday playlist but 'Where Did Screaming in Metal Come From?' really gave me an appreciation for a type of music and performer that I haven't given much thought to before. Maybe there should be more screaming on Broadway?"
— Marissa Blahnik, Rewire.org managing editor and "Sound Field" executive producer
"I listen to a lot of indie pop and indie rock music, especially artists that speak to the LGBTQ experience. I really enjoyed the horror movie score episode and now, I pay more attention to the music when I watch movies. I also loved learning about electric pow wow and seeing the impact that A Tribe Called Red has had on their community by bringing Indigenous voices and culture to the forefront."
– Syd Stratman, "Sound Field" producer/editor
"We listen to a lot of The Go-Go's at my house. My 7-year-old daughter loves the somewhat creepy 'Automatic' from the album 'Beauty and the Beat.' This song made me appreciate The Go-Go's more than I ever thought I could.
"One of my favorite 'Sound Field' episodes was with A Tribe Called Red and the drum circle Iron Boy. Being able to witness the power of a drum circle up close was definitely one of those 'I can't believe I get paid to this' moments.
— Adam Geiger, "Sound Field" producer/director
"I love to dance and tend to listen to a lot of upbeat, club music, often with Latin flavor — reggaeton, urbano Latino, Latin trap. I was not familiar at all with electric pow wow or A Tribe Called Red until 'Sound Field.' I'm super into 'Ba Na Na' and 'Tanokumbia' which dropped earlier this year because the beats just make me want to move and dance."
– Maribel Lopez, Rewire.org director and "Sound Field" executive producer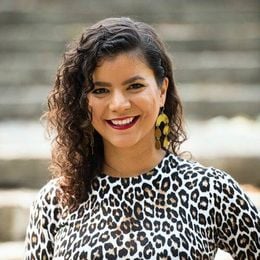 Maribel Lopez
is a lifelong public media fan and as director of Rewire, oversees the site's strategy and operations. When she isn't catching up on the latest digital publishing trends, she enjoys traveling, flamenco dancing and going on adventures with her doggos.