How Social Media Has Made Us More Willing to Talk About Suicide
'I wish Denny had seen someone else's video. But since he didn't, I'm grateful that I've been able to stop other families from losing someone.'
by
Heather Morrison
Editor's note: This article is part of a series to bring awareness to the issue of suicide. For more, visit our Suicide Prevention Awareness page. If you or someone you know needs support, contact the 24-hour National Suicide Prevention Lifeline at 1-800-273-8255.
---
"Daddy, daddy, daddy, come back!"
The 3-year-old cries from her bed.
"Daddy not coming back?" she asks between tears.
But she knows the answer. Her father, Denny Bates, died by suicide in March.
"I miss Dada," she said.
The heartwrenching Facebook video posted in June has received more than 10 million views and has been shared more than 150k times. Titled "The reality of suicide," it's just one of multiple video and blog posts Dani Bates has posted to raise awareness about suicide and reduce the stigma around talking about it. 
"It's so visual and real and raw. I think that's why it's important to share the videos," Bates said. "I could talk about Winnie's grief all day, but seeing it and hearing it does something to a person. It hits so much harder."
Opening up to strangers
From vlogs to Instagram campaigns, more and more people are taking to social media to share their stories.
"People are much more willing to share their story," said Doreen Marshall, vice president of programs for the American Foundation for Suicide Prevention.
Vulnerability on social media is shifting feelings around sharing these types of stories elsewhere.
It shows, "'I'm not alone. This other person struggled and I can see that they were able to recover,'" she said.
Finding a real connection
Bates gets messages from people looking for connection, and people who were thinking about taking their life but didn't because of her posts. That's why she continues.
"I wish Denny had seen someone else's video," she said. "But since he didn't, I'm grateful that I've been able to stop other families from losing someone."
Others on social media have found hope through Facebook groups.
Holly Green started the Facebook group Families Dealing With Suicide in November 2007. It was originally a memorial page for family and friends to share stories of her father, Geoffrey Mark Bryan, who took his life in 2001.
Now titled Families Dealing With Suicide, The Next Chapter, the group has more than 25,000 members worldwide.
"I believe people just want a place to go where everyone gets it," Green said. "Surviving a loved one's suicide is a confusing, lonely place to be. In the early days of a loss to suicide you feel lost and like no one could possibly understand."
That's why these Facebook groups have popped up and grown.
"Groups like mine give people like me a family we wished we didn't need but one that is invaluable," Green said.
But, even with all this support, there's a darker side to social media, too.
In the past few years, more people have died by suicide on Facebook live streams. Facebook responded by using AI to monitor what people post and their friends' reactions. If necessary, Facebook calls the police.
However, in reports obtained by The New York Times, it seemed that "Facebook's approach has had mixed results." And it has scholars worried.
Still, Facebook has given people like Green a larger platform to offer support, raise awareness and fight stigma.
"Groups like mine are essential for those who are living with loss due to suicide," she said. "It has opened up a world of support and knowledge that we just didn't have access to back in 2001 when we lost my father."
Obituaries can be just as useful
Bates also raised awareness with Denny's obituary.
"I remember telling family at my home that night that I was putting it in (the obituary) because I wasn't ashamed," she said. "I was absolutely not going to be a part of the problem by refusing to talk about it."
The obituary reads: "As Denny's loved ones, we are sharing this openly and encouraging others to reach out, in hopes of helping others. Before you get to this point, please talk to someone."
This obit got the attention of Arianne Brown, whose sister died in 2006.
"As someone who lost a sister to suicide in the time that nobody talked about it, I looked for a connection," she said. "Although times have changed, and viral posts like Dani's can happen, I think that the need for people to connect with others who understand has remained constant."
Brown started writing about suicide in 2013. But she knows the conversation isn't close to being over. Bates' obit gave her hope.
"I applaud Dani Bates' bravery. I thank her for letting people like me know they are not alone," Brown wrote for the Deseret News. "It is people like her who give me hope for a world of understanding as this important conversation continues."
How to tell your story
Mark Goulston, author, former UCLA professor and suicide specialist, is conflicted about including references to suicide in obituaries. He knows it helps people feel less alone, but he also worries about it romanticizing suicide.
Marshall believes that if you would normally include cause of death in an obituary, then you shouldn't feel you have to withhold it when the death is by suicide.
"It can be an opportunity to talk about suicide in the context of mental health," she said.
But if you do include it, she said, follow safe writing guidelines and include contact information for suicide support.
Safe writing guidelines — best practices for writing respectfully and carefully about suicide — that once only applied to media organizations should now be followed by anyone blogging, vlogging or posting to social media about suicide, Marshall said.
Some of those guidelines are to always provide the National Suicide Prevention Lifeline, 1-800-273-8255 (TALK), and to avoid including the method, a suicide note or that the death was "caused" by a single event, like job loss or divorce.
"Research shows no one takes their life for one single reason, but rather a combination of factors," an American Foundation for Suicide Prevention fact sheet states.
You should also write "died by suicide" rather than "committed suicide" or any other phrasing.
These guidelines have been created for good reason. Studies have found that not following them can increase the likelihood of suicide in vulnerable individuals, according to the American Foundation for Suicide Prevention.
"Covering suicide carefully, even briefly, can change public misperceptions and correct myths, which can encourage those who are vulnerable or at risk to seek help."
Share healing, too
After a suicide, sharing the recovery process can be just as important.
"Your daddy loves you so much, huh?" Bates asks her daughter in another video.
"So, so, so, so, so much!" Winnie responds energetically.
The video was taken in July, when the 3-year-old transitioned from going to therapy twice a week to once a week. She still talks about being sad and missing her dad but, as her mom describes in the caption, this "is a healthy-minded girl."
"Today was a victory. Today I see the big picture and the light at the end of the tunnel," Bates wrote in the video's caption. "We will beat the odds and get through this thriving."
Bates said she's learned a lot of lessons since March. She's learned "the world is good," that she's never going to stop screaming at the top of her lungs about suicide awareness and to "view everyone and everything with more love and understanding than ever before."
"Looking back, I'm so grateful that I told Denny how much I loved and admired him constantly," Bates said. "And that's how I want to live the rest of my life now too, is making sure I'm kind, loving, and expressing my gratitude to people so that I don't ever have to look back and regret how I treated someone."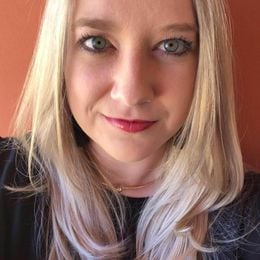 Heather Morrison
is a freelance reporter based in Los Angeles. She reports on religion and disability rights. Follow her on Facebook, Twitter and Instagram for photos of her dog.