Get Your Social Media in Order Before Starting Your Job Search
by
Sylvia Giltner
A job search is hard work. If you are in the process, you have probably been all over the web looking at resume and cover letter templates, reading how-tos and scouring job boards. And these are all good things to do.
You may be missing out, though, on one powerful job searching tool—social media. We used to think of social platforms as a way to keep in touch with friends, post photos and share opinions. Yet, the majority of studies shows that recruiters tend to use social media in their hiring practices, for posting openings and checking out candidates' profiles.
So how can you use this powerful tool to your advantage? Here is your ultimate guide.
1. Clean up your act
You already know to dump all those posts that contain suggestive language, reposts included. Check for other controversial subjects too—politics, religion and delicate social issues.
"We live in a divisive climate, and people have strong opinions," said Jessica Fender, content editor at OnlineWritersRating. "Yours may be offensive to another. Leave your opinions at the door."
2. Focus your efforts
If you try to be on every social media platform, you will manage none of them well.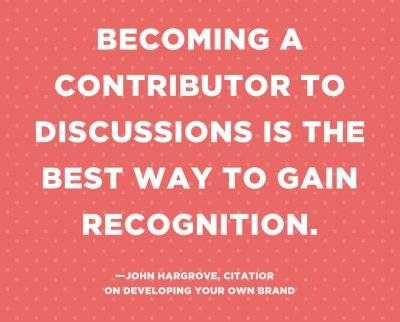 Keeping up a professional presence takes time. To get started, access related groups on LinkedIn and Facebook, and follow influencers in your niche on Twitter and Instagram. Enter into discussions rather than trying to keep up a profile of your own, and then link to your website, blog or portfolio.
Start following companies that interest you and leave well-thought-out comments. John Hargrove, marketing director at Citatior, puts it this way: "Becoming a regular contributor to discussions is the best way to gain recognition. Just be certain that your contributions are worthwhile and show your thought leadership."
3. Mesh the professional with the personal
Show your passion. Outside of your work life, what do you do? Maybe you have been a guest speaker for a high school class; perhaps you do some career-related volunteer work. Posting photos of yourself in these circumstances lets potential employers know that you're willing to put in work beyond what goes toward your paycheck.
4. Be consistent
You need to develop a personal "brand." Who are you? What is your background? What is important to you in your career path? What value do you bring to your field?
And don't forget the personal aspect as well. You need to show your personality. Do you have a good (and appropriate) sense of humor? What inspires you?
Remember, in this situation you are a "product" to be marketed. And your social media content should promote that product and its values.
Pick your platforms
What are the best ways to use specific platforms? And how do you choose the ones to focus on? Here are some quick platform-specific tips that should help.
1. LinkedIn
Your profile should look professional, but not too formal or "standoffish." Take a look at employees' profiles in your niche. What is their tone like? It will be very different between a banking executive and a website designer, for example. Figure out the differences and follow the right style.
Get into as many related groups as possible. After all, this is where networking occurs and where you can come across as a thought leader. But don't be pushy, especially with hiring managers. Be a solid and valuable contributor.
Consider writing a few blog posts or re-publishing posts from your own blog if you have one. Link to them on your profile.
2. Twitter
Twitter is all about keeping up a steady stream of valuable tweets. If you can't, you are better off following Twitter accounts of other thought leaders in your field and participating in discussions.
Take the focus off of yourself and, instead, focus on sharing cool stuff about your profession. You can comment on newsworthy events in your niche or share career-related visuals. Re-tweet good content from others in your field too.
Stay away from controversial stuff, and focus on evergreen topics. Leaving a comment on a movie you just saw, or on a funny thing that happened to you, is completely fine. Show your personality and the fact that you'd be fun to have around a workplace.
Follow companies you are interested in, as well as big influencers in your field.
Use keywords in your bio. Sometimes, recruiters will search for those keywords, and you want your account to pop up when they do.
3. Facebook
You can create and curate separate public and private profiles on Facebook. Potential employers will search for you here, so make sure they find what you want them to find.
Make sure your potential employer gets regular updates on your posts. Show both your career-related activities as well as some of your personality. Sticking only to business tells an employer that you have something to hide.
"Like" and follow the companies you'd like to work for. Make comments. By engaging with the companies, you'll get news about them, which can become interview talking points.
Use the message feature to let specific contacts know you are searching for a job. You may not want that public for your co-workers or supervisors to see.
Join Facebook groups related to your industry. Be a regular participant in discussions. You never know what connections you'll make and where.

Sylvia Giltner
is an HR manager and freelance writer at ResumesCentre.com. She helps people at StudyClerk write the perfect resume and land a desirable job.