Social Distancing Walks Are Creating a Trash Problem
The influx of visitors and lack of infrastructure is a recipe for disaster.
by
Kyndall Cunningham
This article is part of Rewire's Coronavirus: Information You Can Use series.
As the COVID-19 crisis limits our ability to congregate in shopping malls, bars and gyms, the great outdoors has become a new hot spot for people desperate to get out of their homes.
While many states have issued stay-at-home orders, most allow people to engage in outdoor activities like walking, running, climbing and hiking as long as they're practicing social distancing rules, like staying six feet apart and interacting with no more than 10 people.
Needless to say, it's a weird time for nature lovers like Grand Canyon National Park instructor Marjorie "Slim" Woodruff, as people who don't normally take advantage of the outdoors crowd their normally clear, quiet space.
---
[ICYMI: Should I Call Out My Neighbors for Not Social Distancing?]
"Even with the park closed and less than 2,000 of us here, I still run into runners, bikers, and walkers who seem to think that fresh air and sunshine means less than six feet," Woodruff said.
(The public is not allowed inside of the Grand Canyon but can walk and bike the rim trails, according to Woodruff).
More visitors, more litter
Aside from that, these larger crowds pose another threat to a global crisis that's been around for decades.
On a normal year, park visitors generate more than 100 million pounds of trash, according to a report from The Washington Post. This recurring issue is all the more daunting in the current pandemic. More visitors mean more litter.
In Pennsylvania, for instance, Department of Conservation and Natural Resources spokesman Terrence Brady reported more litter in their state parks due to more traffic that's intensified by a lack of staff to handle all of the trash.
And in Michigan, Sleeping Bear Dunes National Lakeshore turned to Facebook to address their increased trash problem.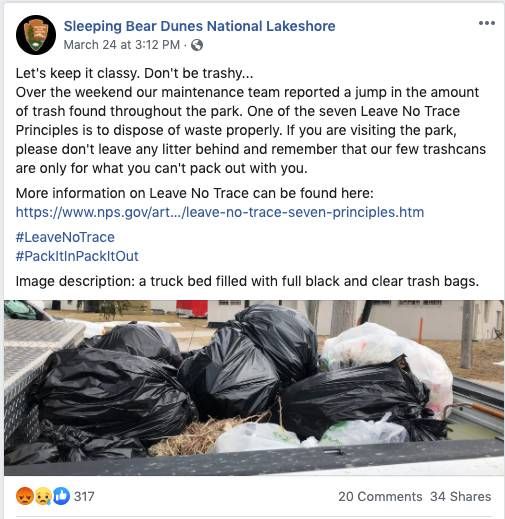 Turning a negative into a positive
While this problem of overcrowding and litter is undoubtedly frustrating for park employees and environmentalists, Steven Reinhold, founder of #trashtag and member of the Clean Trails Advisory Council, understands that utilizing the outdoors during the pandemic is confusing for many people.
"Mixed messages are being sent as people are told that outdoor exercise is an essential activity while at the same time their local parks and agencies have closed their trailhead facilities," Reinhold said.
---
"The results are an influx of new visitors and a lack of infrastructure — a recipe for disaster."
On a positive note, he sees this current moment as an opportunity to educate people and help them build a relationship with nature.
"If, presumably, most of these people are new to the great outdoors, how are they to know the ins-and-outs of environmentalism unless we educate them?" Reinhold said.
"Instead of chastising these newcomers, we should be actively recruiting them into our cleanup movement."
Many people grow up hearing that littering is bad without a thorough explanation as to why. As a child, my mother warned me not to litter mainly for cosmetic reasons.
But beyond ruining the appearance of a pretty neighborhood or a beautiful wooded area, litter spreads bacteria and creates toxins that are absorbed by soil, ruining plants and vegetation. It also harms wildlife when they digest materials like plastic and aluminum. 
Additionally, trash thrown into water causes algae blooms, which makes water turn green and "reduces the amount of available oxygen for other aquatic life," according to the Seattle Post-Intelligencer. 
Your banana peel? Yup, that's litter.
Then there's the usually unintentional but popular form of litter that's fruits and vegetables or "organic litter."
At first thought, it's hard to imagine that throwing your banana peel or apple core on the ground at a nature preserve could be harmful to nature because it will eventually decompose. But as Portland writer and founder of DumbRunner.com Mark Remy explains, the process isn't as fast as we'd like to believe.
"That process takes a lot longer than most people seem to think." said Remy. "An apple core can take two months to decompose. A banana skin or orange peel can take up to two years. During that time, it's simply trash."
Additionally, Woodruff says that even what we consider healthy, natural foods can be detrimental to wildlife.
"Animals often do not eat items such as banana peels and especially orange peels," Woodruff said. "If they do eat it,  it is not on their regular diet and can harm them.
"Animals that eat human food can have the enzymes in their bodies change to adapt. When they return to a natural diet, they cannot digest it."
Making your walks eco-friendly
The most obvious way to offset our current litter problem is to make your nature walks eco-friendly by picking up trash while, most importantly, adhering to social distancing rules. Residents in Ohio and Illinois are already doing their part. 
As far as protective gear goes, you can purchase trash grabbers at hardware stores or online, as gloves might be difficult to find right now.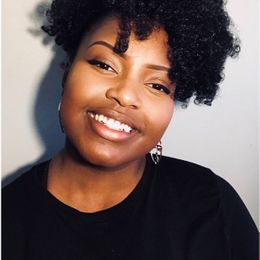 Kyndall Cunningham
is a freelance writer from Baltimore. She writes on a range of topics including film and television.