Sesame Street: It's Not Easy Being Green. Or a Kid.
by
Cathy Clark
Several Muppets were added to the Smithsonian's collection this week, including Miss Piggy, Kermit and Fozzie Bear. The iconic group has been well-loved for decades, along with other Sesame Street classic members: Bert, Ernie, Cookie Monster, Big Bird and others.
Not all Muppets are there for laughs, though. Alex is a new Muppet on Sesame Street. Alex isn't like other Muppets. Why? His dad is incarcerated.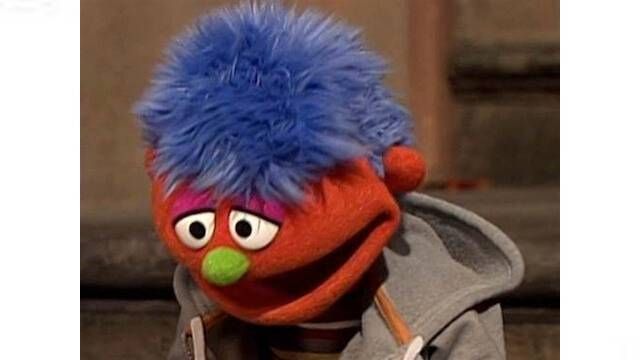 Though Alex's story is only featured online right now, Sesame Street has once again broken new ground by tackling a difficult subject that others would probably shy away from. It isn't easy being the kid whose parent is in jail. It isn't easy when you feel like no one in the whole world can relate to you.  As Alex says, 'Most people don't understand."
It isn't easy being a kid, for lots of kids.  Maybe people don't want to talk about that, or see it on their TV, but it's true. And Sesame Street has always stepped bravely into that uncomfortable space and helped fill it with friendship, understanding and compassion. We all know this about Sesame Street, somehow, but it bears repeating.
When one of the actors on the show died, Sesame Street took the risk of introducing children to the concept of death—through Big Bird in the "Farewell, Mr. Hooper" episode. Kids lose people they love all the time, but rarely does a children's program respect their feelings by talking right to them about it.
Sesame Street has also provided comfort to kids by talking about hurricanes, on "Sesame Street Gets Through a Storm," when Big Bird's nest is destroyed and, eventually, rebuilt by friends.
In "Elmo Visits the Firehouse," a response to children's fears following the terrorist attacks of 9/11/2001, Elmo panics when he hears sirens and has to overcome his apprehension about returning to a spot where a fire occurred. By visiting the firehouse and talking with firemen, he feels reassured and gets his courage back.
It's worth noting that most of the Muppets don't have official "family" to help them through these difficult times. They have friends, though. They rely on friends.
And Sesame Street always has a lot of them around—and is a friend in itself.