How to Cope With Seasonal Affective Disorder If You're Already Depressed
by
Katie Moritz
If you already don't want to get out of bed in the morning because of a mental illness, dark and dreary weather is the last thing you need. Those factors combined can make tackling your normal daily tasks feel nearly impossible.
Yet, once the days get shorter and the temperatures drop, that's the reality for people who experience depression year round and seasonal affective disorder, or SAD, a type of depression exacerbated by the changing of the seasons. Though anyone can experience SAD, "the effect can obviously be much worse for those already struggling with depression," Minnesota-based licensed marriage and family therapist Alan Olson said.
For people whose mental health gets worse as the seasons change, anticipating it can be stressful.
---
"It would be akin to taking a car which already has an engine problem, say, for instance, a poorly calibrated fuel-to-air mixture, and then adding watered-down gasoline to the tank," Olson said. "Your engine is already running rough, then something else makes it even more challenging, and performance slips even more."
One of the symptoms of SAD is suicidal thoughts. And though "SAD by itself is rarely a sole cause for suicide... the bleakness, darkness and desolation of winter, the shorter hours of sunlight and the cold could certainly be factors which could put a depressed person over the edge on a decision to attempt" to take their own life, he said.
Care for future you
If you are concerned about your mental health as cold weather approaches, make a plan for how you will keep yourself as healthy and happy as possible. Planning ahead can help when depression and seasonal affective disorder makes "it harder to stay focused on being healthy and taking care of (your) mental wellness," said Katie Leikam, therapist and owner of True You Southeast in Decatur, Georgia.
As you get more depressed, it can be harder to pull yourself out of the cycle.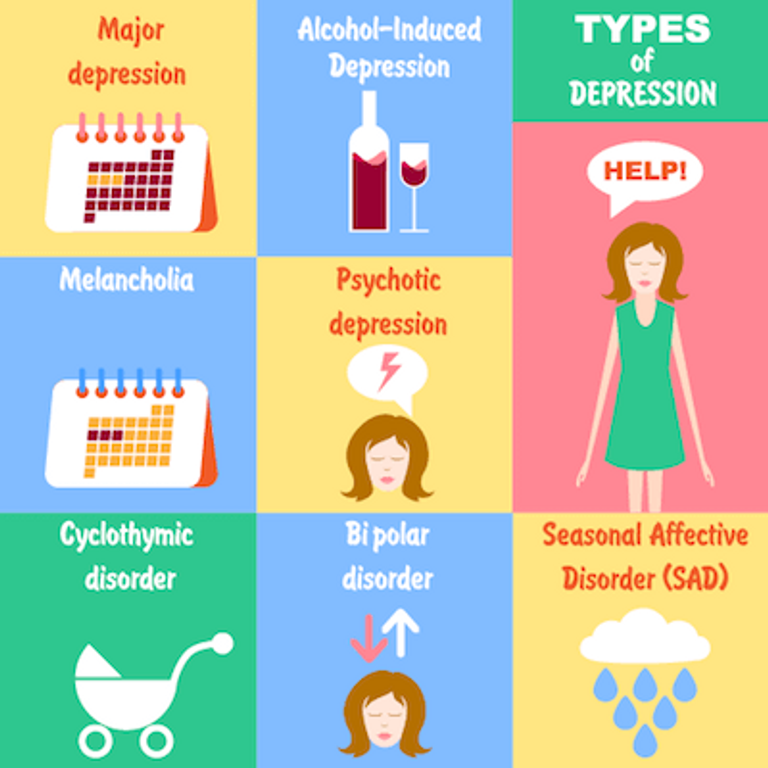 "Get in the habit of taking care of your mental wellness before the season starts," she said. "If that means putting activities on the calendar now so you can be around others, go ahead and schedule them so you aren't isolating."
Planning social activities in advance is one way to keep yourself social and give yourself something to look forward to when the future seems bleak.
"It's important to keep your connections to others strong, even during the winter months when you may feel like isolating," Leikam said.
In fact, you should plan "at least one thing a week to look forward to that is out of the ordinary," Olson said. This serves a different purpose than planning a winter trip to a warm place.
"Find both short- and medium-term events or activities to look forward to: family gatherings, tickets to a show, plan a party or invite friends over for dinner," he said. "The big vacation down south for a week is excellent if it fits into the budget, but that alone might not be enough to pull you through the two-month wait until your flight."
The winter is a great time to try a new hobby or revive a skill you've let slide: Sign yourself up ahead of time for a book club or class. Bonus points if it's a class that gets you moving, too.
Get physical
Establishing an exercise habit, or ramping up the habit you already have, is another way to keep the darkness that comes with seasonal depression at bay. It can also help address a symptom of SAD: weight gain.
"Our metabolism slows down during the winter months, so increasing physical activity level can help increase our metabolism," said Robert Oppenheimer, a clinical therapist with CAST Centers. "Physical activity also releases endorphins, which is correlated with a more positive mood."
However, "it becomes harder because (exercise) often needs to move indoors and it feels more like having to exercise than 'recreation,'" Olson said.
To avoid this, join an adult indoor basketball league or set a weekly time to shoot hoops with some friends. Have a daily walk-and-talk with a pal at an indoor track. Try Zumba or a spin class or a boxing class. Or do whatever it is that makes you happiest. Exercising inside doesn't have to be boring, and you can kill two birds with one stone by making it a regular social outing, too.
If you're looking for something low-impact, "going to gentle yoga or hot yoga is a great way to blast past seasonal affective disorder and depression," said Katie Ziskind, a Connecticut-based licensed marriage and family therapist and yoga therapist.
"Gentle yoga is a good foundation. If you're really looking to feel energized and motivated, getting to a 'hot power' class will undoubtedly leave you feeling empowered and alive no matter how cold or dark the day."
Let the light in
Getting as much sunlight as you can will help keep you happier during the winter months. As much as you can, go outside during daylight hours, Oppenheimer said.
At the very least, get 15 to 20 minutes of direct sunlight per day, Olson said. You can double down by sitting in front of a special light therapy lamp for 20 to 30 minutes a day in the morning, he said. (Talk to your doctor about the one they recommend.) If you can, sit by windows with southern exposure while you work.
Having a rigid sleep routine and sticking to it can help cut down on the effects of late sunrises and early sunsets, Leikam said.
Find a therapist
If the winter months get you really down, you should be seeing a mental health professional, Leikam said. Think ahead and start looking for one now.
"If you are already depressed and are worried about seasonal affective disorder, if you don't already have a therapist, make an appointment before you usually start having symptoms of seasonal affective disorder," she said.
Even when you're not speaking with your therapist, get introspective: "be intentional about establishing or maintaining an attitude of thankfulness or gratitude," Olson said. Start keeping a gratitude journal, and write down three good things about your life every day, Atlanta-based therapist Mikela Hallmark suggested.
"The more you focus on how bleak, dark, and cold it is, the more those factors will impact your thinking, which exacerbates any effect the season may already be having on your brain chemistry," Olson said. "Replacing those thoughts with redirected thoughts towards what is good about now and being grateful for the good things in your life fires off the right neural pathways in the brain."
This is part of a series of stories to bring awareness to the issue of suicide, in honor of National Suicide Prevention Month. If you or someone you know needs support, contact the 24-hour National Suicide Prevention Lifeline at 1-800-273-8255.

Katie Moritz
 was Rewire's senior editor from 2016-2019. She is a Pisces who enjoys thrift stores and pho. Follow her on Twitter @katecmoritz.