Soft Robotics Engineer Kari Love Started as a Broadway Costume Designer
by
Kelly Prosen
Art and science make brilliant partners, and when you find a single creator who has mastered both disciplines, you're in fascinating territory. Enter soft robotics engineer Kari Love.
As a robotics engineer, Love has created costumes for Broadway productions, puppets for "Sesame Street" and spacesuits. So what is soft robotics? The easiest way to think about the field, Love said, is in relationship to traditional robotics.
While traditional robots are made out of metal or plastic, "soft robots are literally made out of soft things—silicon, air-tight fabric or biomaterial," she said. Prime examples: A soft robot stingray made out of rat heart cells or an edible origami robot made from sausage casings.
---
When you look at the world around us, almost everything that moves is primarily made of soft parts, or soft and hard together. When you look at human engineering, we've gone the other direction. Human engineering is predominantly made up of hard things. Soft space is one of the richest to look for ideas."
Love didn't set out to become a robot builder. An exuberant, ferociously curious person, she majored in East Asian studies and costume design at New York University and meandered her way into the sciences.
Now part of a tech start-up, her company, Super-Releaser, has designed flexible exoskeletons to aid in rehabilitation and to solve problems posed by traditional spacesuits.
A 'spider-sense' for design
An unconventional start to her career "was a foreshadowing of what my life was going to be like," she said.
After college, she spent two years in Japan before returning to New York and taking a job as a costumer. She worked on Broadway shows including "The Lion King" and "Shrek: The Musical."
The precursor to her soft robotics work was helping to create the titular costume for the infamous U2 musical "Spider-Man: Turn Off the Dark." (The production's technical snafus earned it its own "New Yorker" cover and a running gag in "Unbreakable Kimmy Schmidt.") Love's Spider-Man costume was more than red and blue spandex slapped on an athletic actor. It was girded with built-in musculature.
"It was comic book musculature, so it was exaggerated, but it was based on real human anatomy," Love said. "It moved with the actor's body in a realistic way."
A STEM career takes off
After 10 years as a costumer, she decided it was time to try something new—and she landed on puppetry.
"I like new challenges and to be on the steep edge of the learning curve," she said.
Love decided she wanted to write a play set in low Earth orbit, and "had a vision of building a puppet that was like a spacesuit," she said.
She started taking an "introduction to spacesuit design" class at Final Frontier Design at 3rd Ward in Brooklyn. One of her class assignments was to design a finger for a spacesuit glove.
She said, "Great! I'll make three different kinds!"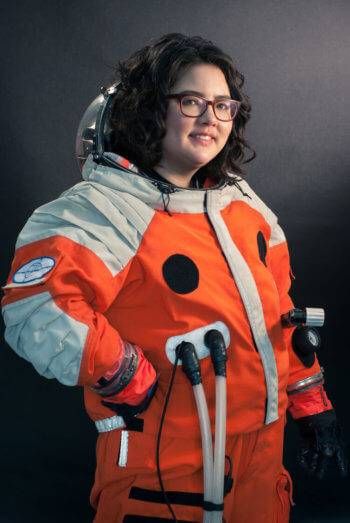 Final Frontier Design recognized her enthusiasm and value as a pattern maker. She went on to work for the company on commercial spacesuit design. The design required testing in a zero-gravity flight, but it wasn't Love's first rodeo—she had previously been a bridesmaid in the first zero-gravity flight wedding.
"I didn't know that getting to be a bridesmaid would be a professional credential later on," she said.
Traditional spacesuits provide a pressurized bubble around the astronaut to protect them from the vacuum of space. But today's designs reduce mobility and tactility, are heavy (making launches cost more), can fail if they're punctured or scraped, need complex cooling equipment and are hard to move around in.
"If you can create a skin-tight suit that applies constant, even pressure you wouldn't need to be in a gas bubble," Love said. "Soft robotics sounded perfect for the problem."
From costume artist to tech boss and back again
In 2016, still looking for that steep edge of the learning curve, Love left Final Frontier Design and joined Super-Releaser. In the singular field of soft robotics, Super-Releaser is itself an unusual business. It's a research and consulting firm that works with other companies on soft robotic designs.
"What we saw as a missing piece in the soft robotics field was that there were a lot of labs in universities and a lot of companies developing specific products," but Super-Releaser works with clients who have a product idea and are interested in incorporating soft robotics, she said.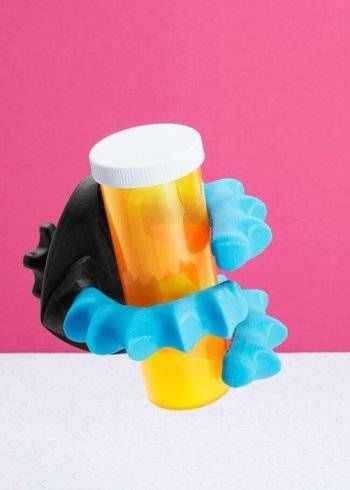 Soft robotics is a field that is still broad and new enough that you don't need to pursue a traditional STEM (science, technology, engineering and math) path to enter the field. Love encouraged a "garage band" approach to soft robotics.
"All you really need is an interest to go into it," she said. "I'm someone who went into it with experience in technical fabric and movement. Some people go into it through biology. Some chemistry. It's inherently multidisciplinary."
Love suggested getting involved in local maker- or hackerspaces (Google "makerspace" plus your city's name to find locations) or simply researching projects online and jumping in.
"Being part of the conversation is something you can do," she said. "Because it's so new, people who are working at home have tons of opportunities to experiment and research."
Working for a start-up has allowed Love to return to Broadway costuming—she recently worked backstage on "The Color Purple." She's realistic about what it's like to run a small business.
"Working for a small tech company, sometimes we have a lot of clients and sometimes we don't have any," she said. "It's good to have another job to weather out the turbulence of being a small business."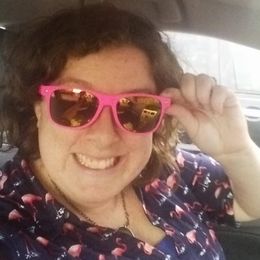 Kelly Prosen
is a Minneapolis writer who loves tabletop games, horror, roadside attractions and empowering women. She tweets pictures of her cats and food her husband makes @kellymprosen and blogs about love and mental illness at adventuresinpoorgrammar.blogspot.com.