Music as Therapy: Roots Musician Amythyst Kiah on Identity, Mental Health and Generational Trauma
The Tennessee-based singer-songwriter discusses life during COVID, her upcoming album and the Grammy-nominated hit "Black Myself."
by
James Napoli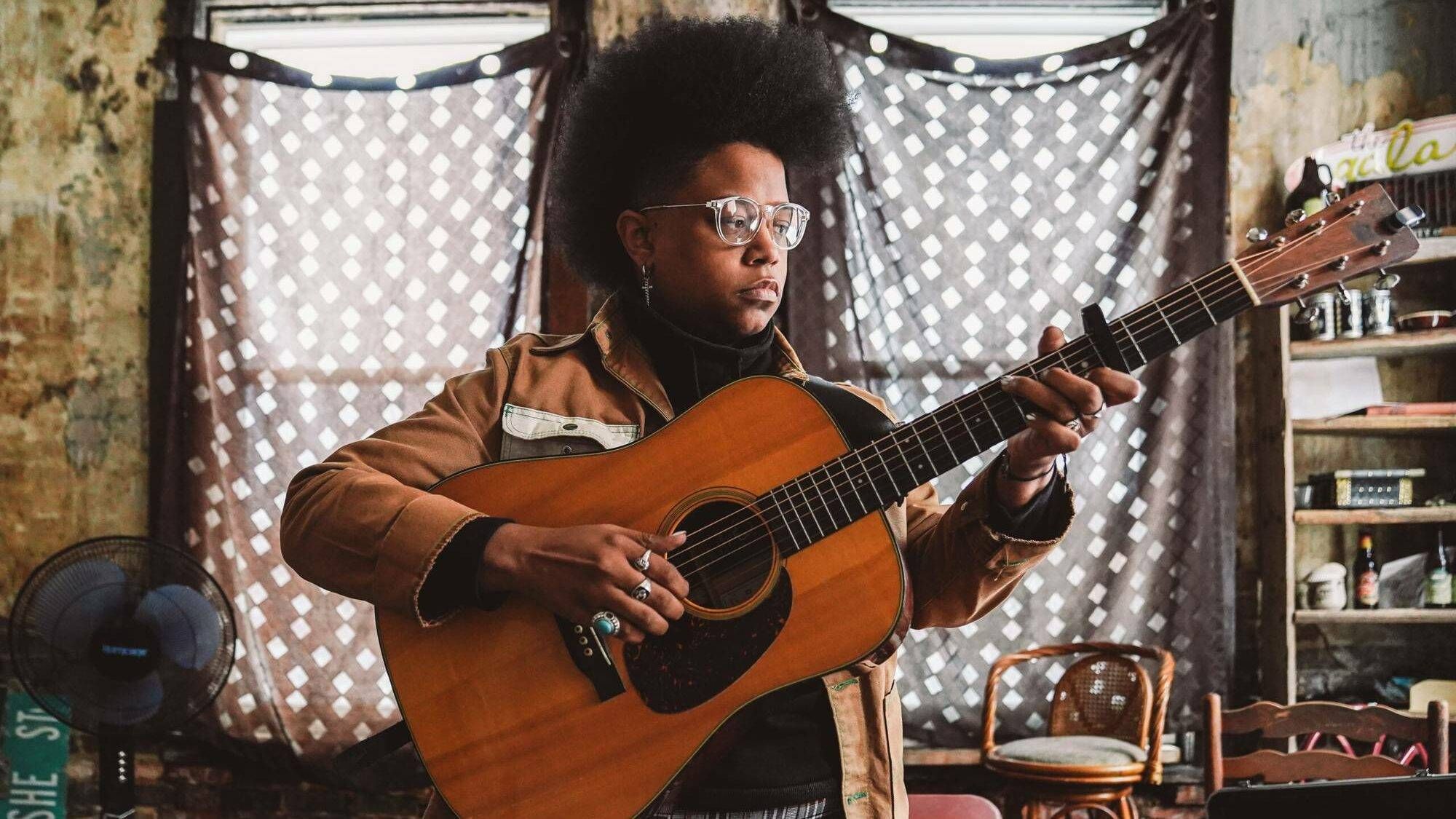 You may know Amythyst Kiah from Ken Burns' Country Music documentary — she plays a bit of "Wagon Wheel" in the Bank of America spot that aired before each episode.
And you might also recognize her from the banjo-slinging supergroup Our Native Daughters, a collaboration with Rhiannon Giddens, Allison Russell and Leyla McCalla for Smithsonian Folkways.
I first met Kiah in November 2019, a few days after she was nominated for a Grammy for the song "Black Myself." I was in Johnson City, Tennessee, to record her playing a few tunes for the podcast Dolly Parton's America. 
She sat on a rickety wooden chair in the back room of an abandoned, dilapidated apartment — the quietest place we could find to record — and completely blew me away with the raw emotional power of her voice and guitar playing.
We recently had a virtual visit to catch up on the past year. From the front porch of her new home, Kiah, 33, told me about her first introduction to old-time music, her struggles with mental health and identity while growing up, the role of music in processing generational trauma, and her new album, due in 2021.
How has the pandemic impacted you as a musician?
I had some anxiety when I came face to face with the realization that, for the past five years, I'd really tied my identity to being a touring musician. I compromised my sleep, my eating and my wellness to do as many gigs as possible. When live gigs stopped, I was like, Who am I? What am I going to do now?
But I've been able to reconnect with myself and focus more on my wellness and relationships. I've spent more time with my partner and gotten in touch again with cooking, gaming, reading, and other things that I just wasn't doing as much because of the whirlwind of touring.
How's your new record coming along?
When I first went into the studio, I was making more of a stripped-down folk album. However, I'm always pushing the boundaries of what an old-time song can sound like. After two years and two recording sessions, I ended up with basically two different records slapped together.
So I teamed up with producer Tony Berg at Sound City Studios, because I wanted to connect my alternative and pop music influences cohesively with my roots influences.
He helped me come to that vision so beautifully that I can't even believe it's my record. The sounds are very visual. It's like looking at a painting that has a lot going on, and every time you look at it, you see something new.
What inspired the songs on the album?
The songs are about things I experienced during a time of my life when I hadn't dealt with unresolved trauma — one of those things being my mom's suicide when I was 17. I didn't talk about that for 12 years. I couldn't talk about it, because I felt like I was going to be judged.
So there's a lot of pain and hurt and dealing with being rejected in those songs. And it's kind of a release of these things that happened, and how I've learned from them.
What role did music play in your life when you were growing up?
For me, music was a kind of therapy. When I turned 13, my parents bought me a guitar. I realized that this was the way I could express how I was feeling. 
When I got to high school, I started feeling like I didn't belong. Some of that was tied to my family — we were one of the few black families in this white suburban area of Chattanooga. It's very much a Bible Belt town, but we were a secular family and didn't go to church. 
I had a hard time dealing with the fact that all of a sudden the people I thought were friends just ignored me or didn't really talk to me anymore. I thought there was something wrong with me. I felt really uncomfortable talking about it, so I turned to music.
I also came out in high school. Eventually my parents transferred me to a creative arts high school, and that was a game changer. I leaned into the weirdness I was feeling, and I started to really explore music and art, listening to Tori Amos and Radiohead and all those alternative artists who turned their pain and uncertainty into something beautiful. I fell in love with that. 
How did you get into roots and old-time music?
I was looking at the course catalog in college and saw a bluegrass guitar class. What the heck? I didn't know anything about bluegrass or old-time music — all I knew was the Beverly Hillbillies.
I called the director to ask if I needed to learn how to read sheet music. He just laughed and said, "If you know how to play by ear, you'll do just fine." 
In a folk class I learned the history of roots music and the fact that all the American music we know today, particularly Americana music, is a hybrid of European and West African influences.
Then I came across the Carolina Chocolate Drops, and I got really into murder ballads and the Carter Family and Vera Hall. I fell in love with the sound of the banjo and the things you can do with it, like being able to play melody and rhythm at the same time. I learned old-time rhythm guitar and played in an old-time string band.
Learning about the history and culture of old-time music really gave me some grounding as a musician and allowed me to explore a different side of myself. 
What did the music help you learn about yourself?
At the time, I had gone back in the closet, and I tried to look more feminine. I was struggling with how I was presenting. I was dealing with not wanting to talk about my mom's suicide. I was trying to keep all these different things from other people, so I wouldn't be rejected.
A lot of the songs I was attracted to in old-time music dealt with death and loss. I felt this really strong parallel between old-time and alternative music, with dealing with struggle and putting that into music, and then creating this distinct voice. 
This period was such a valuable time in my life, where I really had to come out of my shell, very slowly and painfully, and learn how to be a performer and how to find my place and my stage presence.
How did you get involved with Our Native Daughters?
I opened for Rhiannon Giddens on two tour runs, which was incredible. She makes it a point to find people of color within Americana and folk music and give them an opportunity to perform.
In November 2017 she reached out to me and Allison Russell and Leyla McCalla to be part of a project exploring the tragedies of the trans-Atlantic slave trade. We looked at the archives and artifacts of the National Museum of African American History and Culture. An important part of the record was reclaiming the banjo as an instrument that came from West Africa.
What impact did the project have?
Working with Our Native Daughters was the first time I'd ever co-written with people, and it helped break my writer's block. Part of that had to do with the fact that I was in a space where, for the first time, I was able to talk with other Black women about experiences we've had in this particular corner of the music industry. 
We also talked about generational trauma, and how the slave trade affected our country and continues to affect people. It was a very traumatic event, and a lot of us still need to heal from that.
With this record, I feel like we were able to tap into that and not only talk about the tragedy of the slave trade, but also the triumph of our ancestors in overcoming a lot of these things. We wouldn't be alive if it wasn't for the people before us who were able to keep going.
How did the song "Black Myself" come about?
There's a version of "John Henry" I really love by Sid Hemphill, who was a north Mississippi hill country musician. And in the song, he sings "I don't like no red-black woman. Black myself, black myself." 
It made me think of the intraracial discrimination that would happen among black people, where one of the coping mechanisms of dealing with being a second-class citizen was to find ways to either have kids that were whiter or to be lighter yourself, using bleaching creams.
And there were these Brown Societies, where if your skin was darker than a paper bag, you couldn't be in. The idea was to be as light as possible, to be as European as possible, to try to be treated equally. And that was such a terrible way to have to try to cope.
So the phrase "Black myself, black myself" kept rolling through my head. Then I sat down and, though I didn't realize it at the time, I essentially tried to pack in 400 years of history, from the trans-Atlantic slave trade to today, in a three-minute song.
What was the response to that song?
We thought we were just going to record this project for Smithsonian Folkways' African American Legacy Series, and it was going to be this cool historical thing. But it blew up. 
With the Grammy nomination and winning Folk Alliance song of the year, it went places I never imagined it would go.
There are some interesting parallels between the Our Native Daughters record and the New York Times' 1619 Project, which launched a few months after the album was released.
I think that the scholarly, written form of these histories has always been very important. But, with music, there's the possibility of disarming someone for a moment when telling them a story.
For instance, one day someone I know told me that his father, who is more on the conservative side of things, heard "Black Myself." And he was like, "You know what? I never really considered the perspectives she's talking about in this song."
And that right there — that's what I'm talking about. It took a song for his father to stop and think, "Maybe I'm not right about some of the things I've been thinking." That's what music can do. It can disarm people and help them really slow down and contemplate. 
That's why art is so important — it helps us understand the world around us. It gives someone a space to think about something in a way that they may not have thought about before. 
This interview has been edited for clarity and length.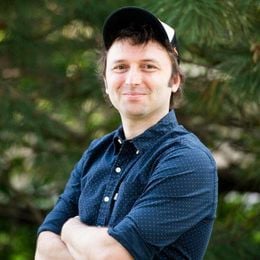 James Napoli
(
[email protected]
) is an editor for Rewire and a freelance photographer, radio storyteller and event producer. Find him on Twitter @jamesnapoli_ or Instagram @james.napoli.