What Are Your Rights at Work?
It's crucial that workers understand their rights now more than ever.
by
Kyndall Cunningham
It's not unusual to spend coffee breaks or happy hours complaining about work — even when you're grateful to have a job.
Too much work, misunderstandings with coworkers, a case of the Mondays: We spend a lot of time in our jobs and it's normal for it to get tiresome from time to time.
But sometimes our complaints about work deserve more attention than just a casual venting session. Are you offended by your boss's incessant offensive jokes about customers? Are you being asked to do something that seems unsafe? What are your rights at work?
No matter where you work, every employee deserves to have their voice heard if there are issues with their working environment.
And as the COVID-19 pandemic alters business across the globe, it's crucial that workers understand their rights at work now more than ever. 
1. You have a right not to be discriminated against
Whether you feel like your working conditions are unsafe amid the current health crisis or if you're experiencing discrimination — as a large number of Asian Americans have reported since the outbreak — there a number of protections in U.S. law to help you navigate these unfortunate situations. 
"Federal employment protections stem from Title VII of the Civil Rights Act," said Leng Leng Chancey, executive director of 9to5 Working Women's Association.
"The U.S. Equal Employment Opportunity Commission says that, under Title VII, it is illegal to discriminate against someone on the basis of race, color, religion, sex — including gender identity, sexual orientation and pregnancy — national origin, age, disability or genetic information."
The Employment Non-Discrimination Act, the Equal Pay Act, the Age Discrimination in Employment Act and the Americans With Disabilities Act are other pieces of legislation put in place to prohibit discrimination.
But even with these protections in place, employees who want to pursue a discrimination claim may not for fear of retaliation — when an employer fires, demotes or treats an employee unfairly for complaining about discrimination. If you work on a small team where you interact with your supervisor every day, like a retail or fast-food store, filing a complaint can be especially daunting.
"One way to protect yourself is to get legal advice before filing a complaint," Chancey said. "Workers who belong to a union can get support from their union."
Retaliation is illegal. And according to the  U.S. Equal Employment Opportunity Commission, the same federal laws that protect employees from discrimination also "prohibit retaliation against individuals who oppose unlawful discrimination."
2. You have a right to unionize
Labor unions ensure that employees have a voice in their workplaces. Under the National Labor Relations Board, "employees have the right to attempt to form a union where none currently exists."
A labor union is an organization of workers belonging to a business or expanding across a profession. They are formed to give employees the power and authority to negotiate better working conditions and further their interests in the workplace.
If an individual has a concern that they are uncomfortable with raising on their own, they can ask other workers to support them in what's called collective bargaining to address the issue as a group, typically with a representative.
This right is only granted to employees who are covered by the National Labor Relations Act (NLRA), which unfortunately excludes people who are considered "independent contractors" and not employees.
"Domestic workers, agricultural workers, and those considered independent contractors are all denied the right to form unions," said Erin Johansson, research director for Jobs With Justice, a workers' rights non-profit.
"Additionally, public sector workers are not covered by the NLRA. While many states have passed laws giving them rights to organize and collectively bargain, there are still several states where they have little to no rights at all."
There are ongoing legal fights around the country to ensure that all workers are protected under this legislation.
3. You have a right to reasonable accommodations
If a worker is disabled or experiencing a physical change like an injury or pregnancy, sometimes modifications are required for them to perform their job. These are legally known as "reasonable accommodations,"which include accessible parking, special software, reassignment and alternative ways of communication.
Under the American With Disabilities Act, qualified workers with disabilities — meaning workers who can perform the essential duties of a position with or without a reasonable accommodation — have the right to assistance or adjustments in the workplace that will allow them to do their job.
According to the ADA National Network, employers are allowed to deny certain accommodations on that basis that they "create an undue hardship or a direct threat."
Access to workplace accommodations can be trickier for people who are pregnant. While many employers happily meet the needs of pregnant person at their request, that's not always the case.
"Employers are not required to make even simple accommodations for pregnant workers." said Chancey. "For instance, if an employer has a policy that requires all cashiers to stand, that employer likely does not have to allow a pregnant worker to use a stool, even if ordered by a doctor."
A pregnant person's best hope in this scenario would be if the employer accommodated a temporarily disabled person in another instance.
"That is, if a cashier broke their foot and the employer allowed use of a stool during recovery, that employer would have to offer the same accommodation to a pregnant cashier." said Chancey. "But if the employer would require someone with a broken foot to take leave, the pregnant worker could be forced to take leave."
Is working from home a reasonable accommodation? 
As social distancing requires many of us to work from home, the benefits of remote work for disabled people has become a widely discussed topic. But is it considered a reasonable accommodation under the law? 
According to the ADA, the answer is no. And in recent years, courts have also found these requests unreasonable.
While it's hard to find a silver lining in this current crisis, it could be the catalyst that drives businesses and the government to recognize the importance of remote work in disabled people's lives.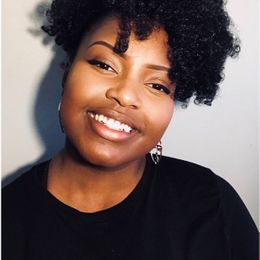 Kyndall Cunningham
is a freelance writer from Baltimore. She writes on a range of topics including film and television.