What Are Your Rights at Airport Security?
by
Katie Moritz
Even if you've never gotten so much as a parking ticket, going through airport security has a way of making you feel like you're under suspicion.
A 2018 survey of thousands of travelers across the globe by the International Air Transport Association, an industry organization, showed that almost 60 percent of people find the security process intrusive. Most people get it over with, tie up their shoes and move on to their gate.
But some aren't so lucky. Transportation Security Administration agents are there to make flying safer, but the security process can leave some travelers feeling wrongly singled out or even mistreated. The agency's screening techniques have been met with controversy over the years, with the American Civil Liberties Union recently claiming that the methods disproportionately single out Arab, Muslim and Latino people.
Your rights at the airport
You do have rights when you go through airport security. Two things that are important to remember: TSA agents are not law enforcement officers, and the rights granted to you under the Fourth Amendment, the ones that protect you against unreasonable search and seizure, still apply, said attorney David Reischer, CEO of LegalAdvice.com.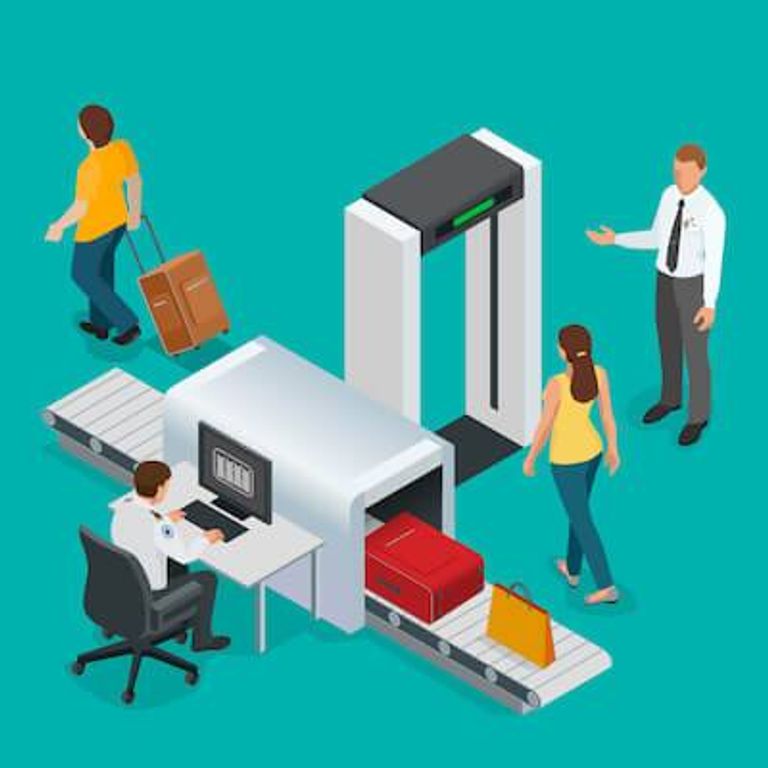 "The TSA is only permitted to do 'administrative searches' of passengers and their belongings, looking for prohibited items that are intended to protect passenger safety," Reischer said.
When you get to the full-body scanner, you have the right to refuse it and instead go through what's called an "enhanced pat-down" by a person of your gender in a private location.
You can request that another person be there with you when you're patted down, or that a law enforcement officer supervises it. There's usually law enforcement posted near security checkpoints, said Matt Pinsker, professor of homeland security law at the Virginia Commonwealth University Wilder School and former attorney in the TSA's Office of Chief Counsel.
TSA agents cannot strip search you. In fact, "you have the right to refuse to take off anything with the exception of outer wear," said Braden Perry, a regulatory and enforcement attorney who formerly worked for a federal agency.
"Any religious clothing or head scarf do not need to be removed in public, and any enhanced pat-down that requests such removal must be conducted in a private area," Reischer said.
How your gender factors into screening
The full-body scanner can be a stressful experience for trans and gender non-conforming folks. When you approach the scanner, "the TSA officer presses a button designating a gender (male/female) based on how you present yourself," the TSA website states.
But when your appearance doesn't fit a binary identity, it can make getting through security more complicated, Carina Julig wrote for Slate this year.
"Airport security, due to its strict screening and division by gender, is a constant challenge for transgender and gender-nonconforming people," Julig wrote. "The advanced imaging technology scanners now used at most airports scan male and female anatomy differently."
That means "if the individual does not fit in that rigid system, they are usually selected for additional screening," Perry said.
If you are flagged for additional screening because of your gender presentation, remember the pat-down rights everyone has. Also remember that you don't have to go through the full-body scanner and can request a pat-down in a private location instead.
Refusing a screening
"The ultimate right people have is to refuse all TSA screening," Pinsker said. Because TSA agents are not law enforcement officers, they don't have the right to detain you if you refuse.
It is true, however, that you must go through sufficient screening to be allowed to your gate. That means if you refuse to be screened, you won't be able to get on your plane.
"If you decline screening, you cannot be detained and you can walk away, but you can be denied access to your flight," he said. "Although there is a right to travel, the Constitution does not specify a right to travel by airplane, even though that may be the most convenient means."
Filing a complaint about airport security
If you feel that you've been treated unfairly while going through airport security, you can file a complaint in person or online, Perry said.
"Personally asking for a comment card and expressing your dissatisfaction in a reasonable manner is likely the most effective way to get your message across," he said.
If you want to address it in person, ask to speak to the supervisor, Pinsker said. Supervisors can be identified by the three strips on their shoulders, Perry said. An agent with zero stripes is a trainee, one stripe indicates they're a standard officer and two stripes means they're a lead officer.

Katie Moritz
 was Rewire's senior editor from 2016-2019. She is a Pisces who enjoys thrift stores and pho. Follow her on Twitter @katecmoritz.