Rewire Eats: Skip Take Out And Make Your Own Pad Thai
by
Katie Schutrop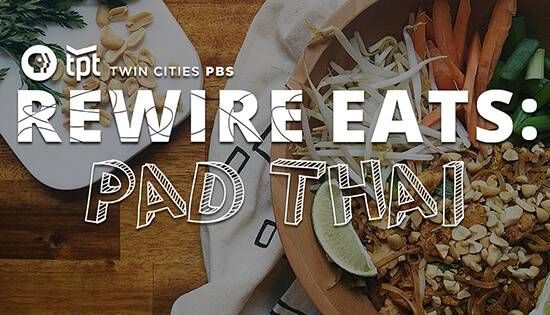 Postmates, BiteSquad, Seamless - it seems like every week there's a new food delivery app popping up that preys on those of us who just can't be bothered to make our own dinner.
And I get it - I'm one of those people!
But after evaluating just how fast delivery charges can add up by using apps (yikes!), I got to thinking about how I could make some of my favorite take out dishes. And for me, Pad Thai is usually my go-to option.
So I decided to research PBS Food and the general interwebs to find out what it takes to make this delicious and dependable dish. Turns out there are LOTS of ways you can whip this up. And I will say the list of ingredients is long, especially if you decide to make your own sauce.
BUT - once you get through prepping everything, the process for making Pad Thai is actually quick and simple.
PBS Food has a good recipe here, but I ended up using a combination of a few different ones from around the web to create one suitable to my taste buds.
Let's get started.
Pad Thai Ingredients
3-4 cups rice stick noodles
For the pad thai sauce:
4 tablespoons Tiparos fish sauce (soy sauce works, too!)
4 tablespoons tamarind paste (Note: use 1 tablespoon of the paste mixed with 3 tablespoons of water)
1 tablespoon lime juice
1 tablespoon rice vinegar
4 tablespoons sugar
For the pad thai:
2 tablespoons vegetable oil
4 garlic cloves, chopped
1 carrot, sliced
1/2 cup chicken breast, cut into thin strips (could also use shrimp or tofu!)
2 eggs
1 tablespoon paprika
4 green onions, cut into 2-inch strips
1 cup bean sprouts
1/4 cup dry-roasted peanuts, chopped
Step 1: Soak noodles
Place the noodles in warm water and let soak for around 45 minutes until they're al dente.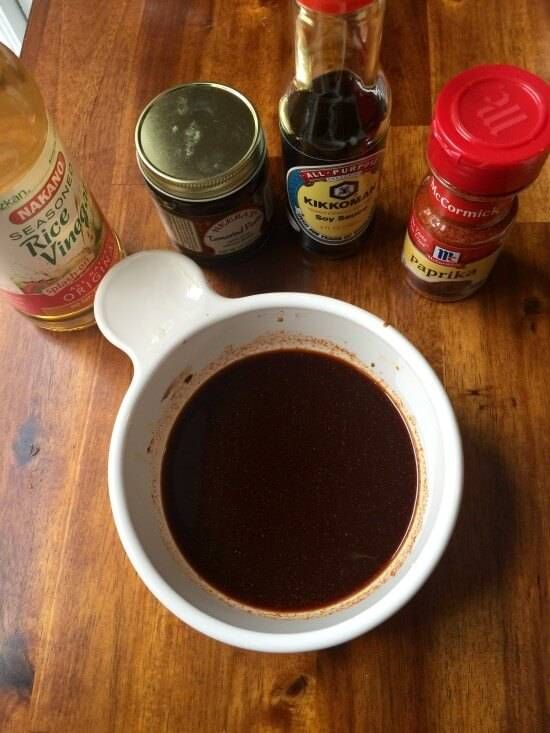 Step 2: Create the sauce
Mix all of the sauce ingredients into a bowl (note: not pictured are the sugar and lime juice). And on a personal note, it took me four grocery stores to find proper tamarind paste. If you live near an Asian market, go there first!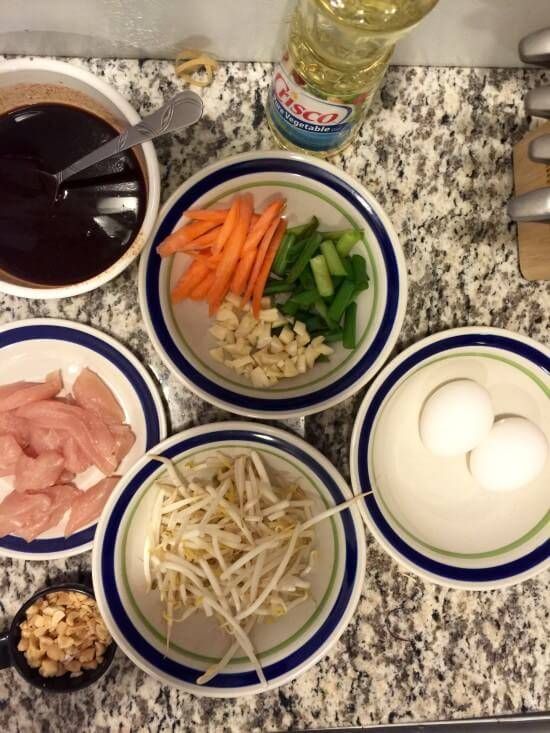 Step 3: Cook the protein
Heat up a wok (or a frying pan with tall sides) and add vegetable oil, making sure the pan is coated. Add the garlic and chicken and cook until the meat isn't pink (approximately 1 minute).
Step 3: Add eggs
Move the chicken and garlic to the sides and crack the eggs in the center making sure to break the yokes. Let cook until they're almost done.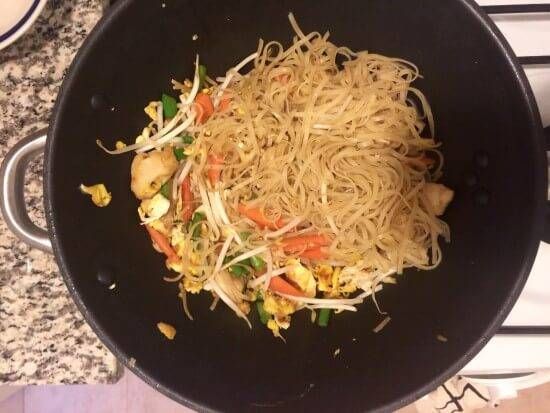 Step 4: Add noodles and sauce
Add the drained noodles to the wok and let cook for 1-2 minutes. Then add the sauce mixture and mix everything with tongs.
Step 5: Add veggies
Next, throw in the onions, carrots and bean sprouts to the top of the mixture. Then fold the noodles over the veggies. This will stem them instead of fully cooking them (which can scorch them).
Step 6: Garnish and serve
Add mixture to a plate and garnish with peanuts and extra veggies.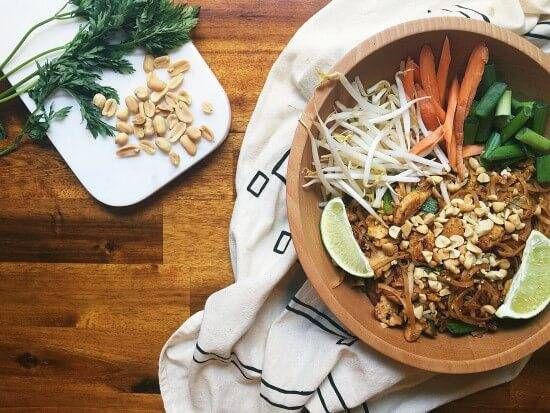 While it takes some effort to acquire and prep all the ingredients for Pad Thai, the pay off is worth it! You're looking at a lovely dish you can make for dinner and have plenty of leftovers to either share or eat the next day.