Rewire Eats: Greek Chickpea Pasta Salad
by
Andi McDaniel
(Fifth in a series of PBS Food recipes that we're trying out.)
According to PBS Food, this recipe for Greek Chickpea Pasta Salad is perfect for beach days or spring picnics. And let's face it-- none of us picnic nearly enough. Nonetheless, I tackled this recipe as a quick weeknight meal, with the promise of lunchtime leftovers, and it worked great.
Our journey begins with these ingredients, neatly lined up here the way I would absolutely never do unless I was writing a blog post about it. Please take a moment to appreciate the cute spice jars on the right.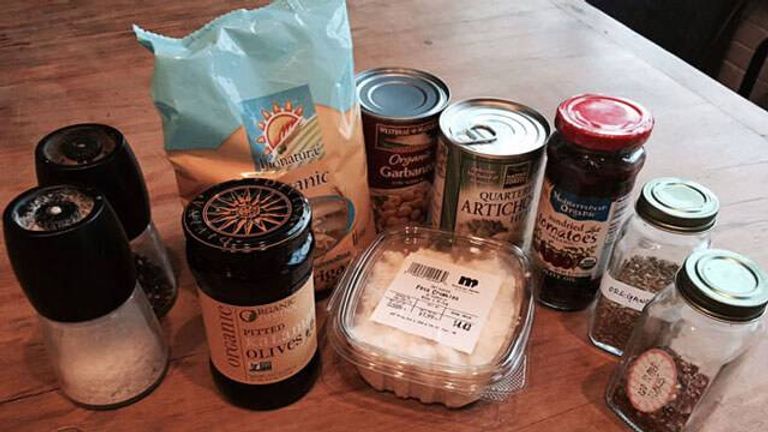 First step was to get that pasta rolling-- directions said al dente, so I actually set a timer. You'll notice I used penne pasta, rather than the elbow macaroni recommended by the recipe. I felt I must go against the grain in this one small way.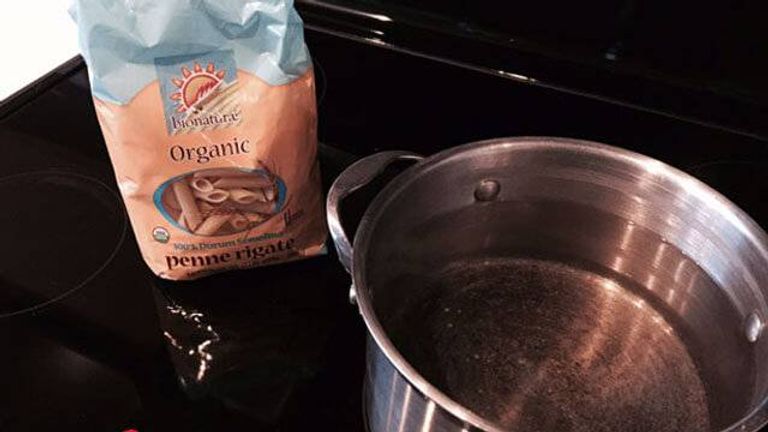 Meanwhile, I had some strenuous can opening to attend to.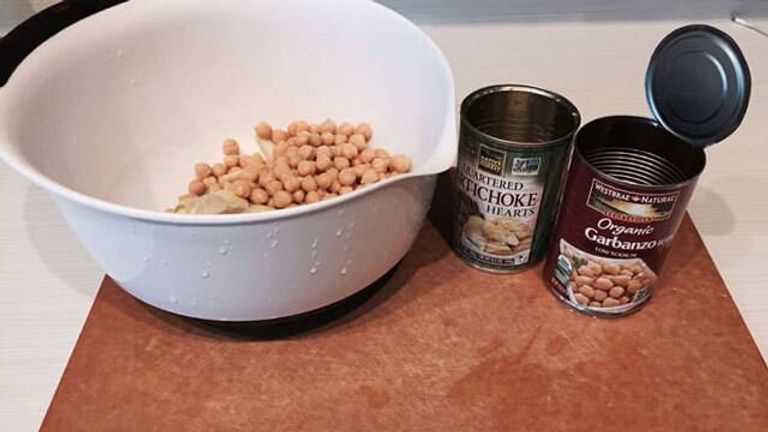 The artichoke hearts, olives, and sundried tomatoes had to be chopped...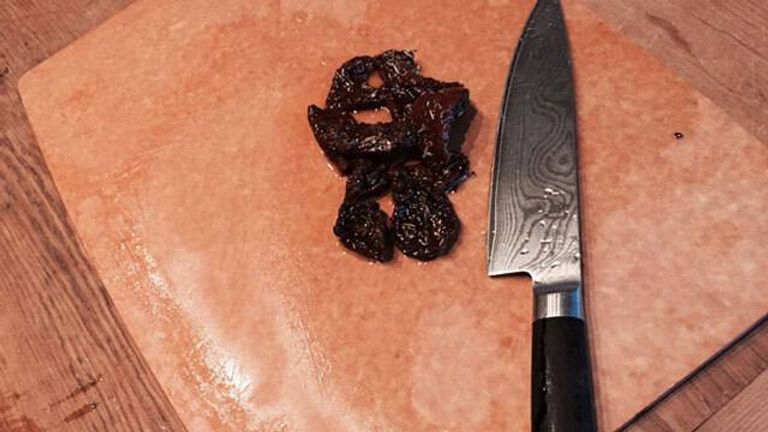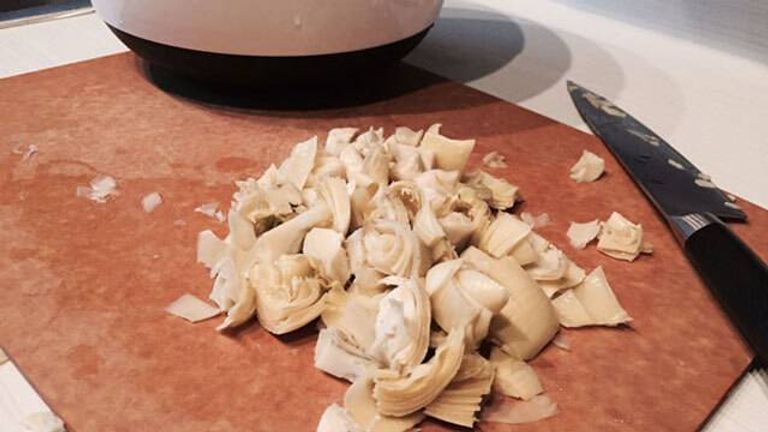 Thanks to my slow and clumsy chopping... the pasta was done by this point, which left a few simple steps-- adding the feta cheese, the spices, and the cooled-down pasta into the big bowl of deliciousness. (Note: I did not wait for the pasta to cool down because I was hungry. Don't judge.
Before pasta: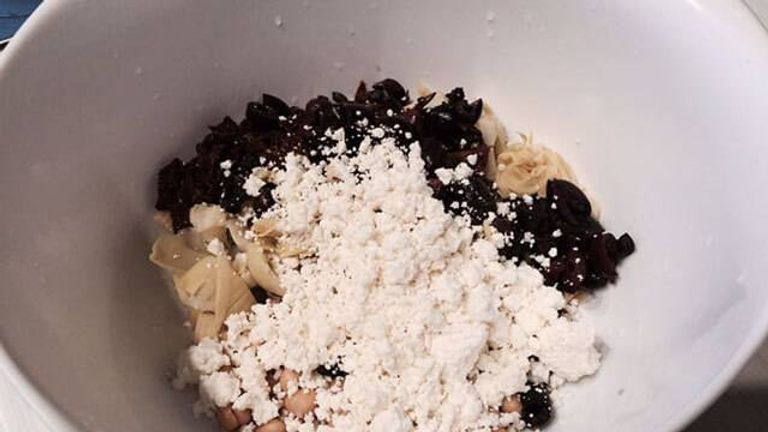 After pasta: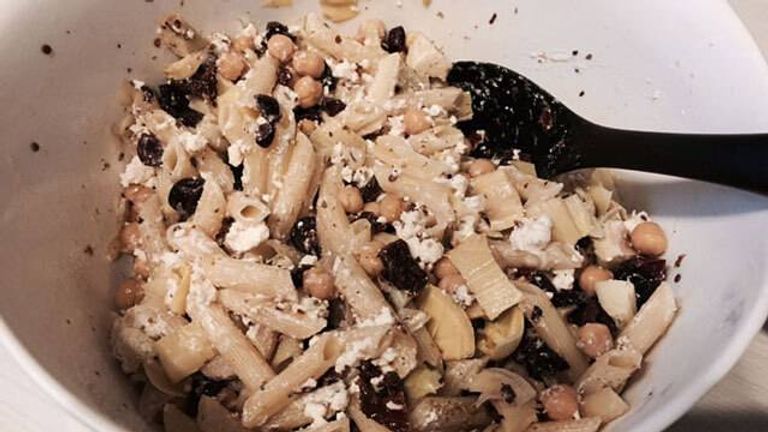 While I was (briefly) tempted to eat dinner out of the gigantic bowl, I chose the civilized route, and put this concoction into a tidy little bowl.
Behold!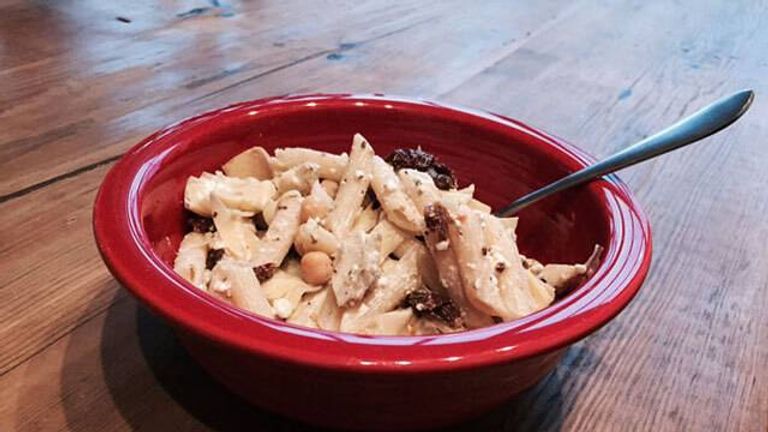 While I'm generally skeptical of "quick" recipes, this one really did live up to its promise. In under 30 minutes, I threw together a delicious, flavorful dish that inspired envy when I brought the leftovers to work the next day.
Highly recommended! Full recipe over on PBS Food. They know what they're doing over there.