Rewire Eats: Dairy-free Spinach Stuffed Shells, the Delicious & Crafty Im-pasta
by
Madeline Burbank
(Seventh in a series of PBS Food recipes that we're trying out.)
—
I had some misgivings about the recipe; I don't normally cook with tofu, and  to not bake pasta with cheese sounded sacrilegious. But these dairy-free spinach stuffed shells turned out amazingly, and my house was headquarters of the clean plate club that night. Toques off to PBS Food Chef Jenna Weber! Everyone had seconds, and one housemate (with vastly superior culinary experience) helped herself to eight, saying "If you hadn't told me this was tofu, I would have thought it was ricotta cheese. Maybe a weak ricotta, but actual cheese!"
I should also point out that I live with twelve classmates, a dozen young people from St. Olaf college living together in the Twin Cities for the summer as we work different internships and study social change. We have a good system for community meals, everyone teaming up on different nights, so I had some help making this meal (thanks Nick and Nate!). Not only does it make light work and let us practice being responsible adults, but our community meals also help minimize food costs. The grocery total for this meal, including our side dishes, came under $32, which works out to be only $2.66 per plate! This is a meal to keep your wallet and your belly full.
Ingredients (serves 6-8)
 (if you want to serve a larger group like I did, simply cook two batches)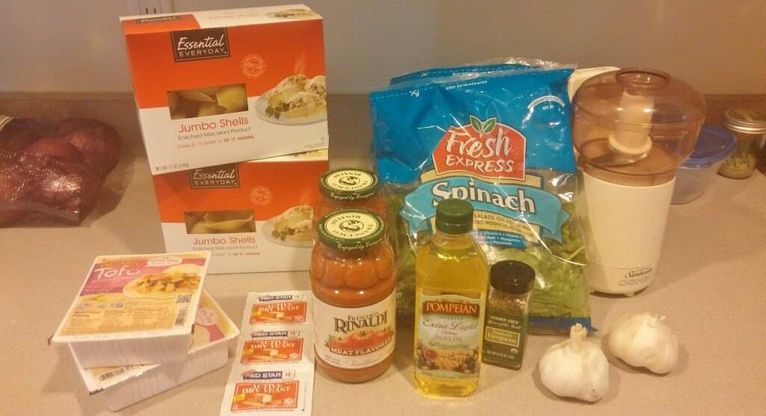 1 box jumbo shells
16 oz. extra firm tofu
1 Tbsp. nutritional yeast**
1.5 tsp. salt
1 tsp. oregano
2 cloves garlic
2 Tbsp. olive oil
10 oz. spinach*
1 jar of your favorite marinara sauce
You will also need: a 9" x 13" pan, a food processor, oven, cooking utensils, and (optionally) cooking skills
*The original recipe uses frozen spinach, but we used fresh spinach. It took more time in the food processor, but tasted great!
**NOT regular baking yeast, as nutritional yeast is deactivated yeast that offers a unique flavor which many describe as "nutty" or "cheesy"---definitely a bonus for this recipe.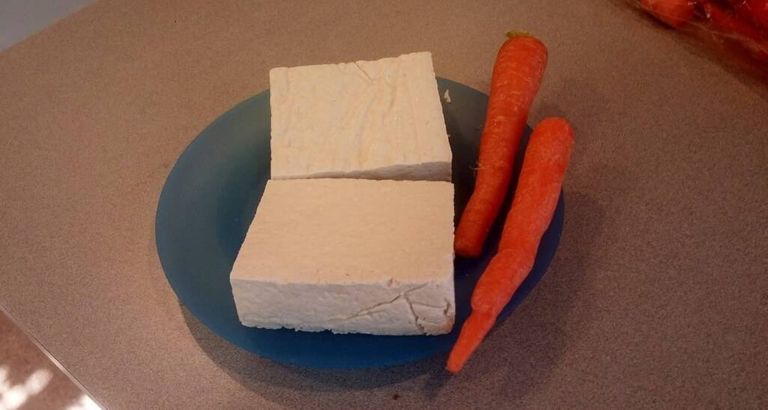 Step 1: It's a Process
Boil the pasta shells in salted water until al dente. While they are boiling, start preparing the filling and preheat the oven to 350°F. Don't forget the pasta though; when it is done, drain the water and set it aside.
For the filling, first drain the tofu and pat dry with a paper towel. Crumble the tofu into the bowl of the food processor. Chop up or mince the garlic, then add it to the tofu in the food processor along with the oregano, salt, nutritional yeast, and olive oil.
We were listening to 80's music as we cooked, and I'm pretty sure the food processor was even older. It didn't have any settings except "on" and smelled like an angry robot if I let it whir for too long, so I hope your setup is more modernized. Handle it safely, and blend the mixture until it has a smooth ricotta-like texture. When ready, move it to a separate bowl. Now give the spinach a whir in the food processor, likely doing so in bunches since it won't all fit at once. When the spinach is shredded to your desired consistency, combine it with the mixture, and your filling is ready!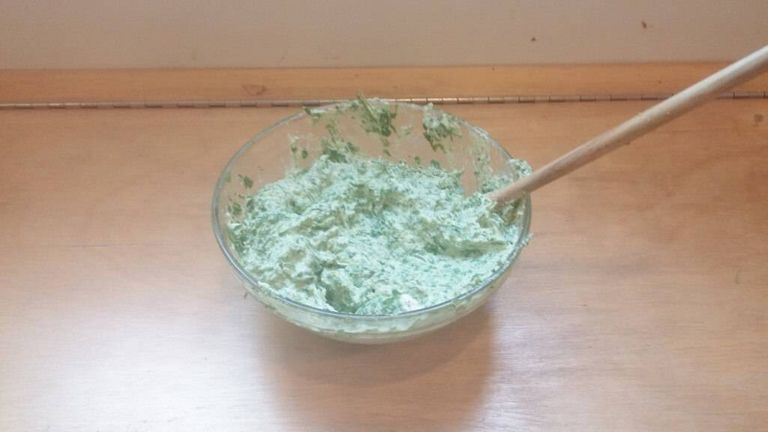 Step 2: Fill 'em up!
Spread a layer of marinara sauce on the bottom of the pan, approximately 1/2 cup of sauce. Spoon about 2 Tbsp. of filling (depending on you desired level of stuffed-ness) into each shell, placing them seam-side down in the pan as you do so. When they are all stuffed, pour the remaining marinara sauce over the top, covering all of the pasta.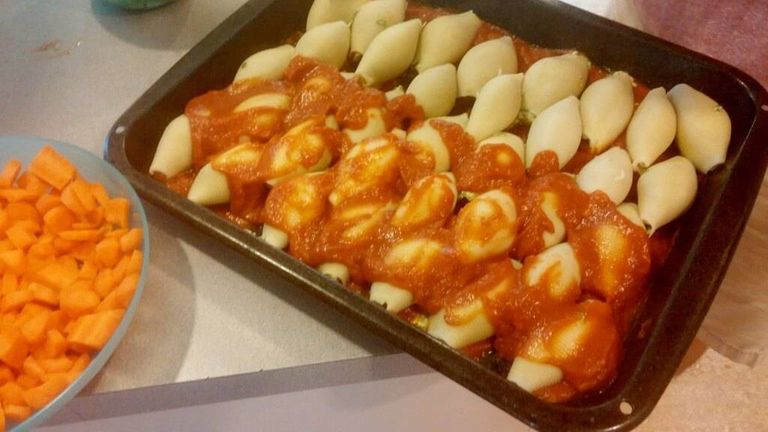 Step 3: Bake and Be Patient
Bake in the oven for 30 minutes at 350°F. I'm serious about the "be patient" part. There was a running gag in the PBS Kids show Between the Lions where after carefully following a recipe, Cleo and Theo would shrug off the wait it would take to cook---"Nahhh"---and dig in voraciously. That's almost what happened in our kitchen, as the filling was so good that we were popping shells in our mouths and eating them up before we could get them in the oven. Luckily, there were enough to spare.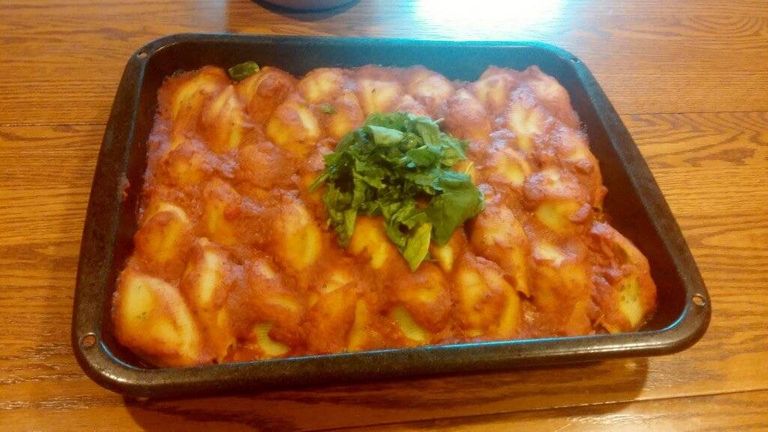 Now, this dish could easily be made vegan. Our plates certainly weren't: our marinara was "meat-flavored," whatever that means (it was on sale), and our pasta shells themselves weren't vegan, but those are some simple changes to make if you are so inclined. And whether you do so for ethical or health reasons, keep in mind that this switch to tofu has added a lot more protein to your day, and has much less cholesterol than the typical cheesy dish.
Step 4: Serve & enjoy
We turned up the speakers and put on the best of Taj Mahal, paired the main dish with sauteed carrots and fresh grapes, and it was a flavorful spread to augment a pleasant evening. Tofu successfully masqueraded as a cheese im-pasta, and in a house of people who like to try new things, this is something new that we would love to share again.