3 Ways to Resolve Conflict When You're Stuck at Home
Don't let stressful times ruin your relationships.
by
Juli Fraga
This article is part of Rewire's Coronavirus: Information You Can Use series.
Life looks a little different these days.
Flattening the coronavirus curve means hitting pause on social activities like eating out, exercising at the gym or going to the movies. Instead, we're hunkered down at home with our roommates or partners.
All of this endless time together — especially during a time of crisis — can be more than a little stressful.
But conflict with family or roommates doesn't need to chip away at your well-being.
These issues are easy to fix, if you do it thoughtfully. And, according to clinical psychologists, it's especially important to consider how world events make it harder for any of us to handle additional emotional distress.
---
"In a crisis, our lack of control can drive us to take charge of our immediate environment," said Dr. Emily Anhalt, Psy.D., a psychologist and founder of Coa, a gym for mental health and fitness.
And then differences in opinion, like whether or not it's safe to take a walk outside or head to the grocery store, turn into bigger conflicts, even with our loved ones, she said.
When interpersonal stress spikes, some folks may pull away while others seek comfort, said Dr. Stan Tatkin, Psy.D., a psychotherapist, researcher and author of the book, "We Do: Saying Yes to a Relationship of Depth, True Connection, and Enduring Love."
Each person's reaction is an attempt to manage stress, but in times of existential threat, interacting is healthier than isolating, Tatkin said.
By understanding what's behind the disagreement you can fix your housebound relationships.
Your roommate might pick a fight about social distancing, but they're really anxious, sad or angry about everything that's going on.
Instead of trying to change their perspective, level with them and let them know how you're really feeling. Say, "I don't want you to go to the store because I'm scared for your safety."
You can also use these additional tips to help keep the peace.
1. State your needs
For many of us, stating what we need is easier said than done. Why? Too often we believe that asking for help creates a burden for someone else, or that it's a sign of personal weakness.
But this blocks opportunities for human connection and leads to increased conflict.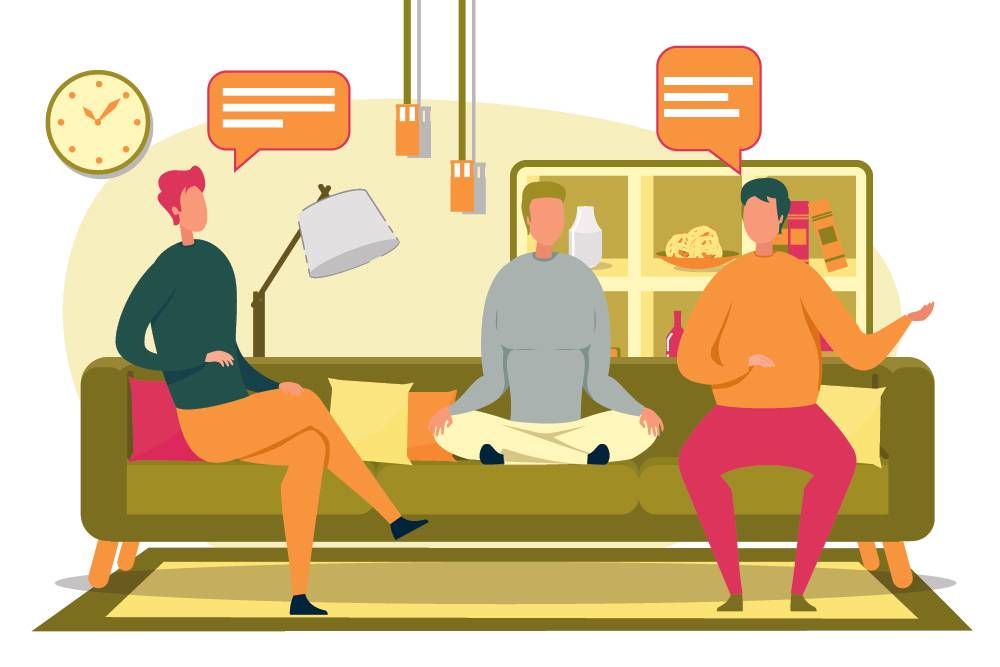 "Interpersonal issues are often easier to prevent than fix," Anhalt said.
Her advice: Be extra clear about what you need.
Do you need quiet time during the day, help with cleaning the house, or someone to listen to your worries? Whatever it is, saying what you need sets the stage for cooperation, which makes things smoother for everyone.
But what about what other people need?
You might try setting aside from time each day to check in with your loved ones. Use this time to listen to what the other person needs and try to refrain from 'advice-giving,' unless it's something that's requested.
Building in this structure is a reminder that it's essential to look out for each other.
2. Focus on the problem
When we feel unsafe, it's easy to focus on changing the other person. While this is a natural human tendency, "the only way people can influence each other is under conditions of safety," Tatkin said.
What he means is that when disagreements pop up, we should step away from judging each other and focus on the problem instead.
Does someone in your house need focused time to work, or help homeschooling the children? Instead of saying, "What do you expect me to do?" or "I'm too busy to take this on," strategize to find a simple solution.
Tatkin said it's vital to acknowledge the other person's feelings, state that you value their request, and ask how you can help.
When two people communicate these things, they can de-escalate conflict because they're keeping the environment safe.
"The key is to move the ball forward," Tatkin said. When we collaborate with others, stress decreases, and we feel relief.
3. Try on a different perspective
If you just can't understand where your housemate is coming from, try shifting your perspective. 'Psychological distancing,' coined by cognitive psychologists, works to temper overwhelming emotions like anger, fear, and sadness.
Instead of focusing on the conflict, imagine a friend is having a similar problem and asking your advice. What would you tell them? We're often more forgiving of friends than we are of ourselves or our loved ones.
Another tip: rewrite the narrative. When we're hurt, it's easy to spin a 'grievance narrative,' which is an over-personalization of the misdeed, said Dr. Fred Luskin, Ph.D., a forgiveness researcher at Stanford University. We tend to make the problem personal.
Even though it's not productive, this is the brain's way of protecting us from responsibility-taking.
The downside is that it leaves us feeling powerless and unable to take charge of the situation, said Luskin. However, recognizing that offenses are not personal can widen our perspective. That makes it easier to forgive.
The good news
At a time of deep uncertainty, relationships are crucial for our health and wellbeing.
Research indicates that loneliness can make us more vulnerable to diabetes, depression, and heart disease. Studies also point out that prolonged self-isolation can trigger the body's stress response, which can lower the immune system, making us more prone to illnesses like viruses and flu.
Social connection can enhance our physical and mental health. And knowing how to sort through differences can bolster intimacy, which is something we all could use right now.

Juli Fraga
 is a psychologist and a health writer who lives in San Francisco. Her stories have appeared in the New York Times, NPR and The Washington Post.