Rediscovering Childhood Hobbies Can Make You Happier Today
by
Rachel Crowell
It's amazing to think about all of the things we were obsessed with as kids, only to wake up one day and realize how long it's been since they were a part of our lives. Instruments we once practiced for countless hours and now haven't touched in years. Stuffed animal, action figures or card collections that filled spaces in our rooms until one day we decided they weren't cool anymore. Crafts, sports and other passions pushed to the wayside by growing up, adulthood, busy schedules, tight budgets and other facts of life.
While it might feel like those interests are destined to stay in the past, it doesn't have to be that way. Returning to the things we loved as kids can help us deal with the realities of adulthood.
In a nod to her experience growing up in the '90s, Kristin Hugo, a freelance science journalist based in New York City and the author of "Strange Biology: Anomalous Animals, Mutants, and Mad Science," has recently embraced unicorn garb, "music about sunshine" and other cheery childhood favorites.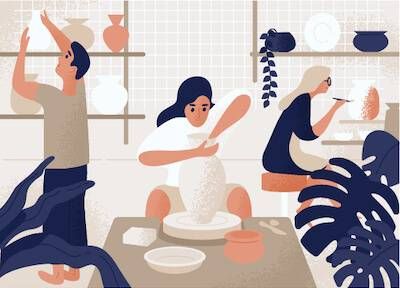 Her motivation? A desire to feel less dark and nihilistic.
"There are always multiple sides to everyone," said Hugo, who also collects "all legal kinds" of skulls. "I got a little too dark, though, during my last job. I think I needed the nihilism to get through all the nastiness going on there, which is where some of that sunshine fell away."
Going back to her childhood interests has been helping bring some of that happiness back, Hugo said.
"It's hard to be apathetic when you're wearing a unicorn on your shirt and wheels on your feet and heart-shaped sunglasses on your face," she said. "I just had to channel the old energy."
Returning to childhood hobbies
In her early 30s, Linda Nordling a freelance journalist based in Cape Town, South Africa, returned to a beloved sport of her childhood: horseback riding.
"I always loved horses, but I started learning to ride properly at around 8 years old," she said. "I didn't come from a 'riding' family, and so much as I dreamt of my own pony I never really believed it was a possibility."
She took weekly dressage and jumping lessons at a local riding school until she went to college in London at age 19.
"As an anxious, introverted child I found solace in these animals," Nordling said. "I enjoyed connecting with them non-verbally, picking up on their moods and also helping them overcome their anxieties."
She didn't have much money during college, and the cost of riding in London was a barrier to continuing.
"I occasionally rode on holiday, but I sort of accepted that it was no longer part of my life," she said. "I did dip back into it once in my mid-20s (when) I was heartbroken ... Being close to horses, and to horsemanship, helped heal my heart."
Life changed when she moved.
"Cape Town, with its lofty blue skies, mountains and the crashing oceans helped me back towards myself," Nordling said. "I always loved nature — another thing I was removed from when living in London."
Eventually, one of her friends who had also ridden as child, found a local riding school with lessons catered to adults. The pair took lessons together.
Nordling's ambitions grew. She began showjumping, something she'd never done before. Five years ago, with the encouragement of her instructor, she bought her first horse.
"These days I recognize riding as a form of mindfulness," Nordling said. "I know that the deep peace I experience when working with my horse stems from the fact that he lives in the moment, and for me to communicate with him I have to be in the moment as well."
If you're a lapsed horse person, check out the PBS "Nature" miniseries "Equus: Story of the Horse" for some inspiration. It takes viewers on a three-continent journey with Canadian anthropologist and documentary filmmaker Niobe Thompson to explore the relationship between horses and humans, their emotional intelligence and more.
Not ready, or able, to jump all the way back in?
Maybe the thing you loved as a kid is still out of reach because of time or money commitments. That doesn't mean the thing you loved can't be a part of your life.
Find a volunteer opportunity related to your passion. For instance, many horse rescues and therapeutic riding centers (which uses horseback riding to help people with disabilities) can always use volunteers.
Were you once crazy for science but majored in something else? Consider becoming a citizen scientist. Eager to bust that oboe or soccer ball out of your closet and put it to good use again? Look for a community orchestra or soccer league to join.