Why You Should Stop Looking for Red Flags in a New Relationship
Focusing on the positive pays off.
by
Gretchen Brown
Dating advice tends to be pessimistic, doesn't it?
It tends to focus on spotting red flags early on; Things to watch out for before you commit to someone.
And that makes sense. Dating is hard. More than half of young adults ages 18 to 34 right now are single, a record high.
The idea that you might be able to save yourself some grief and move on quickly can be appealing.
But what if that's making things worse?
"Too often people are looking for 'red flags' when dating or reasons to opt-out instead of opting-in to a new relationship," said Jillian Weis, a licensed clinical social worker and a love and relationship coach.
---
"People use this as a shield to protect themselves from having to actually get close to someone and connect."
The way Weis sees it, looking for red flags is just looking for reasons that person isn't right for you.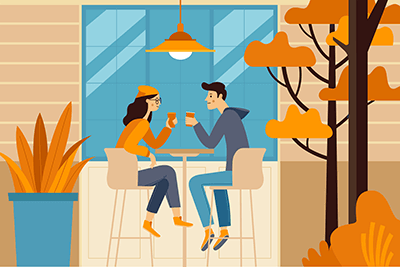 That might cause you to miss the reasons they're a good match.
It's true that our brains are wired for negativity. But there's an advantage to flipping the script here.
Instead of looking for reasons someone is wrong for you, look for reasons they're right. Green flags instead of red ones.
"No one is perfect, so focusing on the negatives can create a pessimistic mindset," psychologist and dating expert Rachel MacLynn said. "You should be thinking: 'How does this person enrich my life? What future can I have with them? Are our core values aligned?'"
Not only does that make dating more fun, but it can also help you find a partner that's a better match.
Determining your green flags
Before you can identify green flags, you need to know what they are. And everyone's are different.
Determine what your own core values are, Maclynn said. That includes the non-negotiable traits you want from a partner.
Then, when you see those values in someone you're dating, they'll stand out.
Everyone has different core values. What you see as a green flag might not be a green flag for someone else.
Other green flags are more universal.
When Stephanie Freiburg started dating her now-husband, she noticed his happiness and kindness. He was warm to others. And he had values she could vibe with.
These were all green flags.
"He had a caring smile that he shared with everyone around him and it was infectious," said Freiburg, a licensed marriage and family therapist. "It made me want to continue to be by his side. I paid attention to how he interacted with people, myself included. He was great at remembering details in stories I would share, which made me feel important in his life."
Even though the two had different upbringings, and slightly different values, there was respect from the get-go.
That was what was important to her. A bright green flag.
[ICYMI: Why One-Third of Online Daters Don't Go the Distance]
Watch how they interact with others
Frieberg looked at the ways her husband treated other people to determine he would make a good partner.
This is an easy way to spot green flags, Weis said, because the way they treat their friends and family will likely be echoed in your relationship down the road.
"Do they have a healthy relationship with their family? Do they have friends that matter to them who they make time to connect with?" Weis said.
"We repeat the same patterns in all of our relationships, so how they treat and relate to other people in their life is key."
Communication is important
Another universal green flag to look for is communication.
If they're a person who openly communicates their thoughts — so you're never finding yourself wondering what they're thinking — you'll have more success with any potential conflict down the road.
It shows trust. They're willing to be vulnerable.
"They are willing to risk uncertainty to connect in a meaningful way in the relationship to get to know the other person on a deeper level," said Kim Keane, a domestic violence speaker, educator, advocate and survivor.
"(They) are wanting to work out any issues that might be apparent rather than letting them fester, and are invested in the longevity of the relationship."
A good partner should also be able to respect your boundaries, Keane said.
Not only does it show they respect your physical, emotional and intellectual well-being, but it can help you feel safe with that person. That's crucial.
You shouldn't completely tune out
All this doesn't mean that you should ignore any obvious red flags in a new relationship.
A red flag is a red flag; focusing on the positive doesn't mean ignoring the bad.
But Weis said we should be careful to not confuse a simple negative quality with a genuine red flag.
Everyone has some negative qualities, after all.
"Remember red flags should really be signals that are fundamental to your compatibility," she said.
"They shouldn't be about personal preferences; i.e. a regular canceller or ghoster is a red flag, whereas someone who doesn't like texting as much as you may be more of a personal preference. They may still be committed to seeing you and getting to know you, but don't enjoy texting much."
Featured image courtesy of The Gender Spectrum Collection.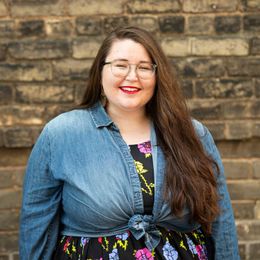 Gretchen Brown
 is an editor for Rewire. She's into public media, music and really good coffee. Email her at
[email protected]
, or follow her on Twitter @gretch_brown.