Are You Having a Quarter-life Crisis?
by
Kaylen Ralph
In 1968, a developmental psychologist by the name of Erik H. Erikson published a collection of papers that suggested human beings navigate up to eight developmental stages throughout their lifetimes.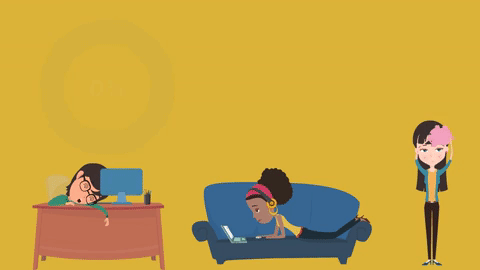 Though he didn't name it as such, Erikson's research birthed what is now colloquially referred to as the "quarter-life crisis." According to a recent LinkedIn study, 75 percent of 25- to 33-year-olds have experienced one.
In his research, Erikson categorized the first stage of adulthood as the period during which young adults ages 18 through 33 must create intimacy through the cultivation of friendships and romantic relationships, or risk a life of isolation.
But 50 years after Erikson introduced the concept, millennials—the generation currently navigating this stage of emerging adulthood—attribute their crises not to their relational pursuits, but to uncertainty regarding their careers. Of the 6,014 respondents to the LinkedIn study, 61 percent said finding a job or career they're passionate about is the No. 1 cause of their quarter-life crisis.
Is the quarter-life crisis real?
The concept of a quarter-life crisis has become so pervasive in our culture that it is perhaps self-perpetuating, fodder for pop culture rather than a psychologically, or sociologically, sound phenomenon.
"I have not seen any strong empirical evidence of (the quarter-life crisis) existing," said Barbara Risman, a distinguished professor of sociology at the University of Illinois at Chicago and a 2018 fellow at the Institute of Advanced Studies at Durham University.
But that doesn't mean the professional and interpersonal issues 25- to 33-year-olds are dealing with today aren't daunting.
Risman's new book, "Where the Millennials Will Take Us: A New Generation Wrestles with the Gender Structure," will be published by Oxford University Press in February. In the book, Risman analyzes the life history of Chicagoan millennials through the lens of gender.
Risman's theory of gender as a social construct is relevant when analyzing the concept of the quarter-life crisis, but social class, a factor the LinkedIn study did not account for, is just as important, she said. Depending on your socioeconomic background, you'll likely experience a quarter-life crisis differently.
"For most millennials who are college-educated, life at 25 is still part of what we call emerging adulthood," Risman said. But "when you think about it, between working-class and college-educated (millennials), you have to think about how their lives are different."
A crisis of a different sort
What LinkedIn refers to as a quarter-life crisis could be better described as a "work precarity crisis," according to Risman. Some demographics—such as non-college-educated young men, who no longer have the option of making livable incomes in factories or warehouses, and young mothers, whether they are college-educated or not—experience this instability of income more intensely than others.
Risman referenced a study by Elizabeth Armstrong and Laura T. Hamilton. The two sociologists spent five years tracking the lives of 53 young women starting their first semester of college starting in 2004.
"The middle-class women in (the study) were all about thinking about graduate school and career, and I can imagine them having that kind of, 'Oh my God, I'm not where I thought I was going to be at 25,' " Risman said.
---
"But for working-class people, both in (Armstrong's and Hamilton's) sample and in mine, it was much more about looking for stability, looking for a stable, professional middle-class job. ... I would think that the people who have (precarity crises) would be the ones who hadn't managed to find that."
Changing jobs instead of relationships
The LinkedIn study on quarter-life crisis looked at the concept of "career pivoting" — more than a third of 25- to 33-year-olds have changed their careers. Of those, one in 10 switched from full-time work to freelance or temporary work. Twenty-one percent handed in notice without having another job lined up and 23 percent simply took "a career break," "taking time off from work to reevaluate what they want to do," according to the study

Alisha Peterson, 29, quit her full-time interior design job in October of last year. She described her decision to quit without having another full-time job lined up as her version of a quarter-life crisis.
"I was being overworked and underpaid and starting to learn that what I went to school for is not exactly what I think I wanted to do," Peterson said.
Without consulting her parents, Peterson put in her notice. She put aside her last two paychecks to use entirely for rent and bills.
"I made the decision to quit after looking at my pay stubs and looking at how much I was getting paid at a rate, rather than a salary, and just coming to terms with the fact that if I quit and juggled two part-time jobs, working just as many hours as I was working at my desk job, I would come in pretty close (to what I was making at my job)," she said.
The luxury to pivot
Money plays into these job career pivots for lots of people. According to the LinkedIn study, 49 percent of 25- to 33-year-olds feel that they're not earning enough, and 32 percent feel they're not yet pursuing the career they actually want.
Since she quit, Peterson has been "coasting" off her savings and working two part-time jobs, just as she planned. She's trying to figure out what she wants to do next. So far, she has no idea.
"It's natural to be like, 'What's next?' Peterson said. "I'm not saying I don't have any ambition, because I am working and I do eventually strive to have a more stable career that possesses all of these attributes of work-life, home-life balance and all that stuff, but I don't know what that is and I don't know who to talk to about assessing that.
"I think I have to do some more reflection to figure out what I want, what I'm good at, and just do one of those career tests or something, just to get me pointed in a direction."
The future that's good for you
Most everyone starting their career wants a job that allows them to support themselves, and potentially a family one day. But what Risman suggests, and what the LinkedIn study (as well as the scant amount of other research on quarter-life crises) fails to account for, is that there is a certain luxury in having the safety net to bask in the unknown.
When we assume everyone is experiencing a quarter-life crisis the same way, the precarity crisis for the working class, of which the majority of the millennial generation is a member, is entirely ignored.
Maddie Byrne, 26, considers herself to be a working class woman.
"Until recently, I exclusively served for years," she said in an email. "I believe I am a hard worker because I cut my teeth in the restaurant industry—I don't make money unless I do a great job."
She still works as a server full-time, but now has added the responsibility (and income) of a new job as an event coordinator for a catering company that is active in charity work.
Having gone to school to study performing arts, Byrne said she recently came out of a quarter-life crisis of her own. Prior to taking on the event coordinator position, Byrne said she aspired to write for late-night television. Then she had to step back to deal with some mental health issues.
"The catalyst for my quarter-life crisis, I think, was entering the relationship I've been waiting my entire life for at the exact same time as I entered a depression that took away my love for performing and my ability to create," Byrne said. "I went from having a clear direction my entire life (and) a dream to live for, to suddenly not caring about anything other than my boyfriend and having no personal goals."
It would be reductive to distill Byrne's experience down to a simple crisis of passion, Risman said.
"The desire and the need to settle down more quickly or kick around and find your passion is really quite different depending on the family of origin," she said. "For college-educated millennials who come from middle-class families, it's still about finding one's true self and finding work that is meaningful and passionate, (but) that's not necessarily the case for even college-educated young people who come from first-generation backgrounds, and it's probably a lot less true for non-college educated women who are already mothers."
For Byrne, being able to live happily with the man she loves is the most important thing right now.
"At this point, living comfortably and being able to pay my bills on time, and eventually being able to afford a family, are my main motivators," she said.
Kaylen Ralph
 is the co-founder, editorial development director and brand director of The Riveter Magazine, a longform women's lifestyle magazine in print and online. She works as a personal stylist for Anthropologie. Follow her on Instagram @kaylenralph for books and fashion. You can also find her on Twitter at @kaylenralph.