Plus-Size Resale Stores Offer a Sustainable Way to Stay Fashionable
A look at six boutiques leading the charge.
by
Chaya Milchtein
Growing up in a low income household, Goodwill was often the mecca of my fashion options. Being a size 18 at 16-years-old, I often turned to the maternity section for clothing that fit me.
Shopping quickly became something I hated, because of course, nothing really fit.
Buying sustainably-made and resale clothing has been a growing area of focus in the United States but stores like Goodwill just don't have enough options for plus-size people like me.
The day I stepped into my first plus-size resale store, Fat Fancy, I knew it was a moment of revolution.
Welcomed in with a big hug, I was introduced to the small world of people that wanted me to find clothing that didn't just fit me, but clothing that I would love, clothing that would bring me joy and all while promoting a culture of sustainability and radical body acceptance.
Fashion isn't high on many priority lists right now but if you have the urge to get some retail therapy — while building community — consider these small businesses.
Most of them have switched to virtual sales models and are offering new services like local pickup and delivery, Facebook live sales, Instagram story sales and listing items on their websites and Poshmark. You can shop any one of these sustainable businesses from anywhere in the United States. 
What happens when a person sees an underserved market and believes in repurposing and reselling things that still have life left? HIPS Resale Boutique, of course.
While many plus-size resale stores focus on what is traditionally considered "women's fashion," this shop saw a demand for masculine clothing and expanded their inventory. 
HIPS Resale Boutique offers sizes 12-32 in standard plus-size "women's" clothing as well as petites and big and tall "men's" clothing.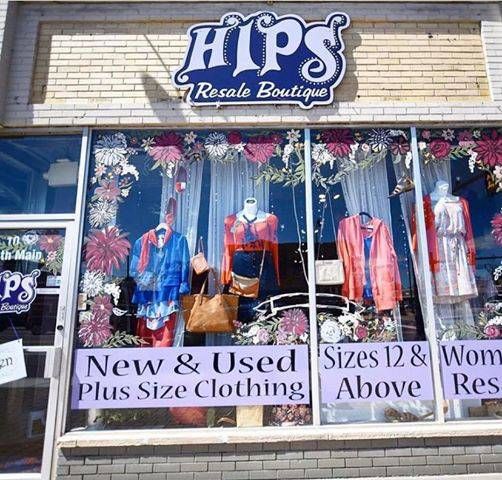 "We strongly believe in making our planet a cleaner place to live," said Vikki Stoddart, owner of HIPS Resale Boutique.
"We use paper bags, donate clothing to local charities and churches and offer a reward program to keep people buying from our Resale Boutique instead of corporations."
Stoddart offered this simple advice to people who are looking to shop more sustainably, "Stay local and buy secondhand."
And if you don't like to shop in store, HIPS clothing is available on their website and Instagram.
Fat Fancy — Portland, Oregon  
Beethoven "Bee" Thornton's grandmother inspired their love of fashion. Growing up in the lower class forced their need to shop resale. But Thornton's mother made shopping secondhand exciting.
So when they saw Fat Fancy for sale, they couldn't resist purchasing it. Thornton, who is bipolar and manic, was convinced that this was the job they needed to be the entrepreneur they always knew they would be.
"I found love for my body through fashion. I had this realization after seeing Beth Ditto on the cover of Rolling Stone naked and glorified in her fatness. I realized that if her fat body was beautiful then mine was too," Thornton said.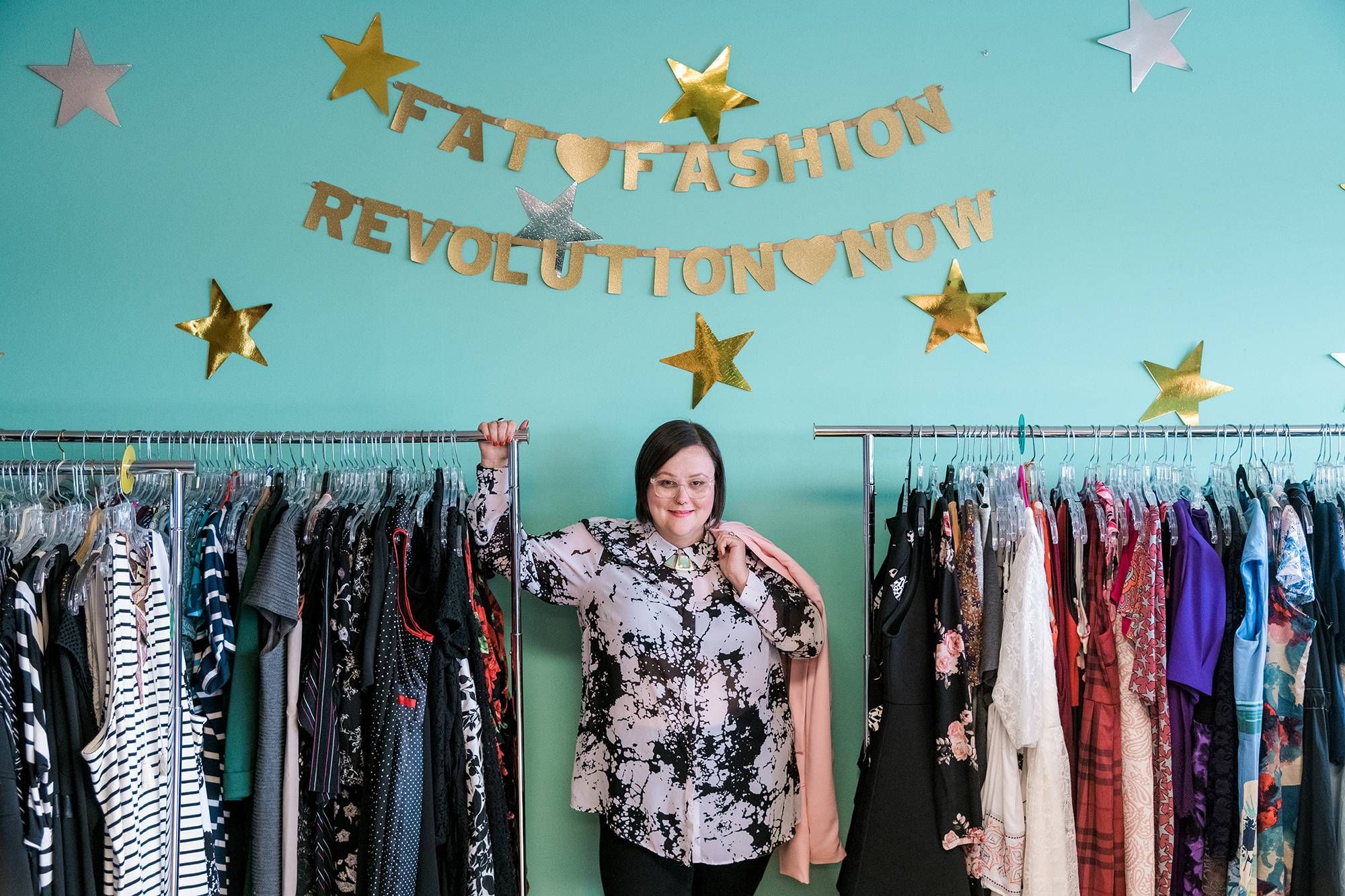 Today Fat Fancy is a staple in Portland and in the online plus-size community. Offering sizes 14 and up, you can shop in store, on Facebook Live and in Instagram stories.
Fat Fancy also supports local independent designers and artists, offering unique pieces you will rarely find elsewhere.
As for big and tall fashion, Fat Fancy has your back.
"Fat Fancy has always had a masculine section.
---
"We believe that everyone deserves access to affordable quality clothing," Thornton said.
"Honestly, when quality masculine clothing comes in it's like gold to me. Bring me your masculine clothing!"
Adrienne Ray spent years struggling to find plus-size clothing at the resale stores near her home in Philadelphia. It was almost like the stores intentionally excluded plus-size shoppers.
In 2015, she decided it was time to do something about that and started her resale store dedicated to plus sizes, Curve Conscious. They offer "women's" clothing in sizes 12-28.
Sustainability is a pillar in the vision of Curve Conscious.
"Being a secondhand store doesn't necessarily mean everything is used. So many items that come in have been purchased but never worn," Ray said.
"To be able to give something a first-, second- or third-time around not only adds to the lifespan of a garment but helps reduce waste and pollution."
Ray has worked to integrate the resale shop into the very fabric of her community. She sponsors events and donates clothing that doesn't sell to local charities which often have a lack of plus-size options for those that are most vulnerable.
For Cat Polivoda, Cake Plus-Size Resale began as a side hustle selling clothing online in 2014. By fall of 2017, Polivoda opened a brick-and-mortar storefront and is now working on expanding.
She found that selling affordable plus-size clothing helped her encourage people to have confidence in their bodies. 
A mainstay in the community, Cake Plus-Size Resale is about more than just fashion. They host a plus-size burlesque show (co-produced with Deeva Rose and the Rose Academy of Burlesque) and throw the legendary annual Fat Splash pool parties.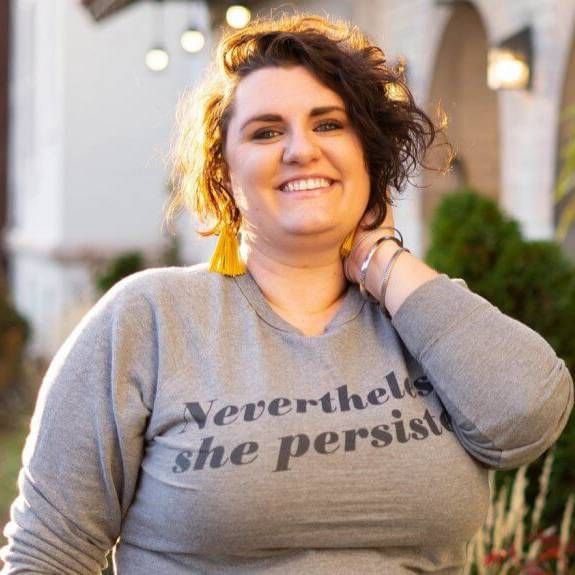 Every person who walks in the front door of Cake Plus-Size Resale knows that they can be 100 percent their full self in this shop.
Cake Plus-Size Resale intentionally offers clothing size XL and up for all genders.
"Both plus-size fashion and the fat liberation movement often don't do a good job of including men, masculine folks, or anyone who isn't femme or feminine presenting," Polivoda said.
"I also think that, generally, men and (masculine) folks haven't historically been encouraged to experiment with fashion or aren't allowed to find as much joy with fashion."
The Plus Bus — Los Angeles, California
Marcy Guevara-Prete and Jen Wilder were drowning in clothing and wanted to do something good with what they had, helping their clothing find new homes. And so, they threw a clothing swap.
That clothing swap turned into what today is a lynchpin in the Los Angeles plus-size community, The Plus Bus.
Guevara-Prete, a former stylist and plus-size style expert and Wilder, a product developer for the fashion industry, make the perfect team.
The Plus Bus carries "women's" clothing in size 12 and up including many items from indie and luxury plus-size brands normally only found online. 
"We host tons of community events and feel that this has been a great part of our success. From book signings to comedy nights, we always have a great turnout for our events," Guevara-Prete said.
"When you've grown up as the big girl in your group or always been the fat friend, it can be refreshing to meet people who understand what it's like to navigate the world as a plus-size person and meet like-minded people who want to ditch the diet culture and celebrate their bodies."
Secondhand Curves was started by Rachel Cadie, a plus-size woman, back in 2012. Like many of us, she struggled to find trendy fashion options that fit and were affordable to her. That's when she decided to step up and create that space herself.
Secondhand Curves offers plus-size "women's" clothing in size 12 and up.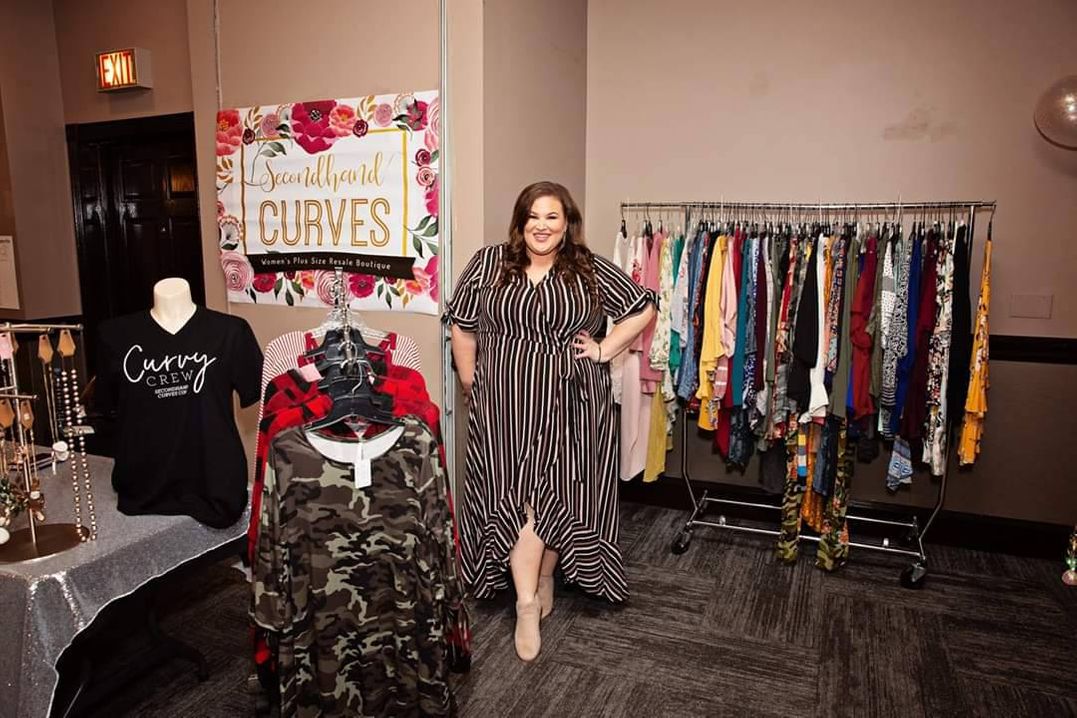 This plus-size resale store is known for its annual mega event with plus-size influencers attending from all over the country.
"Secondhand Curves Con" is a fashion show, shopping event and festival that celebrates plus-size people in all their forms. Cadie goes all out, including complimentary makeup services, giveaways and major keynote speakers. In 2019, this event had over 300 attendees. 
"There probably isn't a day that goes by that not one customer thanks me for being open," Cadie said.
"It doesn't matter your level of income, anyone can find anything at my shop!"
Shopping sustainably is possible as a plus-size person
By 2023, the Business of Fashion says that the resale market will exceed $50 billion.
"It's obvious that this is on people's radar and isn't going anywhere," Marcy Guevara-Prete, owner of The Plus Bus, said.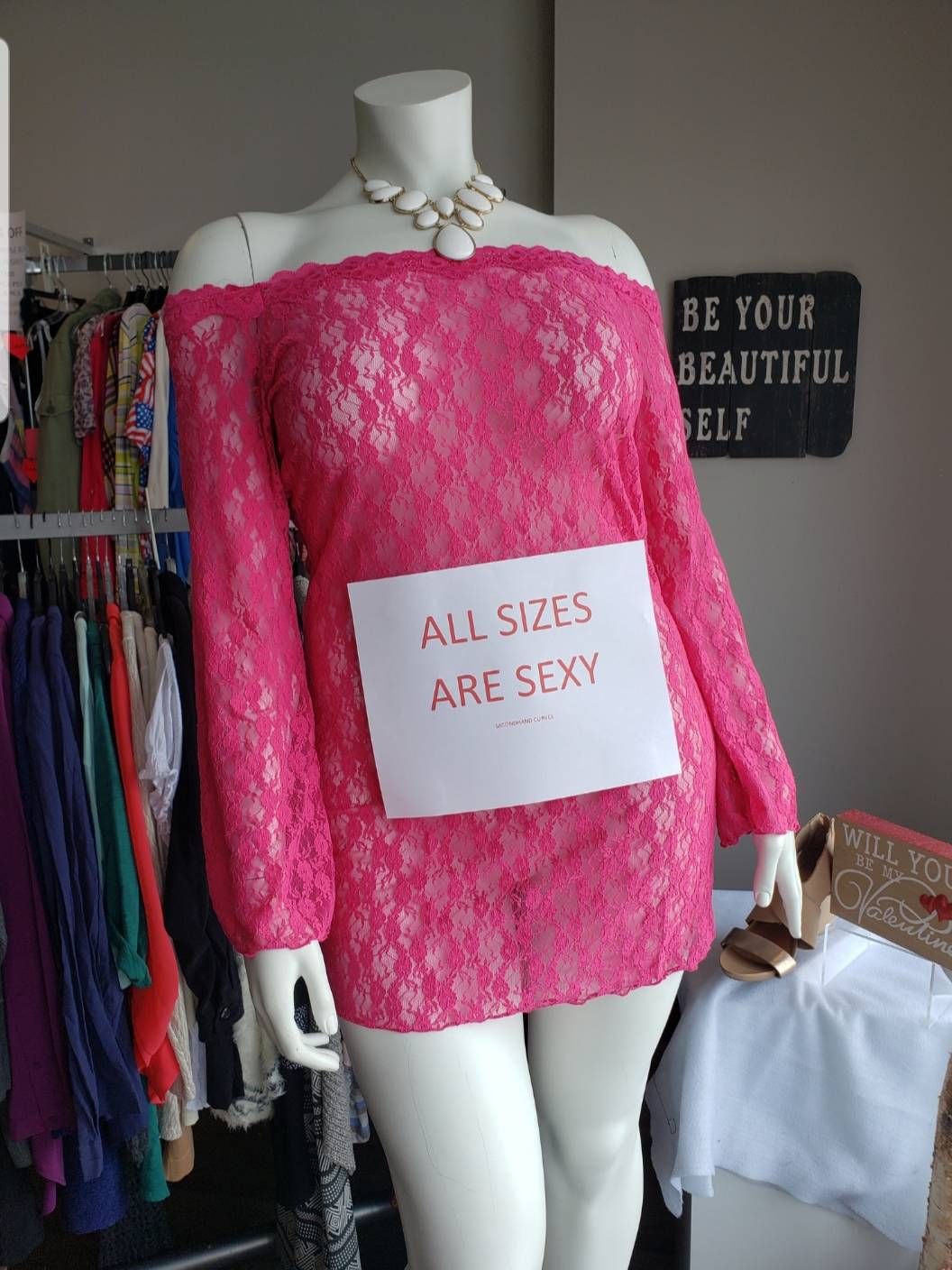 "We are thrilled to be at the epicenter of this for the women's plus-size fashion, but hope that the entirety of the plus-size world should have this option and as we grow, we hope to expand as much as we can in order to bring resale options to all people across the state and someday nation."
While there aren't as many plus-size options right now, that shouldn't stop you from giving sustainability a place in your wardrobe.
"You can just do the best you can with what you have," said Cat Polivoda of Cake Plus-Size Resale.
"When you're able, patronize sustainable plus-size brands and plus-size resale shops! If you're not able to spend your money with them, share or help promote or support in ways that make sense to you. And maybe your focus on being more sustainable will be in ways that aren't directly related to fashion. That's ok, too!"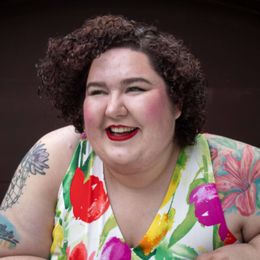 Chaya Milchtein
writes about cars, culture and queer life. She empowers people to do the impossible and be authentically themselves. Follow her @mechanicfemme.