Planning a Trip? Shop Local the Rick Steves Way
by
Sally McGraw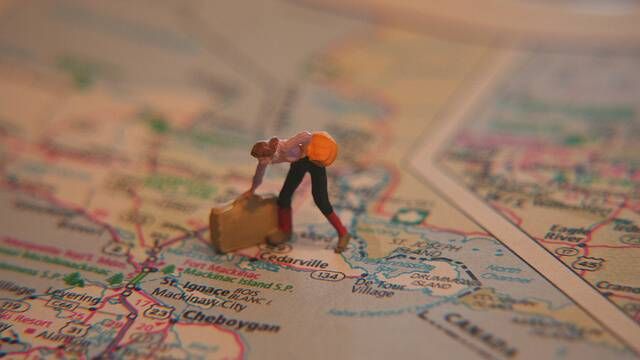 Sure, summer vacation season may be winding down, but as renowned travel expert and PBS host Rick Steves would point out, it's nearly "shoulder season!" (Think: travel for cheaper.) Regardless of timing, I'd recommend consulting Rick's handy packing list to fill your suitcase with only the most versatile and necessary items. Here's where to find all that smart stuff in the Twin Cities:
Comfortable walking shoes with good traction
All three of Rick's preferred brands - Mephisto, ECCO, and Rieker - can be found at Schuler Shoes, a local chain that specializes in comfort footwear for men and women. In addition to sporty sneakers and hiking boots, you'll find dressier options that will keep your feet happy on days that require 10+ hours of walking.
Quick-dry, packable clothing, underwear, and socks
Although you'll of course want to pack items from your closet, picking up a few garments that can be quickly hand-washed in a hotel sink will save you the hassle of finding a laundromat. Check Urban Traveler in Roseville for quick-dry undergarments and socks as well as separates for women and a few wrinkle-resistant clothing options for men.
Money belt, toiletries kit, and plug adapters
REI is a great resource for travel essentials like these, all of which can be had for $50 or less. Rick is also a big fan of packing cubes, which allow you to organize and compress your clothing and packed items. (And can help you keep dirty laundry separate from clean while on the road.) REI sells single cubes and complete sets.
Guidebooks and maps
Maps of far-flung destinations may need to be ordered online, but guidebooks and other travel literature can be found at Common Good Books and Subtext, both in St. Paul. You might also find travel memoirs to read and inspire before you head out.
Notepad, journal, and pen
Russell + Hazel in the Galleria has an eye-poppingly gorgeous selection of pocket-sized notebooks and lovely pens. Try the various Patina locations for quirky options and Bibelot for elegant offerings.
Neck pillow, small day pack, and suitcase
Oxman's Twin City Luggage has been selling and repairing suitcases in Northeast Minneapolis since 1932, and they currently stock several styles of neck pillows for air travel, lightweight crossbody bags and day packs, and suitcases in every imaginable size and style.
Other basics like sewing kits, earplugs, plastic bags, and laundry soap can be procured at your local drug store, and most recommended electronics can be found at mall stores or online. Rick strongly recommends packing light (no surprise there), and his packing list really will help you assemble an excursion-friendly suitcase. Hopefully these recommendations will allow you to shop locally when filling any gaps in your own list. Happy travels!