Does the Perfect Dating Profile Exist?
It's hard to know what 'works' and what doesn't.
by
Gretchen Brown
Writing a profile for a dating app is like creating a personal billboard.
And most of us? We're not trained in advertising.
That doesn't mean we won't try. Each week, thousands of people post screenshots of their Tinder profiles on Reddit, asking for help revising them.
And they get honest advice.
Like, "Your profile sounds a bit like you are trying too hard to be funny."
And, "Too many selfies, try to add pics of you doing something or even just hanging out with friends. Your smile is amazing though! Would swipe right :)"
That's just Tinder. For any given dating app, there's a Reddit community for it, full of folks asking for tips on how to make the "perfect profile."
What works?
Online dating has been around for 25 years; modern dating apps have only been a thing for a decade (Grindr) or less (Hinge, Tinder, Coffee Meets Bagel).
That means there aren't a lot of studies definitively showing what "works" and what doesn't.
The ones that do are often tied to traditional dating websites like Match, which operate in a different way (long, detailed profiles versus photo-heavy Tinder).
And even in those cases, there's not a lot that definitively leads to success. One study found age was the only reliable predictor of an actual date. Older adults are more likely to meet an online interest in person.
But it's not a total crapshoot. Hunt Ethridge, a dating coach, recommends that folks, above anything, don't alienate potential dates through their profiles.
Save the strong opinions and oddities for later down the road.
"Usually at the beginning, it good to throw a decently wide net to capture as many possibilities, then you can start whittling down from there," he said. "If you are too specific, you might unintentionally come across as super type A, controlling, high-maintenance and uncompromising."
Show your personality
Some daters take that advice a bit too strongly. They go too general, afraid of turning people off.
Like the profiles of folks who say they love "adventure." Chris Beeth, 25, isn't a fan.
"What does that mean?" he said.
Use a dating app long enough and you'll see recurring themes in bios: travel, tacos, "The Office." As Rebecca Jennings wrote for Vox last month, people substitute these things for real interests, in part, because they're a shield from rejection. They make you seem "normal." They're not controversial.
Life coach Nina Rubin says you shouldn't generalize yourself too much. That might mean you'll be rejected. That's OK.
---
"Be yourself," she said. "People will self-select in and out according to their preferences."
That might seem cliche. But your profile should show the best parts of your personality. If fishing is an interest, or football, you can include a picture of yourself doing that activity. Just don't make it all of your photos, and know that it won't be everyone's cup of tea.
Molly Reger tends to swipe left on any photos she sees of men holding fish.
"I don't know a Bass from a Northern so I'm not impressed, regardless," she said.
Dating preferences are personal. What turns Reger off might be attractive to someone who loves to fish.
Weeding out folks is actually a good thing, if you have strong beliefs that you'd like your future significant other to share.
Rubin said it's OK to share your political preference if you'd like your partner to hold the same beliefs. If you have kids, it's probably a good idea to include that in your profile, as well. No need to share photos of them.
Be positive
Rubin and Ethridge both said positive language draws people in. It's best to show yourself off, instead of appearing tired and bitter.
"Talk about the things you want — 'I love the outdoors, want someone commitment-minded,'" Ethridge said. "Not the things you don't want — 'no players, no unemployed.'"
If you really are feeling bitter, it might be time to take your profile down for a bit.
That positive feeling should also come across in your photos. Because dating apps are a visual medium, the photos you include really do matter.
Researchers Khalid Khan and Sameer Chaudhry reviewed more than 50 scientific studies about online dating. They found that photos of people genuinely smiling (think: the eye crinkle) make the best first digital impression.
Group photos also do well, because they show you're likeable, according to Khan and Chaudhry. Just make sure you're clearly labeling where you are in the photo, if necessary.
Ethridge recommends including both full body photos and close-ups. Skip the shirtless bathroom selfie.
That's something that consistently gets Amara Blake to swipe left.
"It seems like it's an annoying way to get attention," she said. "I don't care about a six-pack and to me it shows a lack of personality if they need to lead with their body."
Show, don't tell
Andrea Silenzi hosts the podcast "The Longest Shortest Time." She's also the former host of a podcast about dating, "Why Oh Why."
On Twitter, she often posts screencaps of funny or strange dating profiles she's seen, some submitted from followers.
They're off color or blunt at best, offensive at worst.
But some get it right. She says her friend Ryan Sartor made the perfect profile.
"You: someone who has got their shit together, I'm talking own a vacuum cleaner and one of those smaller vacuum cleaners for like, smaller spaces — a Dustbuster! I don't care what brand either item is!! I'm not superficial like that!! It's 2019, if you can't own a vacuum cleaner, what are you even doing? Sure, sweeping is cool, but a vacuum cleaner just really gets the job done.
Me: I need to borrow both of your vacuum cleaners, I'm so sorry"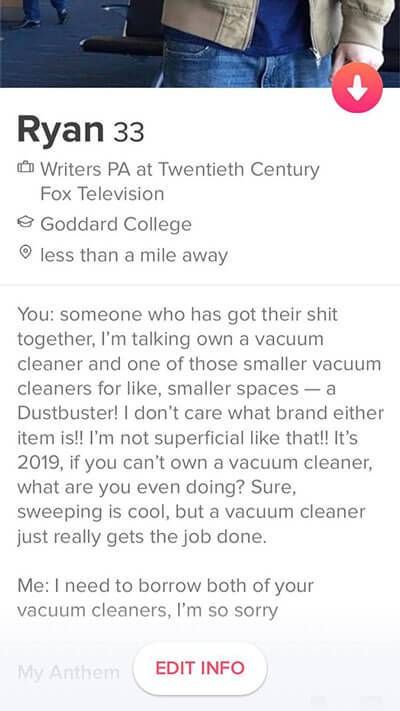 Silenzi said Sartor's profile is showing, not telling. That's what makes it so good.
"It's funny, written thoughtfully, and gives me a great sense of who he is and what he's looking for," she said.
That's also in line with Khan and Chaudhry's research. They found that while humor can give one profile an edge over other profiles, it means writing a funny profile, not just saying "I am hilarious."
But dating app success isn't perfectly scientific. A "perfect profile" isn't a guarantor. Sartor asked the last woman he dated seriously about it.
"I told her, 'You liked my bio?'"
She said, 'Oh I didn't read it. I just thought you were cute.'"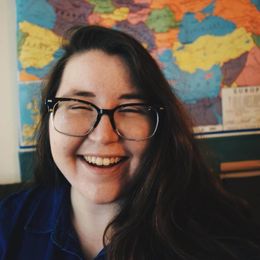 Gretchen Brown
 is an editor for Rewire. She's into public media, music and really good coffee. Email her at
[email protected]
, or follow her on Twitter @gretch_brown.