A Peer Mentor Might Give Your Career the Boost It Needs
Peer mentorships allow mentor and mentee to be both teacher and student.
by
Janel Martinez
Anthony Frasier aspired to be a tech entrepreneur, but didn't know exactly where to start.
Frasier started his decade-long career in his hometown of Newark, New Jersey, and went on to found a gaming app in San Francisco, but he struggled in the beginning.
"I needed to find something," said the 33-year-old, now CEO of ABF Creative. "I needed to find somebody who knew more than I did. That was really hard for a young Black kid coming from the 'hood."
The internet was a gateway to information, leading Frasier to business-related YouTube videos and podcasts — all of which connected the dots and provided invaluable insight on getting his venture off the ground.
"I would just take full advantage of listening to the interviews — that was all I had," he said. "For me, the internet really, really, really played a key factor early on."
Frasier noticed many of the successful entrepreneurs and innovators had a rapport with their interviewers. They were friends and, in some cases, business partners and collaborators. Though he didn't know the exact term, those relationships were his introduction to peer mentorship.
What's the point?
Traditionally, mentorship coincides with an employer-employee relationship. However, today, mentorship has taken on various forms: academic, career, business, life and peer mentorship, to name a few.
"When you think of a mentor-mentee relationship, you may picture a mentor as an established professional who will be guiding and advising a young mentee just starting out in their career," said Marny Smith, co-founder of FindSpark and assistant director of graduate career services for the Austin W. Marxe School of Public and International Affairs at Baruch College.
---
"In peer mentorship, the mentor and mentee may be closer in age, have similar career interests, and possess a comparable level of job experience."
Peer mentorship is mutually beneficial, allowing an exchange of experiences, insight on navigating challenges and an overall opportunity for growth, she said. The mentor may be a level or two ahead in their career.
"Both the mentor and mentee can grow professionally from such a relationship, as well as set goals, hold each other accountable and help one another develop new skills."
How to find peer mentorship
After reading "Think and Grow Rich" by Napoleon Hill, Frasier was introduced to the term "mastermind group," which is a collective of people who've agreed to meet at a regularly scheduled time to tackle problems together, share connections and swap advice.
Those who've joined these invite-only peer-to-peer mentoring groups have reported improvements in both their personal and professional lives.
Frasier wanted to start one. He reached out to James Lopez, who later became his co-founder at The Phat Startup.
"It was like, 'Oh, here's somebody I can learn from,'" Frasier said. "Sometimes mentorship isn't necessarily through advice. Sometimes the vehicle is observing. Being able to be in the universe of somebody you see that's one step ahead of you."
He admired Lopez's ability to balance family and startup life, as well as his financial savviness. Frasier reached out and a fruitful relationship was born.
Be thoughtful about who you choose to be a peer mentor, Frasier said.
"You have to be very careful and very intentional about who you do life with," he said.
But once you know who you'd like to get in touch with, feel empowered to reach out, Smith said.
"If someone is doing work or has a position you find intriguing, send them a message and see if they are open to having a conversation. Don't be afraid to inconvenience people — nobody gets where they are on their own."
Once the connection is made, remember to keep the conversation going, she said.
If you're searching for peer mentorship, here's how to find, and keep, a good one:
Tap your alma mater
After graduation, many colleges, universities and skills-based boot camps waste no time in engaging their alumni.
Your inbox fills with countless emails announcing happy hours, outings and fundraisers — there's no shortage of events to attend. Whether you're a current student or alum, it's a way to connect with people in your industry.
"Reach out to your college career services or alumni relations office," Smith said. "They can let you know about alumni in your field, inform you about alumni events as well as alumni groups online, and may be able to connect you directly."
[ICYMI: How People of Color are Redefining Coworking for Their Communities]
Join a professional association
There are a ton of professional associations, ranging from national organizations to hyper-local groups. In addition to professional development, these associations, like Young Entrepreneur Council, New York Women in Communications and Young Nonprofit Professionals Network, offer worthwhile networking opportunities.
"These groups host a myriad of events where you can meet like-minded professionals," Smith said.
Attend networking events
Events and conferences can be intimidating. Though you're there to soak up information and resources, these crowded spaces can overwhelm even the most experienced professional.
Be sure to ground yourself in your purpose and goal of connecting with another person — and know that just one person is enough.
Which events are on Smith's list? The employment specialist recommends checking out organizations like FindSpark, Be Social Change and Meetup, as well as conferences with cutting-edge speakers like AdColor, 99U Conference, World Domination Summit and AfroTech.
Slide into DMs, respectfully
While Twitter and Instagram have become another avenue to direct message people about career stuff, LinkedIn still remains the tried-and-true platform for this.
"Send a thoughtful, customized request to folks you'd like to connect with," Smith said. "If they accept your request, you can message them and see if they're willing to chat with you."
Peer mentorship isn't new, but it is an asset to any professional's life. Frasier says he's benefitted from peer mentorship and is eager to work on his next mastermind group.
"Peer mentorship is going to be a catalyst for business and how relationships are built in 2020."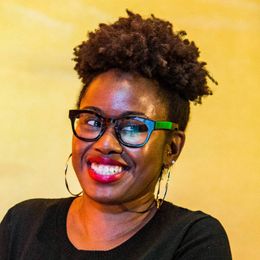 Janel Martinez
is a Bronx-based writer and founder of award-winning site Ain't I Latina?, an online destination celebrating Afro-Latinas.