Who Pays on a First Date? For Straight Couples, Gender Roles Still Apply
Most say men should grab the check.
by
Gretchen Brown
It doesn't matter what tradition says — Lillia Khelif won't let a man pay for her drinks or dinner on a first date.
She always offers to split the cost, at the very least.
"I feel kind of guilty having them pay," she said. "And I also am low-key concerned some men think you owe them something if they pay. Like they want you to put out, and I like to take that off the table by pulling my weight with the bill."
Despite her strong stance, she's never paid the full tab, even if she offered.
Men won't let her. They either insist they pay, or are open to splitting it.
Khelif's experience is actually pretty standard, but her views aren't.
Most heterosexual men and women — 78 percent — still believe men should pay for the first date, according to a 2017 survey from SurveyMonkey and Money.
A 2014 NerdWallet study found similar results. Even though times have changed, gender roles on first dates for straight folks haven't.
You ask, you buy
The tradition comes from the days when it was standard for men to ask women out on dates, says Maryanne Parker, a San Diego-based etiquette coach.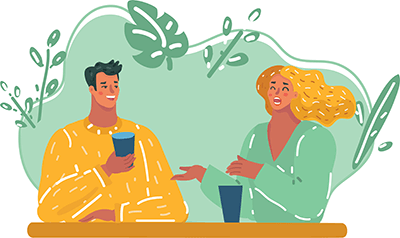 Norms have changed — women can ask men out without it being taboo, and entire dating apps exist around women making the first move.
But the etiquette behind financing a first date is the same, regardless of gender or sexuality, she said.
"The person who initiates the invitation always should be ready and not only willing but almost obligated to pay the bill," Parker said.
Most LGBTQ folks — 62 percent — agree with that, according to a 2016 Match survey. But 44 percent say they always split the check.
Lindsey Danis, a queer writer who covers personal finance, says it's not so cut-and-dry.
"The general rule with LGBTQ dating is that the general rules don't apply," she said. "It's all negotiable, which puts the onus on people to communicate their expectations in advance of a date."
Is it awkward to talk about money before you know the person? Yep, definitely.
But the way she sees it, it opens the door for more communication, and allows you to rely less on the arbitrary "rules" of dating.
Most folks she knows tend to split the check.
[ICYMI: Do I Have to Date Around?]
Chivalry isn't dead
Still, within heterosexual relationships, the idea of who pays seems to be more closely tied to traditional gender ideals than simply who asked out who.
Many of the men and women surveyed in a 2015 study of 17,000 unmarried heterosexual men and women from California State University, Los Angeles cited chivalry as the reason for their traditional views.
You know — that code from the middle ages that dictated how knights should behave.
"I was raised a gentleman," one 31-year-old man said. "My father always told me you treat the woman like a princess and you take care of her."
Women with more traditional views said being paid for felt like being taken care of.
"If I have to pay, I typically won't go out with him again," a 33-year-old woman said.
Eighty-two percent of the men surveyed said they end up paying for most expenses, even after dating for a while.
But 64 percent said women should help pay eventually, with 44 percent saying they'd stop dating a woman who never pitched in.
Still, a majority of the men felt guilty when a woman did pay.
Some of the women surveyed echoed Khelif's fear about sexual expectations — one-third said if they paid, they felt less pressured to have sex.
And the fear has roots in reality. In a 1985 study of hypothetical dating scenarios, men found rape more justifiable when they'd paid for the whole bill.
And in a 2010 study, men were more likely than women to expect sex after paying for a date.
Keep talking about it
Khelif is in a relationship now, and she and her partner tend to split most expenses.
"He will still cover lots of little things and not want me to pay or split — like parking, small dinners, et cetera," she said. "I have to still say 'I'll pay' though or he will just go for it."
Parker said the original asker isn't expected to keep paying for the second date and beyond. You can split the bill evenly, or pay for what you ordered.
She said they might continue to try to front the whole check, and that's OK. You should never expect it — always order something that's in your budget range, no matter who you expect to pay for the meal.
"I strongly suggest we always should at least offer to pay," Parker said. "It doesn't matter our circumstances."
Emily Stuckmayer, 27, says she always offers to pay for the second date, if things get that far.
She's never been on a first date where her date didn't grab the check, so the second date is her time to show she's happy to pitch in.
"If I had to pay for every date all the time it would be a turnoff," she said. "So I guess I assume they would think the same."
It's not a big deal to cover your own cup of coffee on a first date. But Danis said who pays should be a conversation going forward.
Keep disparate incomes in mind, if you need to.
"That could mean that the person who plans the date pays," she said. "That they keep an informal tab and pay one another back in Venmo. Or that the higher earner pays more of the time than the lower earner regardless of who planned the date."
Each couple is different. Figure out what works for you.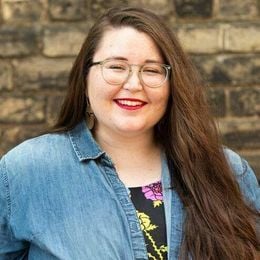 Gretchen Brown
is an editor for Rewire. She's into public media, music and really good coffee. Email her at
[email protected]
, or follow her on Twitter @gretch_brown.