Patrick Stewart's Love Of Shakespeare Comes To Public Television
by
Rick Ellis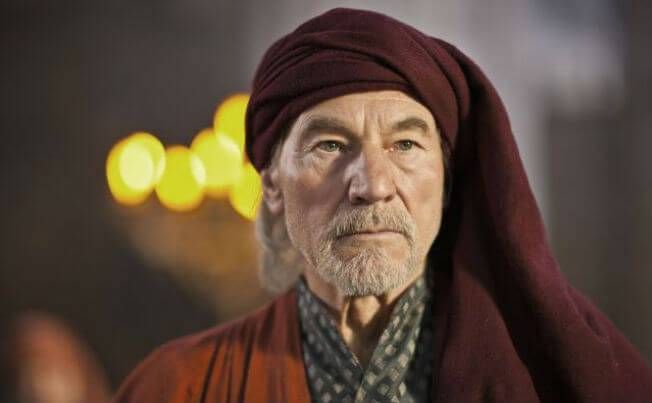 When most Americans think of the actor Patrick Stewart, they probably think of Star Trek: The Next Generation and his iconic role as Capt. Jean-Luc Picard.  Or if they're under the age of 30, they best know him for his role as Dr. Charles Xavier in the various X-Men movies. But the truth is that despite his many career achievements, Stewart has always considered himself a Shakespearean actor. He became a member of the Royal Shakespeare Company in 1966 and remained with them until 1982. Most of his early television and theater roles involved the works of Shakespeare, from his first role on Broadway as part of the legendary Peter Brooks production of A Midsummer Night's Dream to a BBC production of Hamlet. Even his non-Shakespearean roles such as I, Claudius tended to be serious, substantial parts that earned him the reputation as an "actor's actor." The roles also insured he was never going to be a household name.
I spoke with Stewart a few years ago, and he told me that he only agreed to the role on ST:TNG because he thought it wouldn't last. "I had been trying to raise money to bring a show to the West End, and I wasn't important enough to make it happen," he told me. "I was offered the role and signed a six-year contract because it was for a lot of money and I was advised that the show would never last. I was comfortable with the idea of working in the States for a few months, then taking the money and doing what I really wanted to do."
But as we now know, Stewart's career in Hollywood took off and while that's been great news for his pocketbook, it hasn't left the actor with as many opportunities to do the work he really loves. He decided in 2008 to concentrate again on Shakespeare and appeared in London in the role of King Claudius in Hamlet alongside David Tennant. And now he comes to public television in The Hollow Crown, an ambitious mini-series that spans four of Shakespeare's plays: Richard II, Henry IV, Parts 1 and 2 and Henry V. While the plays are meant to stand-alone, together they combine into an epic tale of ambition, greed, betrayal and passion.
Stewart appears in Richard II as "John of Gaunt," Bolingbrooke's (Rory Kinnear) father. In the throes of death, he criticizes King Richard and after he dies, the King seizes his money and land. That decision ultimately leads to Richard's undoing.
Here is a rundown of the four episodes and what you can expect to see. While Stewart might be the draw for those viewers who aren't naturally fans of Shakespeare, each of the productions is lush and exciting and a great showcase for both the acting and prose that has remained timely for five hundred years.
Richard II (September 20)
King Richard (Ben Whishaw) is called upon to settle a dispute between his cousin Henry Bolingbroke (Rory Kinnear) and Thomas Mowbray (James Purefoy). Richard calls for a duel but then halts it just before swords clash. Both men are banished from the realm. Richard visits John Of Gaunt (Patrick Stewart), Bolingbroke's Father, who, in the throes of death, reprimands the King. After seizing Gaunt's money and lands, Richard leaves for wars against the rebels in Ireland. Bolingbroke returns to claim back his inheritance. Supported by his allies, Northumberland (David Morrissey) and the Duke of York (David Suchet), Bolingbroke takes Richard prisoner and lays claim to the throne.
Henry IV, Part I (September 27)
The heir to the throne, Prince Hal (Tom Hiddleston), defies his father, King Henry (Jeremy Irons), by spending his time at MMistress Quickley's (Julie Walters) tavern in the company of the dissolute Falstaff (Simon Russell Beale) and his companions. The King is threatened by a rebellion led by Hal's rival, Hotspur (Joe Armstrong), Hotspur's father Northumberland (Alun Armstrong) and his uncle Worcester (David Hayman). In the face of this danger to the state, Prince Hal joins his father to defeat the rebels at the Battle Of Shrewsbury and kill Hotspur in hand-to-hand combat. Michelle Dockery plays Hotspur's wife, Kate Percy.
Henry IV, Part II (October 4)
In the aftermath of the Battle of Shrewsbury, Northumberland learns of the death of his son. The Lord Chief Justice (Geoffrey Palmer) attempts, on behalf of the increasingly frail King, to separate Falstaff from Prince Hal. The rebels continue to plot insurrection. Falstaff is sent to recruit soldiers and takes his leave of his mistress, Doll Tearsheet (Maxine Peake). The rebel forces are overcome. This brings comfort to the dying King, who is finally reconciled to his son. Falstaff rushes to Hal's coronation with expectations of high office, only to be rebuffed by the former prince who has now become King Henry V.
Henry V (October 11)
Henry V has settled onto the throne and has the makings of a fine King. The French Ambassador (Jérémie Covillault) brings a challenge from the French Dauphin. Inspired by his courtiers, including Exeter (Anton Lesser) and York (Paterson Joseph), Henry swears that he will, with all force, answer this challenge. The Chorus (John Hurt) tells of England's preparations for war and Henry's army sails for France. After Exeter's diplomacy is rebuffed by the French King (Lambert Wilson), Henry lays a heavy siege and captures Harfleur. The French now take Henry's claims seriously and challenge the English army to battle at Agincourt. Henry and his meager forces prove victorious against all odds.