What Happens When Your Passion Project Goes Viral?
Jaime Chismar wanted to make her neighbors feel welcome during a politically divisive time. So did a lot of other people.
by
Katie Moritz
Jaime Chismar was at a loss. The 2016 election had happened just two days ago. The "hateful rhetoric and fear" of the campaign cycle had taken a toll on her and a lot of people she knew, she said.
Emotions were running high, and people of different ideologies felt more irrevocably divided than ever. But the Minneapolis-based graphic designer had an idea. She wanted to use her skills to create something that would shine a little light in the darkness she felt.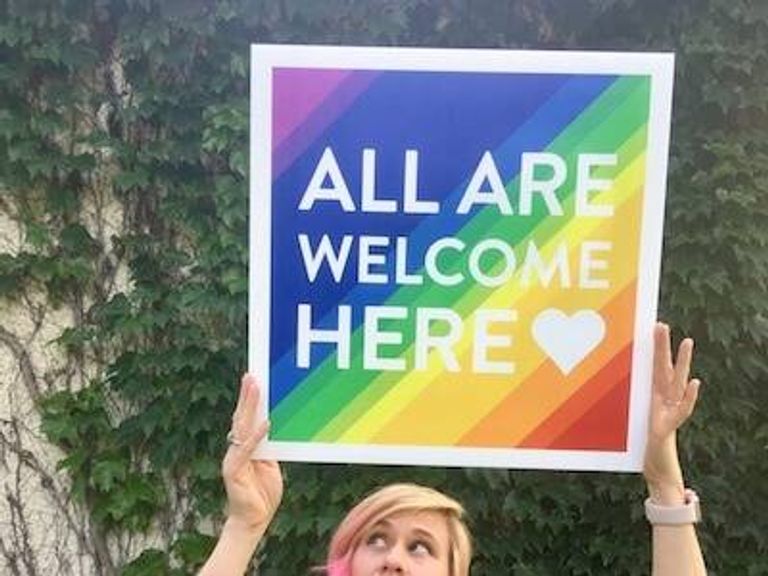 That's how the sign was born: a simple yard sign calling for unity, rather than a vote for a candidate or support of a party.
The words "All Are Welcome Here" set on a background of colorful stripes — letting passers-by know that the family or business inside supports people who are different from them.
For Chismar, it was cathartic to take an action, however small.
"You have probably a diverse group of friends who you love, and there's something very satisfying about literally putting a stake in the ground and saying I support my neighbors and I support my friends and my family," Chismar said. "So in some way it was very selfish, because I wanted to have a safe place for my friends and families to be."
But sometimes, small things turn out to be bigger than intended. After she designed the sign, she posted it to Facebook to ask friends if they wanted to go in on the printing costs for a pack of 50. Fifty soon turned into 500.
When folks came for their orders, "people would pick up the sign and just hold it," she said.
"People felt so hopeless and helpless that buying a lawn sign felt like a positive action. ... It made people feel like they were connected to something bigger (and that) their values are valued."
Life changed for Chismar when a photo of the sign was posted in the Minnesota Pantsuit Nation Facebook group.
"That's when it went viral," Chismar said. "To have something kind of go viral in your community — it's mind-blowing... It's like being struck by lightning and you're forever changed by that experience."
Just a couple years later, she's sold tens of thousands of signs to people in every state, as well as other countries like Germany, France and Singapore. It's been translated into 20 languages. International organizations have asked her to make custom versions for them. She's sold thousands of window clings, buttons and T-shirts, too. Female entrepreneurs reached out to ask if they could sell Chismar's merch in their shops.
"I never feel like this project is about me," Chismar said. "I feel like I'm the docent for this sign. ... I'm an agent for a giant rainbow of happiness."
It's a sign (no pun intended) that there are lots of people across the planet who want to support one another, even in the most challenging of times.
"It's really inspiring to see people trying to make a more welcoming world from wherever they are," she said.
[ICYMI: Why Are People So Divided by Politics?]
A sign of the times
All Are Welcome Here has been a sponsor at lots of events celebrating togetherness, like Minnesota's Festival of Nations, and a small-town Pride festival in Pine City, Minnesota, that's been going on for 15 years.
This year, Pine City Pride in the Park ordered window clings to put in all the businesses that support the LGBTQ community. All Are Welcome Here collected money at the event to donate to the local Parents and Friends of Lesbians and Gays chapter for the college scholarship it awards to an LGBTQ high school graduate.
Chismar said she loves interacting with young people at these events.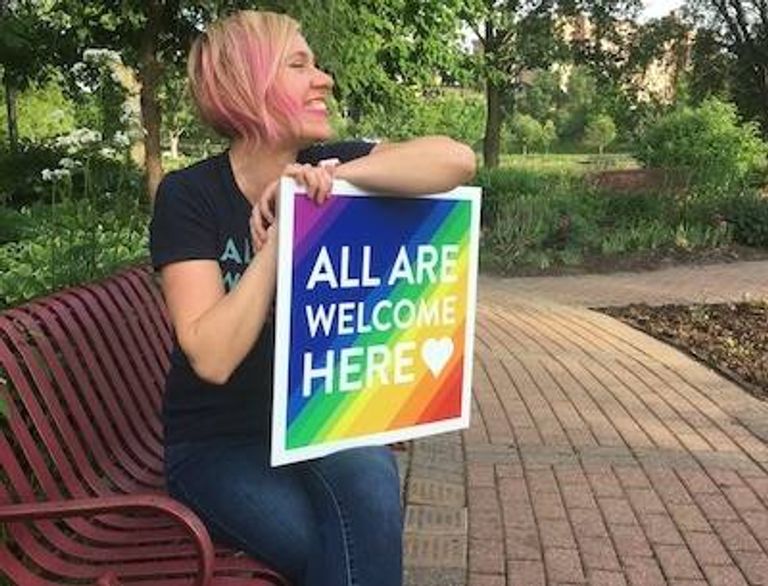 "This next generation, they are so confident in who they are and who they love," she said. "They're shrugging their shoulders and saying, 'You're he, you're she, you're they — lets hang out'… They make it seem so easy."
Though All Are Welcome Here is not a non-profit — "we're a business in the business of giving away as much money as possible," Chismar said — it partners with non-profits to support diverse communities. It offers microgrants and creative services to equality-minded organizations throwing events and collaborates with others. So far, All Are Welcome Here has donated about $60,000 to community organizations with the money it's raised from merch sales.
This Pride season, All Are Welcome Here is selling a special rainbow sign it created with the American Civil Liberties Union of Minnesota. A portion of each sale goes to the organization.
And the stories that get back to Chismar are proof that what started as a creative outlet during a difficult time is actually helping people. She met Minneapolis City Council member Phillipe Cunningham, the first out trans man of color to ever be elected to political office in the U.S., and he told her how much the signs helped him during his campaign.
When there was an All Are Welcome Here sign in the front yard, he wasn't afraid to knock on the door to introduce himself and ask for a vote, she said.
"'Your sign makes door-knocking easy,'" Chismar said he told her.

Katie Moritz
 was Rewire's senior editor from 2016-2019. She is a Pisces who enjoys thrift stores and pho. Follow her on Twitter @katecmoritz.