My Parents Live On a Different Continent. Here's How We Stay Close.
Being far away helps me appreciate them more.
by
Kui Mwai
After an efficient final three-hour flight and surprisingly easy time with passport control, I emerged from Jomo Kenyatta Airport's international arrivals terminal to the warm face I've been craving to see for almost a year.
Sporting an outfit eerily similar to mine, my mom stood in front of the masses of family and loved ones eagerly watching the two doors I had just passed through. Her eyes glued to the arrival times board, I paused dramatically to ensure her gaze caught mine naturally. It did, and when her expression didn't match my overly excited one, I realized a hilariously ridiculous truth: she didn't recognize me.
In the past, this motherly betrayal would have warranted a pout and a reprimanding in the car. But the glow radiating through my body melted away the feelings of annoyance. I widened my smile and walked closer to her. She looked at me quizzically once more, then finally recognized me as her long-awaited daughter. She grabbed me tightly and we roared with laughter at her momentary confusion as we slowly walked to the car, arm in arm.
I had an equally joyful reunion with my father two weeks prior. When I walked through the slate-colored doors of O.R. Tambo International Airport's terminal, there was my dad.
In typical fatherly fashion, his OOTD was a T-shirt with the word "RELAX" on the front, sea foam-colored shorts and matching sneakers. He looked alert, and a little nervous too. Compared to my mother, his emotions were a more quiet storm. He gave me a tight squeeze, and aggressively took all my bags and led the charge to the parking garage.
For better and for worse
I live approximately 7,540 miles away from my mother and 8,101 miles away from my father. They live in Nairobi, Kenya, and Johannesburg, South Africa, respectively, and I have planted new, 20-something roots in Washington, D.C.
I've lived this far away from my parents for what feels like a lifetime. While we have only lived on different continents for nearly seven years, seven feels like 70.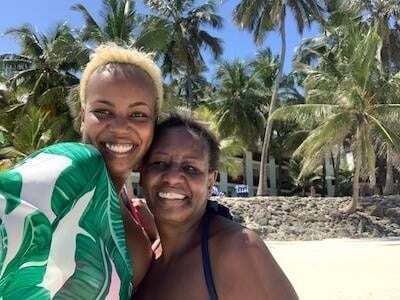 I'm an only child, and before you immediately superimpose the stereotypes attributed to my lack of siblings, let me clarify: I am extremely comfortable being alone. Probably to a fault. I am so comfortable being alone, that even at 18 years old, I was confident that I wouldn't be affected by being so far away from my givers of life.
This naïveté was partially due to the seduction of being on my own for the first time, and the arrogance that comes with youth. But even my parents were free of excessive concern. We were really just worried about finding the best place to get extra long twin sheets, and whether or not I needed a printer for my dorm room.
In my first year or two away from home, it seemed we were right not to worry. We adjusted to the time difference, a whopping eight hours, with relative ease. I became accustomed to calling with updates either early in the morning or late at night. Though, if I'm being honest, my excitement about the abundant newness of my life made me a little careless about how the time difference affected my parents. I'm trying to be more thoughtful about it now. While they love me dearly, my parents are getting older. They can't handle waking up at 3 a.m. to hear me talk about my life.
Then I got sick. My first real-life challenge came during my junior year of college, in the form of a serious illness that made me lose more than half my body weight in less than half a year. I needed care, support and extra doses of love. I needed my parents. But they were halfway around the world — to get to them, I had to take my exhausted body on several flights before finally collapsing into the comfort of home.
The realities of living apart
As my parents and I get older, the physical distance is starting to weigh on us. Fully emerged into adulthood, my life has only become more complicated, and so has the way I need my parents. I find myself craving my parents' presence as I navigate my professional and personal lives.
Similarly, my parents feel helpless in guiding me through the murky waters of my 20s. They spent my childhood and adolescence making sure I would be set up to succeed as an adult. None of us thought about the realities of us living apart for the rest of our lives.
I also feel my parents and myself drifting culturally. I'm ethnically Kenyan, and attended high school in Nairobi, so the inner workings of its culture and way of life is not something completely foreign to me. But as I spend more time away from the continent, I find myself forgetting those nuances. The American perspective continues to take up more mental space, while my parents head the opposite direction. They have moved back into the culture that raised them, that their mothers and sisters and brothers have remained fully immersed in. I love having that connection to my roots alive and well, but I also ache for the days we were on the same page.
[ICYMI: How to Become Friends With Your Parents]
Staying present
I think about one day building my own family. I fear that I've become overly comfortable in being distant from my parents, and that will compromise the foundation of my future family. I fear my kids won't know my mother's exuberance and kindness, or my father's depth of knowledge and warmth, because they'll only see them once a year.
But that fear and craving for connection promotes a fierce commitment to staying present in each other lives. I tell my parents everything with as much detail as possible, so they feel like they're here with me. I make an effort to get to know my parents as people, so on top of me loving them as the people who raised me, I love them as individuals.
Living a combined 15,641 miles from my parents hurts, some days more than others, but it has given me the gift of appreciation and a deeper sense of love for them and their love for me. Even if they (sometimes) don't recognize me.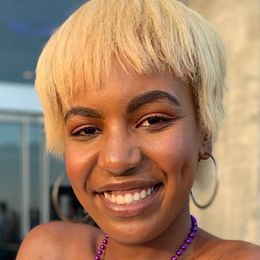 Kui Mwai
 is a freelance writer based in Washington, D.C. Her passion is using the written word to bring authenticity, humor and truth to issues that face communities she is a part of: the black community, the international community, the feminist community. She prides herself on using her third culture perspective to offer compelling and fresh commentary on a myriad of social topics, from women's issues in Sub-Saharan Africa, to black culture in America.