What Happens to Your Pandemic Pet When You Go Back to the Office?
One in five homes adopted a cat or dog during the pandemic. Here comes the separation anxiety.
by
Ben Rueter
Plenty of pets have found new homes during the COVID-19 pandemic — leading to the rise in the term "pandemic pets."
I adopted a Great Pyrennes puppy last year. He's almost one year old, he loves eating frozen green beans, he hates the warm weather and my partner and I have concerns about him developing pet separation anxiety.
Most pandemic pets don't know a world without their owners always around the home.
According to an American Society for the Prevention of Cruelty to Animals survey, one in five homes adopted a cat or dog during the pandemic.
Where I live, in Minnesota, shelters have seen a boom in adoptions and new foster homes.
"It's been a crazy year," said Azure Davis, founder of Ruff Start Rescue.
In 2019, Ruff Start Rescue saw an average of 82 foster applications per month. In 2020, it rose to 135 per month, and this year it's seeing around 116 per month.
Foster homes are in demand
"We had a lot of fosters that signed up last year, which was great," Davis said. "But now some of them are returning to work or they're just wanting to travel and not have responsibilities for a while."
LaToshia Neshek, executive director of Twin Cities Pet Rescue, said her organization was unsure how it was going to handle the lockdown.
"The stay at home order, I think, prompted a lot of people to look for an opportunity where they could be meaningful," she said.
"We saw a lot of foster applications come through and adoption applications were out of control. It's so overwhelming."
Neshek said that typically a pet will stay with the rescue for three months until the adoption is finalized. Last year that time was cut down by one month.
Spot the signs of separation anxiety
When the recent flood of interest began, Neshek said Twin Cities Pet Rescue built in some extra steps and questions in the application process to lessen the impact of a new pet developing separation anxiety.
"What I want you to be thinking about is how you're going to start preparing your dog for that transition because we don't want to see them developing separation anxiety," she said.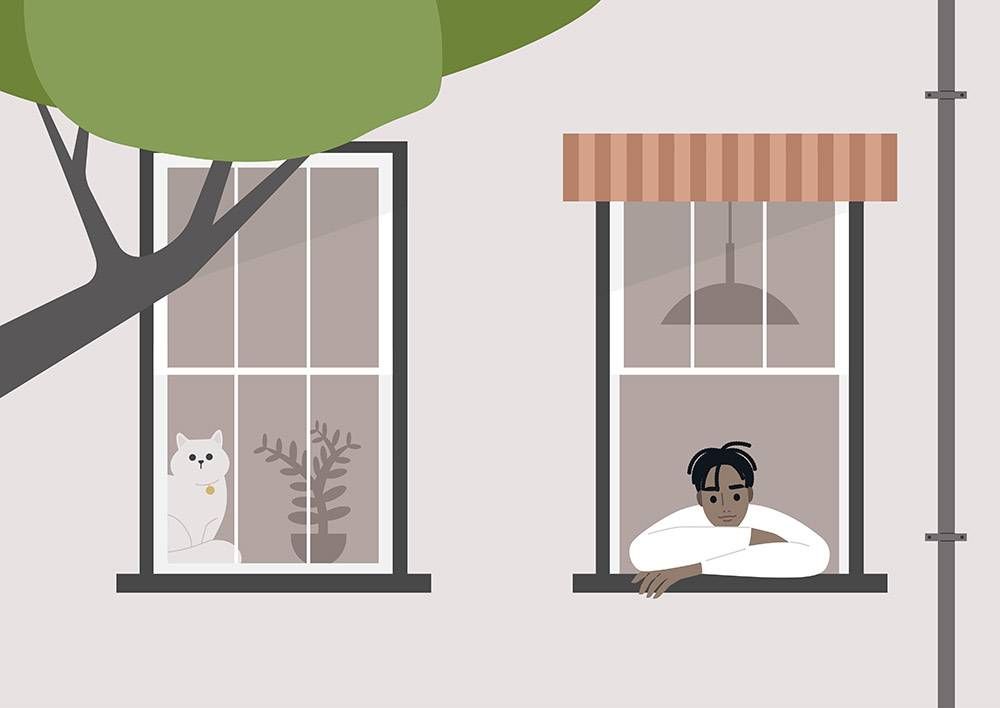 What Neshek was prepping for is quickly becoming reality for some.
Separation anxiety may look like destructive behaviors near the exits to your home, says Dr. Lori Rockwell, veterinarian with Soft Touch Animal Rehabilitation Service.
In addition, you could hear barking, whining, pacing and salivation, and see urination and defecation.
Buy a cheap camera
There's an easy way to find out if your pet is anxious when you're out of the house.
"I think the most important thing is if you even think that your dog isn't happy at home, get a video camera and record it," she said.
Rockwell said that a cheap camera will work and it can be useful information to share with your veterinarian or animal behaviorist.
"Without video of a dog demonstrating these behaviors it's going to be really difficult for anybody to diagnose true separation anxiety," she said.
Talk to a professional
A veterinarian can provide medication for your pet and guidance for you. Medication can offer instant relief, Rockwell said. This will also make the training process easier.
In addition, an animal behaviorist can identify subtle signs of stress.
Cheryl Gfrerer, trainer and owner of Giffy Dog, tells clients to start by offsetting the anxiety with mental stimulation. This can be puzzle toys, lick mats and snuffle mats.
One of Rockwell's go-to tactics is giving a dog 50 treats or kibble a day for calm behavior.
"Anytime they notice the dog exhibiting calm behavior throughout the day, they can just drop one of those treats onto the dog's bed or wherever it's lying down." she said.
To help them stay calm, Gfrerer recommends making a space that is soothing for your dog. 
"I use a combination of music and usually fans to just create a serene environment for my dogs," she said.
To eliminate visual stimulation, you can use window film.
Lean on your support groups
"The first thing I really like to talk to families about is what kind of support structure do they have in place already that will allow them to go through this process without causing a lot of chaos in their lives," Gfrerer said.
Supports can be friends, co-workers, family, neighbors, other dog owners, church members or anyone that you trust.
"Really setting up a support network from the outset, is vitally important for family success so that they don't get overwhelmed and so that they do have the ability to leave sometimes." Gfrerer said.
Know this takes time
It can take up a minimum of six months for a dog to be fully calm when its owners are away, Gfrerer said. 
Some owners may be anxious about getting back to work, she said, but it's important to not push it, because it will lead to setbacks.
When your pet starts to show independence, that's a good sign it's more comfortable.
"Keeping them in that calm state is more important than how far away you can get," Gfrerer said.