How Online Dating is Changing Society
by
Katie Moritz
We know that online dating is changing relationships and marriage—since internet dating services came to be in the 1990s, more and more serious love connections have come out of them.
Today, more than one-third of marriages are the product of online encounters. And it's changed the game for dating as a sexual minority—the internet is now the No. 1 way LGBTQ people meet each other.
But online dating might also be altering the very fabric of society.
The connections we make on dating apps aren't just expanding our own social circles—connecting us with people we'd likely never meet organically—and helping to integrate the country, too. In fact, with the introduction of two very popular dating apps over the span of the past 20 years, interracial marriage spiked.
Randomizing the dating pool
Researchers Josue Ortega of the University of Essex in the U.K. and Philipp Hergovich of the University of Vienna in Austria have been studying how our changing social webs have been changing society. Using models, they compared romantic connections of the past and of today to take them to their likely conclusions.
Before the dawn of online dating, relationships started like this: You had a tight-knit inner circle, but that wasn't where you'd find your dates. The more important people for your romantic life existed in your outer circle—people introduced to you by your close friends and family, folks you'd run into at places you hung out, someone you'd meet in class or at church. Your dating network was the next step out from your inner circle.
Historically, most people met their partner like this. And because they were usually tangentially connected in some way—a relationship of proximity, in a sense—they were often similar, especially when it came to race.
"We would probably not marry our best friends, but we are likely to end up marrying a friend of a friend or someone we coincided with in the past," Ortega and Hergovich wrote in their paper.
For the past 100 years, the researchers wrote, this was the way things were done. But widespread online dating has upended that tradition.
When you meet a potential match online, they're typically a complete stranger, someone totally out of your orbit (unless you live in a small town). With so many people making connections like this these days, there's a cross-pollination of social circles that didn't exist previously, the researchers believe.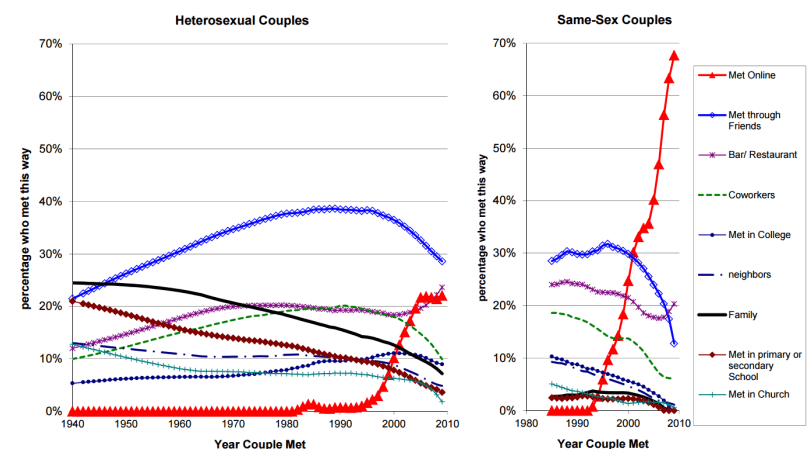 With that, interracial dating and marriage has blossomed and will continue to do so, they found. When the researchers added these random online connections to their model, instances of interracial relationships went way up, even when each person was only making a few new connections. The model predicted "nearly complete racial integration" as well as stronger marriages because of online dating.
The model "suggests that the diversity of societies, measured by the number of interracial marriages in it, should increase drastically after the introduction of online dating," Ortega and Hergovich wrote in their paper. "Societies where online dating is available should produce marriages that are less likely to break up."
More connections, happier couples

Real-life evidence seems to back up these findings. Interracial marriage has been on the rise since it was legalized across all states in 1967. But after the first dating websites, including Match.com, were launched in 1995, there was a rapid increase in interracial marriages, the researchers found.
"During the 2000s decade, the percentage of new marriages that are interracial changed from 10.68 percent to 15.54 percent, a huge increase of nearly 5 percentage points, or 50 percent," the researchers wrote.
As online dating became more popular, interracial marriages continued to increase. Another sharp spike happened in 2014.
"It is interesting that this increase occurs shortly after the creation of Tinder, considered the most popular online dating app," Ortega and Hergovich wrote. "Tinder, created in 2012, has approximately 50 million users [worldwide] and produces more than 12 million matches per day."
The researchers' findings don't prove that online dating is solely responsible for increased racial integration of social circles. Other factors are at play, too. Still, real-world relationships do follow spikes in digital use, everything from brief affairs to marriage.
The next time you're absentmindedly swiping left and right, remember you could be part of a massive social shift.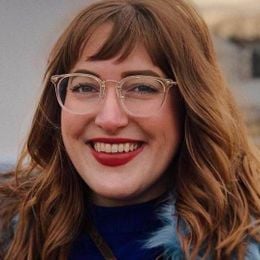 Katie Moritz
was Rewire's senior editor from 2016-2020. She is a Pisces who enjoys thrift stores and pho. Follow her on Twitter @katecmoritz.