In Online Dating, the Fewer Options, the Better
by
Katie Moritz
If you've ever tried online dating in a small town (or maybe even a big city, depending on how selective you are), you know how it feels to have virtually zero options. (Hmm, whomever should I choose: Person I Already Dated, Ex of One of My Exes, or Shirtless Guy with Trout?) Finding myself in that situation several times in my life, I have opted for deleting my account.
But things get frustrating on the other end of the spectrum, too. It turns out that online daters with too many cuties to choose from also end up unsatisfied. (Proof that online dating is maybe just an unpleasant experience for everyone?)
Too many fish in the sea?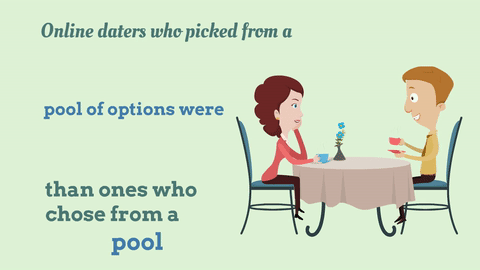 Researchers at the University of Wisconsin-Madison found that a glut of options on online dating sites can give online daters grief. They're constantly wondering whether the person they decided to go on a date with is really the best match in the pool. They're overwhelmed with choices and aren't convinced they're making the right decisions.
"Online dating is very popular but the sheer popularity of it is creating some issues," said researcher and assistant professor Catalina Toma to the university. "Sifting through choices is potentially problematic in that it can create the perception that the grass is always greener."
Toma and fellow researcher Jonathan D'Angelo asked 152 undergrads to make selections from pools of potential dates. Some chose from a pool of 24 potentials and some chose from a pool of six.
A week after making their selection, those who chose from the larger group were less satisfied, even though they had more options, than those who chose from the smaller group. They were more likely to change their mind about their choice, too.
The online daters who chose from the larger pool and had the option to pick a different person were the least satisfied with their choice of a date after one week.
"There can be more regret when they know there are other options," D'Angelo said to the university.
The economics of online dating
It's the result of choice overload, an economic theory that we touched on a bit with Rice University professor Utpal Dholakia in the context of arranged marriage. What makes an arranged marriage work, he said, is that it eliminates all the distracting other options and allows the couple to fully invest in each other right off the bat. When all goes as planned, an arranged relationship does away with the stress of choosing the best match for yourself.

With so many choices, the researchers posit, online daters will make a selection—then immediately start wondering about the merits of the people they didn't choose. All that wondering leads to them being dissatisfied with the choice they made. And then it's back online to start the process all over again with the next selection.
And, let's face it—unless you're in that tiny town I mentioned earlier, there's always someone else to check out online. And so many apps for it, it's almost too easy to go back to the drawing board.
"When the cost of the investment of meeting someone is really low and there are tons of options you'll explore those options," Toma said.
According to Pew Research Center, only 5 percent of marriages or long-term relationships in 2015 started online. But that number will likely grow with time—despite the vexations that come with meeting strangers from the internet, people have flocked to online dating sites over the past 10 years. More than a quarter of adults ages 18 to 24 have a profile on an online dating site. And 59 percent of people think online dating is a good way to meet someone.
"You can meet people who are similar to you like you never could before," D'Angelo said. "This research suggests that even though you're meeting people who are potentially similar, there can be downside to having that much access."
Despite choice overload, "our human need for connection is fundamental," Toma said. "I don't think online dating will decrease or diminish anytime soon."
Hitting some roadblocks in the online dating world? Check out these insights from Rewire:
What's Your Best Face for Online Dating?
Why Being Anonymous Hurts Your Online Dating Efforts
From AIM to Tinder: 10 Years of Relationships Online
Can Tinder Improve Your Relationship With Yourself?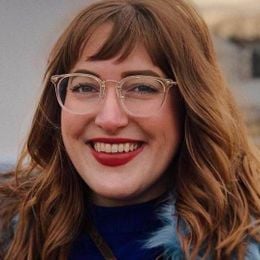 Katie Moritz
was Rewire's senior editor from 2016-2020. She is a Pisces who enjoys thrift stores and pho. Follow her on Twitter @katecmoritz.