How One Community Is Refusing To Be a Food Desert
In Sackets Harbor, New York, a community-run farm stand fills the gap.
by
Natalli Amato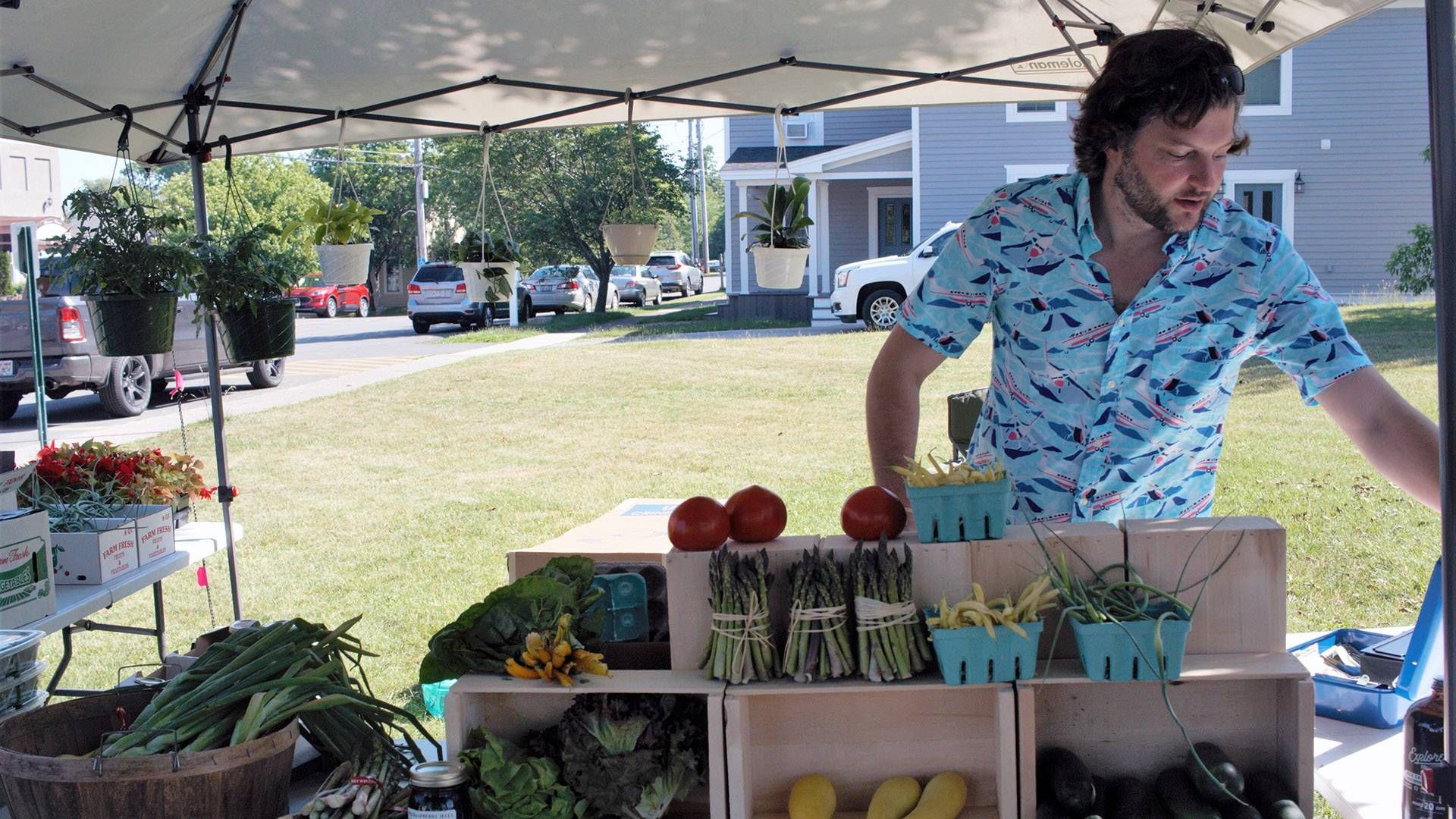 Driving home into Sackets Harbor, New York, it's easy to forget I'm living in a food desert.
Depending on the route I take into my historic lakeside hometown, I could pass Shedlight Organics, Old McDonald's dairy farm, the Agbotic SmartFarm or a handful of roadside booths offering garden-zucchini overflow.
Only once I settle into the village and find myself in need of a grocery run does reality strike: Even in this region of agricultural bounty, there is no place to go shopping. The town's grocery store, the Harbor Market, closed in 2019. 
Now, going grocery shopping requires leaving town altogether — an inconvenient drive for people like myself who have transportation, and a non-viable option for those who do not — lest we compromise fresh produce and nutritional value to shop at the nearby Dollar General or 7-11. 
After nearly three years of dealing with this reality, there's finally another option thanks to Alex Morgia and Mary Grace Duncan, a local couple who took action and founded the Sackets Harbor Community Farmstand.
The farm stand advantage
Suddenly this summer, my Saturday mornings looked different. Instead of driving a town over to go to the nearest supermarket, I was setting up a tent and laying out the day's produce with Morgia and Duncan, selling veggies to neighbors and friends at the Sackets Harbor Community Farmstand. 
The completely volunteer-run farm stand is located on the small town's main street, where local farmers can drop off their vegetables every Saturday.
By all appearances, the stand resembles that of a farmer's market, but there is a key difference that helps local farmers and residents alike: The farms do not have to staff the booth and pay for labor themselves, because it's run by volunteers. 
Paying for labor and booth permit fees are two obstacles preventing local farmers from participating in farmer's markets — especially when a market is new and just starting to gain awareness. Making sure both farmers and consumers feel supported is something Morgia and Duncan have prioritized since the farm stand's first day in May.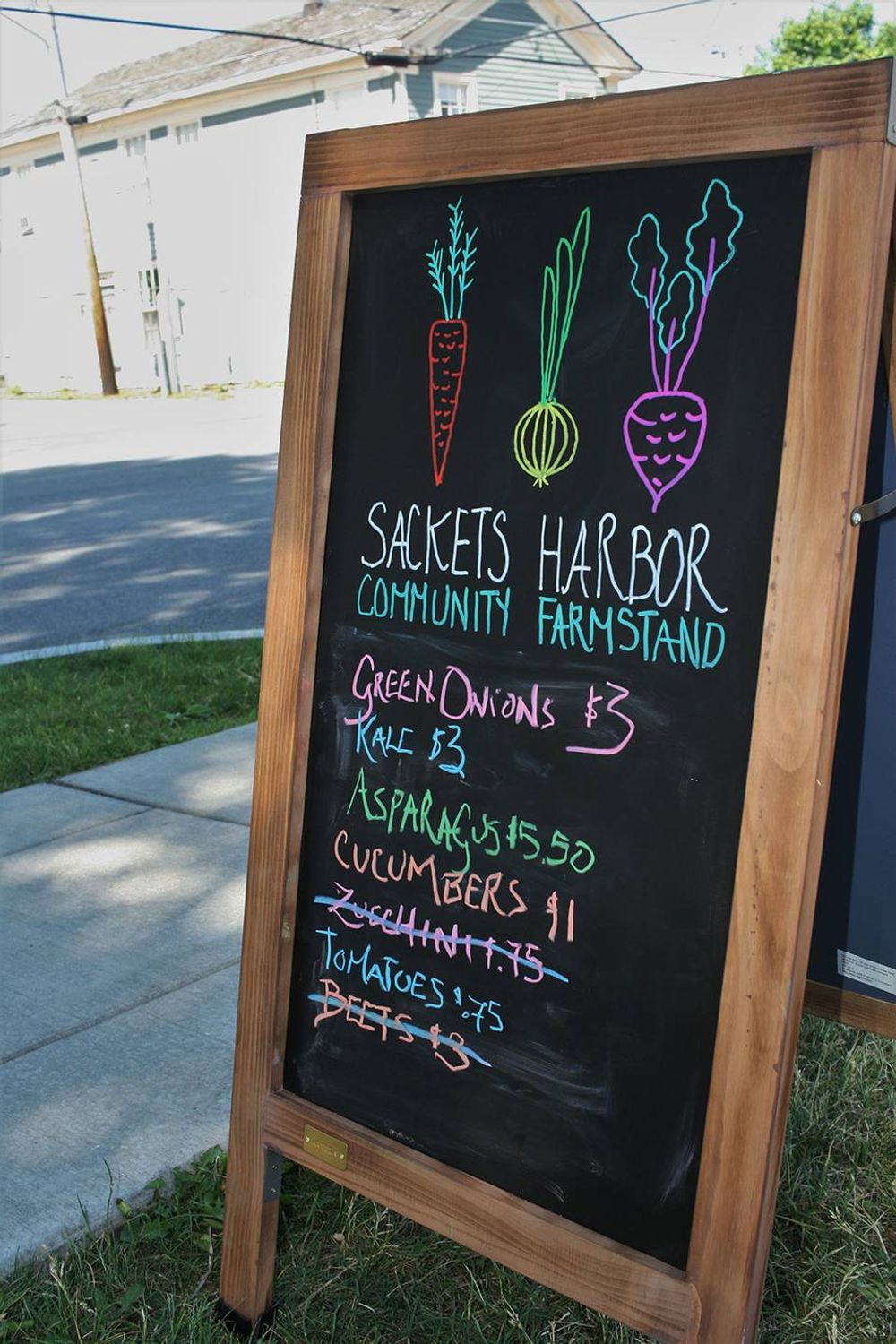 "The idea was, you can't ask farmers to do this out of charity," said Moriga, who in addition to operating the farm stand is running for mayor of Sackets Harbor.
"If they pay somebody for ten hours, that guy alone will eat up all the profit, and that guy could be working on the farm in the business all day. That was the problem."
The fact that the town didn't even have a regular farmer's market established only exacerbated the issue. While local artisan jewelers and winemakers often set up booths on the main street, local farmers rarely participated. If and when they did, it was too spontaneous to count on getting grocery shopping done at the booth.
In the farm stand's earliest days this summer, locals were pleasantly surprised to see us set up with produce — and even more so once they realized we weren't going anywhere.
"People aren't going to expect to come there to buy their veggies unless it's consistent," Morgia said.
"But farmers aren't going to do it consistently until there's more traffic. So, we figured if we did it as volunteers, we could prime that cycle."
So far, the cycle has gained momentum. The farm stand has become a hub for neighbors to come together, shop and visit.
"Now we have a bunch of people who show up every week to buy their veggies," he said. 
Fighting the food deserts
That the farm stand is drawing regulars is the true marker of its success — and impact.
"We wanted this town to have this," Duncan said. "It's a food desert. We want people who don't have consistent cars to be able to eat good food." 
This isn't just an issue in Sackets Harbor. About 23.5 million people live in food deserts, and nearly half also qualify as low-income, according to the U.S. Department of Agriculture.
In February, a bipartisan group of U.S. senators introduced the Healthy Food Access for All Americans (HFAAA) Act, aiming to expand access to affordable and nutritious food in food desert areas by offering tax credits for new stores.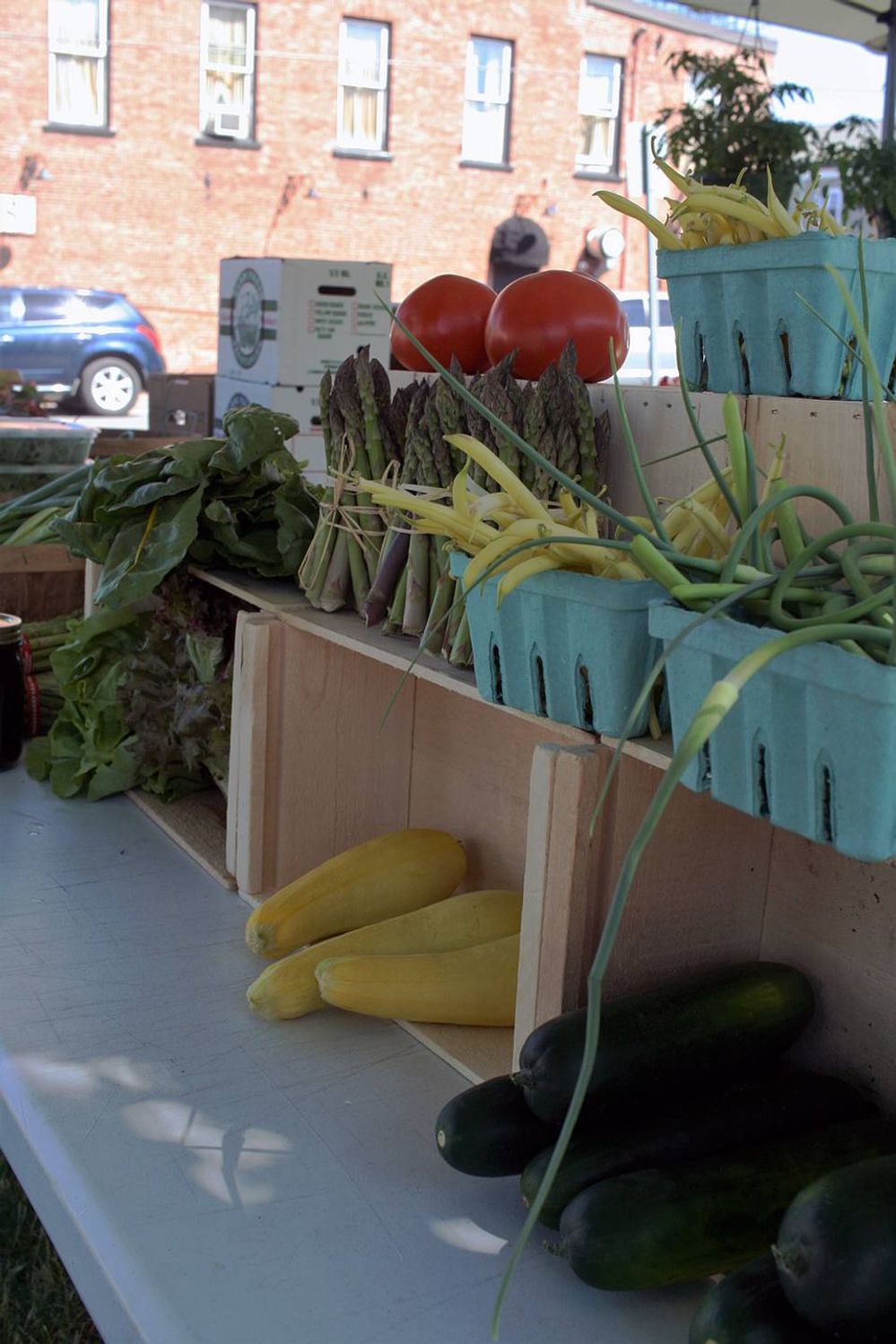 But while solutions like the HFAAA Act take a direct approach to eradicate food deserts by building new stores, they rely on the interests of companies aligning with those of communities.
When this interest doesn't pan out in a certain location, like in Sackets Harbor, it's on us community members to take action.
Research suggests supermarkets aren't always the answer. Community-based solutions to the food desert problem shouldn't be overlooked or underestimated, according to a 2017 article published in the urban planning academic journal Built Environment.
"Communities who live in food deserts may already have their own well-adapted strategies to access healthy food," researchers Catherine Brinkley, Subhashni Raj and Megan Horst write in Culturing Food Deserts: Recognizing the Power of Community-Based Solutions.
Brinkley, Raj, and Horst hope that future food desert research will focus on how to best support existing community practices, like selling healthy foods farm-to-market.
"There are many pathways to healthy food access," they write.
Create a farm stand in your hometown
While many things make Sackets Harbor unique, its precarious relationship to food access is not one of them. The community farm stand model can easily be replicated in small towns across the nation. 
For Morgia, the key to getting started is building relationships and trust.
Prior to founding the farm stand, Morgia and Duncan drove out to local farms to do their produce shopping. While this was hardly a convenient way to shop, it helped them build connections that made establishing the farm stand possible. 
In the earliest days of developing the stand, Morgia came back to one question in order to secure participation: "How can I make this easy?" Thus, the drop-off-and-sell approach was born.
Replicating the community farm stand model is possible even if you don't know your local farmers, too. 
 "If you're trying to do it from scratch… I'd say just pay them upfront," to build trust, Morgia said.
"So somebody with a couple $100 on their credit card can do it. Go sell the veggies, and then come back and say okay, here's the refund I need." 
You still won't pass a grocery store if you drive through Sackets Harbor on any given Saturday this summer. You'll see something else instead: our community coming together to support one another, buy local and shake off the food desert label.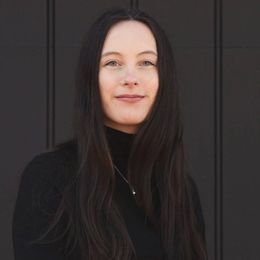 Natalli Amato
is an author and journalist from Sackets Harbor, New York. She regularly contributes to Rolling Stone and Taste of Country.