Is It Worth Looking Into 'New Age' Treatments to Health Problems?
by
Jamie Lynne Burgess
Remember when you were little, and you'd step off the tire swing and relish that whirlwind feeling of the world spinning around?
Now, imagine you're 30 years old, and you can't get off the tire swing.
For months, I was experiencing intermittent vertigo, the sensation that the world was moving. It was, quite literally, disorienting. It was also frightening.
Something prevented me, however, from going to the doctor right away. The United States health care system is difficult and expensive, but it was even more than that. I was afraid a doctor would charge me $200 to tell me I was making it up.
"The cost for health care in the U.S. turns a lot of people off to it, but I think medicine as a system has gotten really far away from personalized care," said Rachel Van Parys, who holds a master of public health degree and has a background in health coaching and wellness.
"You want individual attention and someone to listen to your specific symptoms and how they're happening in your body. But you don't often find that with a doctor."
Is there a way to demystify health care?
Despite the accommodations of the Affordable Care Act, nearly 10 percent of Americans remain uninsured, according to the Center for Disease Control. Insured or not, the health care system remains intimidating and opaque, and people are turning to alternatives.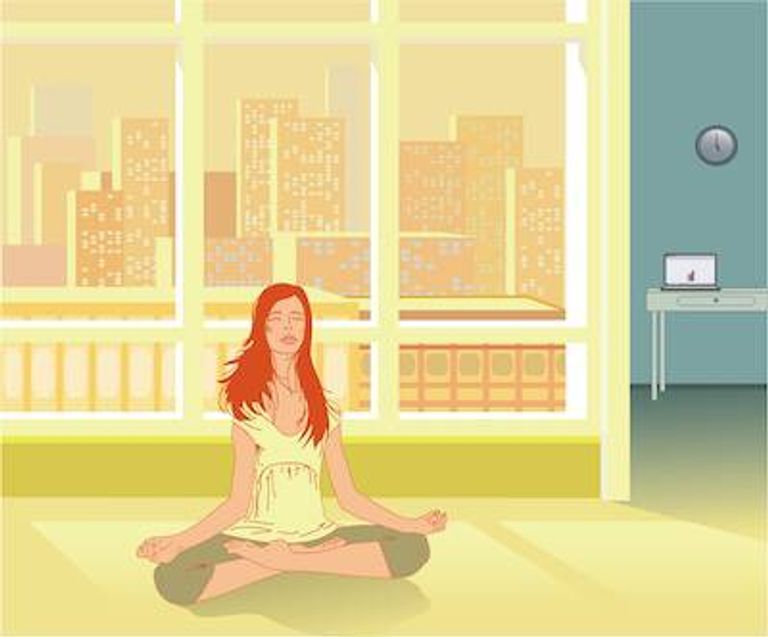 These alternatives are not always the futuristic, technology-based solutions you might expect in the 21st Century.
"We're in this interesting phase where people are unhappy with the health care system and looking for traditional, old-school ways to deal with things," Van Parys said.
When I complained of my vertigo, for example, one friend gave me a handful of quartz to help me heal. Another gave me the number of someone who does energy work. Ancient beliefs and practices felt opposed to traditional, Western medicine. Which would really offer relief?
A place for crystals, aura readings and salt caves
New Age solutions — out of style for several decades — have taken hold again, particularly among millennials. Astrology websites have been on the rise since 2017, according to The Atlantic.
Rises in New Age practices have often been linked to stress and uncertainty — and a lot of us are stressed and uncertain. These practices can help you feel more in control.
"It's so appealing to think you can do things on your own or in your community or based on people you already know," Van Parys said, like taking recommendations from friends for energy work and other alternatives.
These solutions are also cost-effective compared to the health care system. There are extremes — the $84 water bottle with an amethyst in the bottom from Goop has been regularly called into question.
Van Parys suggests these practices can be useful simply as a way to check in with yourself.
"You have to find the balance that works for you, and regularly doing these kinds of self-care things, you're more able to check in with yourself, and the more you're able to tell if you're okay," she said.
Following your intuition
If you're spending time with yourself, and engaging in practices that help you get in better touch with your thoughts and your intuition, then you might find yourself closer to knowing when you really do need to see a doctor.
Though I never thought I'd be the type, I now listen to a lot of personal development podcasts, and I regularly engage in the practice of writing letters to my intuition.
I sit quietly, take a few deep breaths, and write a question at the top of the page. Then, I let myself speak the answer in writing. I have found this practice to astonish me more than once.
And it was this very intuition that guided me back to traditional medicine. From the page, the answer was clear: vertigo was an issue beyond my capacity to solve, and it was time to get professional help.
When I finally saw a doctor, she looked at me sternly and said, "Stop waiting for this to just go away."
The practical side of self-care
"Self-care" as a concept doesn't resonate with all people, but it can help you stay in touch with yourself.
Your brand of self-care might include practices like yoga and acupuncture and reiki, but it can also include calling your health insurance provider, understanding your coverage and ditching your fears around visiting a doctor.
In many ways, it's unfortunate that our health care system is so difficult to navigate; it prevents people from getting care when they need it.
But it also provides an opportunity to educate and empower yourself.
"If you don't have insurance, you have to do the research to find out if you have a community option," Van Parys said. "You have to take control of your care and ask the questions yourself."
It's also an opportunity to find the balance that works for you, to create a wellness routine that makes sense for your personal physical and mental health. Just as there are physical conditions that can't be resolved without a doctor's intervention, there are mental health issues that require a mental health professional.
[ICYMI: How to Make the Most of a Visit to the Doctor]
My own vertigo has since been resolved, but it wasn't through some miracle, neither crystal nor pill. It was thanks to the graces of a kind doctor who listened and approached my situation holistically.
Just as there are friends who are willing to hand you a quartz when you're in need, there are trustworthy people in your community who understand health care a little better and can offer their help.
With so much variety, you have the benefit of finding a balance between the worlds of wellness and health care— but most importantly, you've got to learn to listen to that voice inside that truly knows when it's time to seek help.

Jamie Lynne Burgess
 Lynne Burgess is a writer who is fascinated by how places shape culture. She also loves podcasts, personal essays and public libraries. Get in touch on Twitter @jamburgess or follow her on instagram @jamielynneburgess.