How to Move In With Your Partner and Not Hate It
by
Jamie Lynne Burgess
More adults are living with roommates than ever. What was supposed to be a "cyclical phenomenon" related to rising costs and a downturned economy has turned out to be a mainstay reality of American life.
For a lot of millennials, the cost of living in a city is simply out of reach without the help of a roommate. Having created the sharing economy, opening everything from our guest rooms to our car doors to complete strangers, it makes sense that co-habitation is consistently on the rise. We don't mind sharing our space or our stuff.
We all know, however, that having a roommate doesn't always look like your favorite sitcom. More often, it's a source of stress, of dirty dishes piled in the sink and people coming over at all hours when you weren't asked in advance.
That's why many millennials dream of finding their forever-roommate — not just another person to live with, but their person. Moving in with your significant other means that you've finally graduated from roommate status to grown-up-hood. Or so you thought.
A good roommate is hard to find
A few months ago, a close friend moved in with me for several weeks, and she was an excellent roommate. Imagine this: She often did the dishes or noticed when the trash was full and brought it out. She would sweep and tidy our space, cook us dinner, was considerate when it came to talking on the phone. We even had a system for managing our money: an envelope taped to the refrigerator for our receipts, and a running list of shared expenses.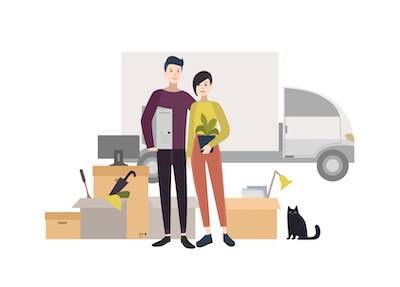 She ruined me for moving in with my significant other when summer turned to fall. It was a real reality check, bringing our two whole lives together under one roof.
I wanted a way to remedy the difficulties as quickly as possible.
Rethink the way you live
Moving in with a romantic partner is not to be taken lightly. Relationship expert Jor-El Caraballo, who co-founded the Viva Wellness holistic health center in Brooklyn, New York, suggests starting the moving-in process before you migrate your stuff.
"Think of ordinary things that seem benign or natural to you and take note of them," he said. "While these things may seem 'right' to you, your partner might have a completely different approach to living."
This means taking inventory not only of your belongings, but also of the less-tangible: your time and habits as well.
Caraballo suggests examining the mundane: your grooming products, how you do laundry, your trash and recycling. Knowing that these simple tasks, done thoughtlessly before, will soon require attention and reexamination can help you detach from your idea of the "right way of doing things" and "embrace collaboration," he said.
That means checking your expectations about what things are "supposed to be," a difficult lesson for anyone.
Though you might already know that you're about to learn a lot more about your partner, you may not have registered that moving in also means getting to know yourself. Knowing yourself well — knowing what habits are most productive for you — is one of the best ways to maintain relationship harmony while living together.
Moving into an existing space
It makes good financial sense to move into one partner's apartment rather than to search for a new place entirely, especially in a market where good rentals and landlords can be difficult to find.
What this means, however, is that one partner is still completely at home, while the other is rearranging everything, and both parties have their complaints.
After all, moving in together as adults means that you already have established routines and ideas about what works and what doesn't — and so does your partner.
It also implies that one partner has "history" in the space that the other doesn't — sometimes, that's romantic history.
"Exes occasionally call the house, mail greeting cards," said Kevin Darné, dating expert and author of "My Cat Won't Bark! (A Relationship Epiphany)."
"It's also possible he or she has lived with a past lover in the same apartment before. The newcomer may feel like the apartment isn't really theirs."
Because millennials are marrying later, we've had former relationships, been in love, maybe even lived with someone else before. And that can feel like not a big deal. But acknowledging the fact and living with it emotionally are two separate things. Communicating openly about how much history should be part of your present is important for couples to reconcile.
Dealing with the stuff
Having lived before with other roommates, you'll find your collection of things somewhat incomplete; one roommate owned all the pots and pans, and the other owned all the silverware, for example.
You hope, upon moving in with your significant other, that your acquired collections fit together like two puzzle pieces, but that isn't always the case.
Taking inventory, eliminating duplicates and keeping an open mind about your stuff is all important to merging two full lives under one roof. Be respectful of your partner's taste and of their sentimental items. There's always room to reevaluate.
[TIL: Practical Tips for Downsizing to a Smaller Apartment]
Money matters
The envelope-on-the-fridge method worked for me and my roommate for our short stint together, but couples need a more reliable and permanent system that represents their values around money.
This begins with knowing your own values and expressing them openly.
I like to think that young adults are less squeamish about talking dollars than previous generations; we open up more about our salaries and encourage others to do the same. For better or worse, money is the tool we use to navigate the world we live in, and living in denial of that means one partner is often footing the bill.
There are great apps to help you manage funds: Splitwise and IOU are great for roommates. Honeyfi and Honeydue are designed specifically with couples in mind, helping couples share financial information while maintaining independent bank accounts.
They also allow couples to check in with each other before making significant purchases, something that both Caraballo and Darné said is a common challenge.
Now that I live with my partner, we have a monthly meeting on the first Monday at a bar to go over financials. The money-stuff is boring, but the craft beer helps. Our system is a work-in-progress, but having that time set aside each month specifically to express concerns is important to me, but that's something personal. Know what you need for peace of mind, and pursue it. This might even include keeping your own emergency fund or putting certain expenses in writing.
Finally, give it time
When you start a new job, you expect the first six months to be especially rough. It might take two years before you feel comfortable in the role and know your responsibilities.
And when you move to a new city, nothing but time can help you make friends, learn the neighborhood and establish routines.
The same goes for our relationships. We tend to think in America that time is negotiable — "the GPS says eight minutes, but you can get there in six" — but there is no negotiating the clock ticking forward. While I wanted the quickest possible fix to my cohabitation questions, it's only been in time that I've learned what works.
So, whether it means giving yourself more time as a couple before you decide to move in together, or giving yourselves time to adjust to the new routines before passing judgments about each other's habits, know that time is often the essential element to understanding each other.
My perfect-roommate situation was short-lived, but it may have been its brevity that made it sweet. When moving in with someone you love, creating the foundations for success takes time and energy that only pays off down the road.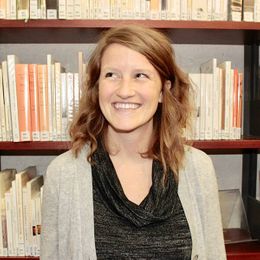 Jamie Lynne Burgess
 Lynne Burgess is a writer who is fascinated by how places shape culture. She also loves podcasts, personal essays and public libraries. Get in touch on Twitter @jamburgess or follow her on instagram @jamielynneburgess.