You Can Do It: Motivate Yourself to Call Your Parents
by
Katie Moritz
You probably know someone who talks to their parents a few times a week, if not every day. If you're reading this, you are probably not that person.
According to a survey by AARP, 31 percent of adult kids communicate with their parents daily, and 35 percent think they should be talking to their parents weekly, a CBS News survey found. But a lot of us, 12 percent, don't get in touch more than once a month.
If your regular call to your parents regularly falls off your schedule, it could be that you're busy starting your career or meeting new people. Or there could be some deeper relationship issues at play. Whatever the reason, if you want to start talking with your parents more often, there are ways to make it easier on yourself.
Limit the time
If part of your hesitation to pick up the phone is that you don't have hours to chat and it's hard to end conversations without hurting someone's feelings, be strategic about when you call home.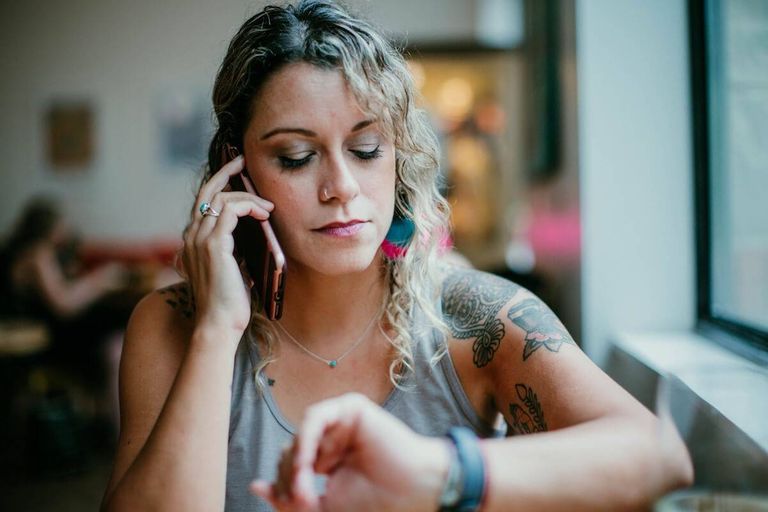 "On the commute to and from work are great times you can take advantage of to call," said Raffi Bilek, couples counselor and director of the Baltimore Therapy Center.
Having a hard out time can help keep conversations short and sweet. Setting an expectation at the beginning of the call can make it easier to get off the phone when the time comes.
"Begin the conversation truthfully," Georgia-based counselor Jumie Duduyemi said. For example, "'Hello Dad. I have a break in between meetings and wanted to give you a quick call to see how you are doing.'"
"If you know that staying with your parent on the phone for too long affects your mood," it's important to practice good self-care in this area, said New York-based therapist Katie Krimer.
Don't hit snooze
Setting a reminder in your phone to call your parents can help you hold yourself accountable and "make avoidance irrelevant," Krimer said.
"Use your technology to help you overcome barriers to change," she said. "If you've committed yourself to a weekly call, or even if you're going on the fly, set a recurring reminder in your phone—or two, if you think you'll ignore the first one—to let you know that calling your parent is a priority."
If phone alarms don't work for you, "engage a friend, sibling or a partner in helping hold you accountable," Krimer said. "Ask them to kindly check in with you to see if you've called your parent.
---
"Having someone else hold you accountable can make it more likely that you'll engage in the desired behavior."
Set your intention
Before you dial, consider the point of the call you're about to make.
"Think about what you need (and) want out of the call," said Bryan Bruno, medical director at New York depression treatment center Mid City TMS. "Do you need your parent to just listen and understand what you're going through right now? Do you want advice? Knowing this can help make the phone call a productive one."
Think of some things you want to talk about ahead of time, "so you're not bored on the phone," said Katie Ziskind, a Connecticut-based marriage and family therapist and yoga therapist.
Keep it light
"Make it a habit to talk to your parents about other things besides problems" and instead focus on the positive things happening in your life, Bruno said.
This can prevent the conversation from bumming you out.
"Before you call your parents list three great things that have recently happened to you," Ziskind said. "For instance, you may want to share that you recently went apple picking with some new friends or that you've gotten a good grade on an assignment. ... Plan what you want to share with them so you'll always have a positive topic of conversation."
Remember the good times
"Don't overthink the call or indulge in ruminations about the stress of the call," Krimer said. "If you spend time and energy playing out into the future, you will likely psych yourself out with all of that dread."
Instead, think back on positive interactions you've had with your parents. What was it about those interactions that made them better than average? Try to intentionally emulate those things the next time you talk.
Reminding yourself of good conversations "will help get you thinking positively and feeling more confident," Bruno said. "It will also stir up happy feelings and make you more eager to find time to make the call."
Quality, not quantity
Even though you want to call your parents more, having fewer quality interactions with them is more important than having a bunch of mediocre interactions.
Choosing to call them when you're feeling your best can help.
"When you call your parents, make sure to be in a positive and present frame of mind," Ziskind said. "Call your parents when you're ready to take on a motivated and adult-like conversation."
Even though you're busy, try not to multitask while you're talking.
"Focus on active listening and engaging in a positive interaction with your parent," Krimer said. "If you tend to get onto topics that cause both of you suffering, set boundaries on the phone call so that you both can stay on neutral ground. If for example, you're used to calls escalating with your parent, acknowledge to them your desire to connect peacefully and make a plan for what you'll both do if you start to go down a path of conflict."
Dig deep
Ultimately, if you dread calling your parents, you'll want to address the reasons why.
"When you're looking for motivation that will create sustainable behavior change, it's important to dig deep," Krimer said. "Connecting with our 'why' is linked to a motivation that resonates and actually inspires us to follow suit. ... Science shows us that 'shoulds' aren't quite powerful enough.
"A deeper motivation could be that you're looking to improve your relationship with your parents, or that you're wanting to them to feel special and important in your life. Reminders of your deeper, intrinsic why will help you pick up that phone and dial."

Katie Moritz
 was Rewire's senior editor from 2016-2019. She is a Pisces who enjoys thrift stores and pho. Follow her on Twitter @katecmoritz.